Pikmin Bloom Spoof Guide for Beginner
by Jenefey Aaron Updated on 2022-12-13 / Update for change location
When it comes to spoofing location, finding a spoofer that can help modify location without getting blacklisted is a difficult task. Sometimes it can even lead to a permanent ban which can cause the fans to struggle as they won't be able to play their favorite game anymore.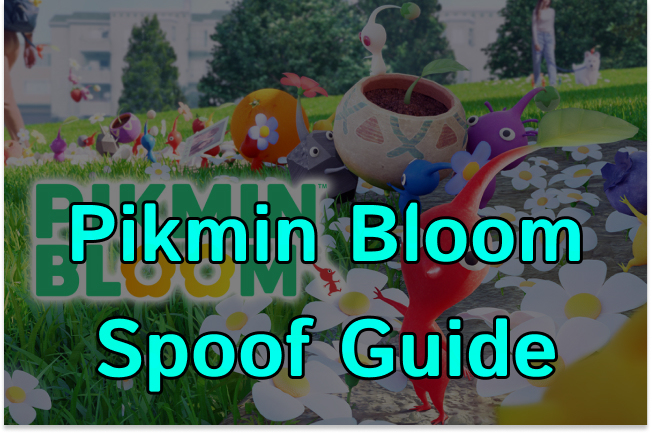 To modify your location, here we will be giving a detailed guide about the Pikmin Bloom spoof that will help our users enjoy the game without a permanent ban.
What Is Pikmin Bloom Spoof 
Pikmin Bloom spoof is to have fast progress in the game by using a location modifier to let you achieve the desired goal. As it uses location modifiers to let users modify their location and play with the ease of their own homes. This is how one can improve their game by using the Pikmin Bloom spoofer.
Can We Technically Spoof Pikmin Bloom 
Technically, Pikmin Bloom spoofing can be done. Several applications are available if one wants to modify their location in Pikmin Bloom. Using the debug mode can also help in spoofing Pikmin Bloom. 
How to Spoof Pikmin Bloom on iPhone 
To do Pikmin Bloom spoofing, one needs an application first that will help them modify their location. Here we will discuss an amazing option for location spoofing. Users can use Tenorshare iAnyGo for Pikmin Bloom GPS spoof and modify their location. 
Video Guide: How to Spoof Pikmin Bloom on iPhone?
With the amazing feature of the joystick, one can even control their movement and walking speed as well. The joystick feature makes this app the best among others and helps in giving a great gaming experience. To enjoy the feature of iAnyGo Joystick Movement, follow these steps:
Start the application on your computer. Connect your iPhone to your computer. On the home screen, select the joystick movement mode. The joystick is located in the lower left corner of your screen.

Drag the slider to adjust the movement speed. Now, using the joystick, begin the automatic movement.

This is how to use the iAnyGo go joystick movement which is very simple and easy to use.
How to Spoof Pikmin Bloom on Android 
If our users want to know how to spoof Pikmin Bloom on android, we do have a recommendation for that as well. The application that will work the best for android would be "fake GPS location." 
This application has a good location modifier and will help you pretend to be someone else and is easily downloadable through Playstore as well. Follow these steps to spook Pikmin Bloom on android:
Download and install the fake GPS location app by using Playstore.
Once it's downloaded, enable the developer mode in the setting.
Now choose "About" on the phone and see if there is a build number.
Now tap on the build number and continue tapping until you are a developer.
Now select the fake GPS app. This will enable the app to make changes to your device.
Happy spoofing and now enjoy the benefits of location spoofing.
Will You Be Banned by Spoofing Pikmin Bloom 
One of the common questions that arise when someone wants to opt for spoofing is can a person get banned while spoofing. The answer to this is yes! One can get permanently banned if one ignores the warnings. We will share some details about the strikes, so our users can have the know-how and don't get banned. There are three types of strikes.
Warning

: A Warning message is shown that indicates you have been detected cheating on your account and last for 7 days. The gameplay will be restored after this period.

Suspension

: Suspension can lead to a temporary loss from the account. There will be a message pop-up indicating your account is suspended and you won't be able to play further. The duration for this is around 30 days.

Termination

: Termination leads to a permanent ban and won't ever let you play since you continued cheating.
These are the strikes that one can face if they continue cheating. There are ways one can overcome this ban so make sure to stop on the first warning and take precautions for the next time.
Conclusion 
We hope our users have a complete understanding of how they can spoof their location in Pikmin Bloom. As mentioned above, using third-party apps can lead to strikes and bans as well. Make sure to use a trusted application that will help in reliable spoofing like Tenorshare iAnyGo. So stay home and happy Pikmin Bloom spoof using trusted applications.