Fake GPS Run App In-Depth Review In 2023 
by Jenefey Aaron Updated on 2022-12-16 / Update for change location
Fake GPS run is a location spoofing app that helps you to mock your device's location and travel the world virtually. With this, you can easily fool location-based apps and use the services which are restricted in your area. By just modifying your location with two clicks, you can overcome the geographic restrictions and place yourself outside of the permitted zones. 

Part 1: What Is Fake GPS Run? A Simple Look 
As its name indicates, Fake GPS is a mobile app that helps you in your thirst for faking your current location for whatever reason you have. By using virtually telepathy techniques, this app provides you with an effective way to switch from the correct to the incorrect location. Features of Fake GPS Run:
Switch from current to a fake location.
Use of effective virtual technique to teleport your virtual fake location.
Go wherever you want within a few clicks.
To use fake GPS run on your android device, you need to provide it permission from the settings app so you don't face any misfunction. You can simply enjoy your virtual time at any other place. 
Part 2: Fake GPS Run APK Free Download 
With fake GPS run apk downloaded on your device, You can also play different location-based games including Pokemon go and capture the rare creatures with no movement. Struggling to download a fake GPS running app? Here is how to do it on iOS and Android devices.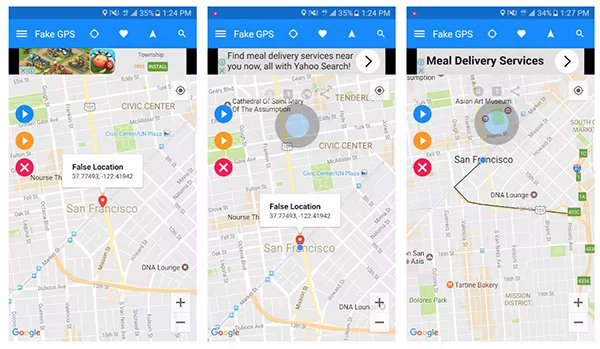 For iOS Users: 
Unfortunately, there is no fake GPS run iOS version available in the market since it's an android location spoofing app. You can scroll through other options to mock your location on iOS devices. However, you need to be careful as faking location on iOS is not as easy as it's on Android.
For Android Users: 
With just a few clicks you can download this app on your smartphone and use it for any purpose you want. Here is a simple way how to download a fake GPS apk on your android phone or tablet.
Go to the Google Play store and download the Fake GPS run app.
Once the app is installed you can grant permission to this app to fake your current location. For that navigate to Settings > About Phone > Tap on "Build Number" to enable the developer options. 
Once the developer option is enabled then go to settings > developer options > allow mock locations and select fake GPS run to grant permission.
Part 3: Does Fake GPS Run Work 
Yes, it works. Faking location using a fake GPS run can be fun and useful in situations where you are in dire need to change your current location to access some content. Fake GPS run pokemon go is a great way to play pokemon go while staying at home. However, some reviews on Google Play Store show that this app seems likely not working well on Pokemon Go recently.
Part 4: Good News! Fake GPS Run iOS Alternative Free Download 
Apps like Fake GPS run is a good way to spoof location on the android device however for the iOS devices you need something more trustworthy and reliable in terms of its functionality. Tenorshare iAnyGo is a location spoofing software that helps you in switching from a current to a new location within two clicks. 
The location change feature of iAnyGo helps you in landing at a different place virtually and enjoying the leverages which come after. You can play location-based games with its Joystick movement, prank your pals and access the location-based content online by changing your location. Here we take how to change GPS location on iDevice by iAnyGo as an example:
Launch iAnyGo and go with its default mode "Change location."

Connect your iOS device to your computer and proceed. Press trust on a pop-up message asking to add the connected computer to the trusted devices.

Lastly, search for any location in the search bar and click on it to have it on your iOS device as a current location. 
The Bottom Line 
Fake GPS run is great to spoof your current location to different erroneous locations on an Android. This location-changing app can help in multiple ways. However, a location spoofing software like Tenorshare iAnyGo can be a better choice to precisely and safely spoof your location on iOS devices. Believe it or not, you won't regret its use.