How To Fake GPS Android Without Mock Location
by Sophie Green Updated on 2021-04-26 / Update for Android Tips
I am a Pokemon Go player and wonder if there is any way to help me fake gps without mock location on my android phone?"
Using GPS spoofing apps to get access to the geo-blocked content and to use location centered applications has become very common. To help you out in finding how to change GPS, we have written this article. By the end of your reading, you will be able to know everything about the fake GPS without mock location. So, let us start without any more delay.
Part 1.What Is Mock Location
Let's start with the basics for understanding what a mock location is and how it is being used. As the name suggests, it manually changes the device's location to any desired place. Most modern-day smartphones come with the inbuilt feature of mocking location. It is a hidden feature present in the developer settings of android, and is basically designed for the developers so that they could use their newly designed apps and games. The mock location has received a lot of attention due to the numerous advantages it offers.
A developer can virtually set his desired location to test the functionality of the developed app in a different location.
Apart from that, one can use this feature to play many location-centered games like Pokemon Go and use dating applications.
Another advantageous fact is that it allows individuals to get access to the content of several location-based streaming services.
Part 2.How To Fake GPS Android Without Mock Location
Nowadays, there are plenty of well-recognized and frequently used apps such as Skout, Pokemon Go, etc. that tracks the original location of users. For changing a device's location, it is needed to install a fake GPS application. Today, we will take the example of a great android application to explain how to fake GPS without mock location.
Fake GPS Location
Lexa has created a very reliable and well-liked application named "Fake GPS Location" that is being used by thousands of users. With the help of this application, one can easily change the location with just two clicks. The interface of this application is very user-friendly and easily understandable.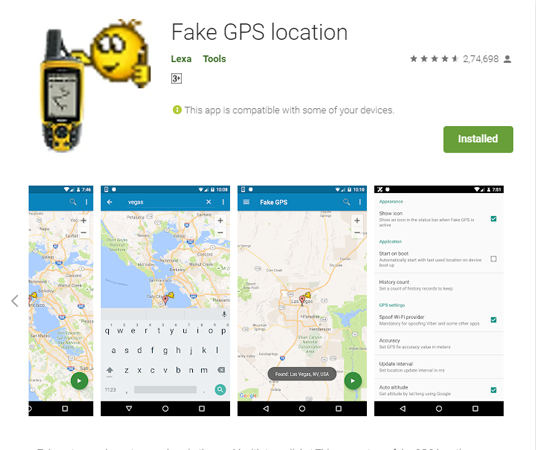 How to Fake GPS Without Mock
It is necessary to enable these changing-location application to use if we want to spoof GPS without mock location. Here are the steps you can follow for enabling this application and changing location on an Android operating system.
First download this app from Google Play Store and install it on your android.

Go to Settings app. And find the Build number that is usually present in the About Phone section. Now start tapping the build number seven times without taking any break to enable the needed developer option.

Then go to the newly added developer options present in the settings and turn it on. Find Select Mock Location app, and choose Fake GPS Location.
Go back to open the application and search for the location you want to fake and start to play.
Part 3.How To Fake GPS iPhone Without Jailbreaking
Unlike Android, iPhone users have very limited options for spoofing the location. That's why it is slightly hard to find and suggest a reliable GPS iPhone application. However, it is not true. Let us show you a way of doing it simply and easily.
Tenorshare iAnyGo
Tenorshare iAnyGo is literally one of the best options for iPhone users for spoofing locations. One can definitely rely on this application for freely changing GPS location without any type of fear of jailbreaking. Honestly, this fascinating app is literally jam-packed with features to provide an immersive experience.
Tenorshare iAnyGo allows individuals to trick their friends by sharing virtual locations on social media platforms. One can even pretend that he is traveling to a particular place while staying at his own house. With just one click, you can change his iPhone location to any desired place.
First of all, launch the software on your pc and choose the "Change Location" mode in order to enter the map.

Now connect your iPhone with the computer.

Select any location present on the map or search for your favorite places and then start to modify.
Besides, a user can choose a two-spot or multi-spot mode. The ability to play geo-blocked games is another likable feature. Apart from that, there are plenty of advanced features to catch a user's attention. The option of adjustable moving speed allows a user to vary the speed of GPS movement. Furthermore, one can keep track of his historical records.
Conclusion
People preferably want to change their location in order to have a better experience while using geo-blocked apps and games. It is just so much fun and entertaining. In this article, we have tried our best to give a reasonable answer to the most frequently asked question "how to change GPS location without mock location" in a user-friendly manner. We have also suggested some reliable methods to assist you out. Both Fake GPS Location and Tenorshare iAnyGo for iPhone users are very useful tools.
Freely Change GPS Location without Jailbreak!
Plan a route by selecting two or multiple spots on the map
Easy to simulate GPS movement based on customized route
GPS joystick to take better control
Import GPX file to start a designed route