[Proved] 4 Top Methods To Fix Grindr Won't Refresh 2023
by Anna Sherry Updated on 2022-12-16 / Update for change location
Few users of the grindr app have complained that their grindr app is misbehaving and they are getting a "grindr won't refresh" error message whenever they open this application. If you are among those users then read this article to get a reliable solution.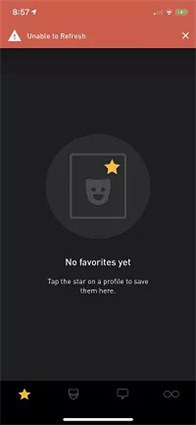 Why Grindr Won't Refresh
If you are having trouble refreshing your Grindr application then relax, you are not the only one who is facing this problem, several users face the same issue. Being a popular app in the LGBT community, it has huge traffic and many customers use their server at the same time. However, there are chances the grinder app is facing technical problems due to which it gets crashed sometime. Here are the most common reasons why your Grindr app is not behaving appropriately.
A Weak internet connection.
The old version of Grindr app.
Your mobile phone compatibility can also be the reason because some old version devices do not support this app.
Method 1: Check Your Internet Connection
A good internet connection plays a vital role in the functioning of apps. Having poor internet not only slows the speed of an app's working but also limits the accessibility to use the different features. So it's better to check your internet connection and ensure its excellent signal speed.
Open settings and look for the WiFi option.
Click on it and make sure the internet connection is good.
If the internet connection is poor switch off your router and turn it on again.
Method 2: Restart Your Device
Restarting your device may play a magic role in fixing the Grindr app won't refresh the problem. When you restart a device, it refreshes the memory of the device, clears the cache, and maintains the longevity of the device.
Method 3: Force Quit the Grindr And Reopen It
Force stopping the Grindr application may help you to resolve "Grindr my nearby won't refresh" issue. When an app keeps crashing or its features don't work properly then force-stopping such an app has a chance of bringing it back to normal functioning. 
For iOS users: 
Scroll up from the bottom of your screen.

And swipe up apps you want to force quit.
For Android users:
Go to the settings of your mobile phone. And find "Application Manager" from the settings tab and click on it.
Find Grindr or search for it and open it's settings.

Tap on the "Force Stop" button and wait.
Method 4: Reinstall Grindr
If you have tried all the methods and nothing worked as expected, then reinstalling a malfunctioning app is the ultimate solution to fix the problem. However, it is crucial to check for the available updates for the Grindr app in the app store.
From the home screen, find the Grindr app and click on its icon.
Choose to delete Grindr on your phone.

Open the app store and search for Grindr app and install it again to see the problem is fixed or not.
Tip: How To Fake Your Location On Grindr
Faking your location on grindr can help you to find a partner from anywhere in the world. However, if grindr detects your mock location and you may face grindr won't refresh using fake GPS. You must look for the best and safe alternative and here we are with Tenorshare iAnyGo. It ensures faking your location without being detected by the app and it does not affect the working of the app at all. 
Here is how to change your location on Grindr using iAnyGo without being detected:
Download and install iAnyGo on your PC or Mac. Launch it and go to "Change Location."

Connect your iOS device to your computer.

Select a location on the map and click "Start to Modify." Your location will be changed to the new one.
Conclusion
We hope that the solutions we have mentioned in this article have helped you in solving the "Grindr won't refresh" issue. However, if you have not tried the Grindr Tenorshare iAnyGo then don't forget to give it a try and enjoy making friends with people all around the world with no limitations of only one location.