Video Guide: How to Fake Your Location on Snapchat
by Anna Sherry Updated on 2023-05-10 / Update for iPhone Tips
How to fake your location on Snapchat? One of the amazing features of this app is that it enables you to display your location for your followers to see. However, there are several instances where you may want to fake your location; hence, considering changing your location.
Some of the reasons for changing the Snapchat location include:
You may want to use an awesome filter that you have seen someone else used in another location
You may wish to make people think you are spending your time in an exotic location
You may want to find a date in another location
You may wish to just change your location for the fun of it
You may want to sneak out of your real location without anyone knowing
Part 1: [iOS]The Safest Method For How To Fake Your Location On Snapchat [FREE TRIAL]
How to fake snapchat location on iPhone? To fake your location on Snapchat for an iPhone, one of the best tools you can use is Tenorshare iAnyGo. It is easy to use as it doesn't require any complicated process.
Below are detailed steps on how to change your location on Snapchat iPhone with iAnyGo.
Get started by first downloading Tenorshare iAnyGo. Afterward, install and launch it. Once it has been launched, the default mode of this program is "Change Location".

With the aid of a USB cable, you need to connect your iPhone to your computer (Mac or Windows). After this, you should unlock the iPhone and tap "Enter" to continue the process.

Pick your preferred location, once you have done this, just hit "Start to Modify" to change your location. And the new location will show up after you restart Snapchat. Here is how to change your location on snap maps 2020 on iPhone.
Part 2: [Android] How To Fake Your Location On Snapchat
How to change location in snapchat? If you are using an Android device, iAnyGo cannot work for you. However, this does not necessarily mean that you cannot change the location of Snapchat on your Android phone. We recommend that you use Fake GPS Location, which is an Android app that you can download from Google Play Store for free. With this tool, the question of how to fake location on snapchat map will be solved immediately.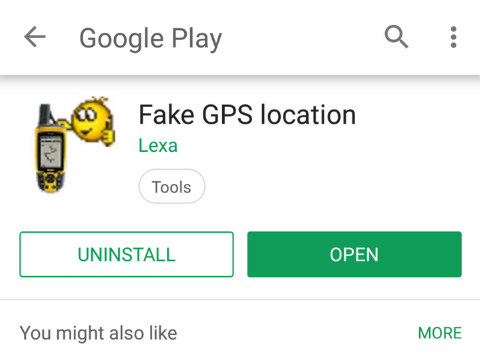 This app doesn't require any technical expertise or experience to use. Besides, its interface is quite friendly; hence, you can find your way around it without much hassle.
Having said all these, let's check out how you can start using the Fake GPS Location app to fake your location on Snapchat.
The first step is to visit Google Play Store and then find the Fake GPS Location app. You have to click the app and download it to start the process.
Using the normal process, install and launch the Fake GPS Location app. On the home screen, the app will prompt you to "Enable Mock Locations". Tap it and the app will redirect you to "Developer options".
On the screen, click the "Search" icon to look for your preferred location. Alternatively, you can easily double-tap the map on your preferred destination to drop the pin.

Click the "Play" button so that the fake location will be activated immediately.
Now, you have faked your location. Open the Snapchat app on your device and continue using it as if you are in the faked location. If you want to return to your real location, you have to stop the Fake GPS Location app and everything will return to normal.
Part 3: More Questions about How to Fake Location on Snapchat
Q1. Is Snapchat Location Accurate?
Yes, Snapchat's location is accurate. Factually, its accuracy is even better than that of many mapping apps that are developed for sharing location with other individuals. So, as long as your device's network signal and GPS are okay, you can rest assured that your Snapchat location is accurate.
Q2. Can you get someone's location from Snapchat?
Yes, you can get another person's location from Snapchat. However, this depends on whether the person has decided to share their location with others or not. If the person has chosen to hide their location, you will not be able to get their location through Snapchat.
Q3. How to hide location on Snapchat?
Go to "Snap Maps"
Look at the corner of the screen and tap the wheel button
Select "Ghost Mode" to hide your location completely.
As an alternative, you can tap "Select Friends" so that only friends will be able to see your location.
Conclusion
How to fake your location on Snapchat? As explained at the beginning of this article, you may have some reasons for considering the choice of changing your location on Snapchat. Of course, you can take advantage of the awesome features of Tenorshare iAnyGo to fake your location if you are using an iPhone.
Freely Change GPS Location without Jailbreak!
Plan a route by selecting two or multiple spots on the map
Easy to simulate GPS movement based on customized route
GPS joystick to take better control
Import GPX file to start a designed route