Top 3 Ways For How To Change Location On Facebook
by Jenefey Aaron Updated on 2022-03-29 / Update for change location
In today's world of digitalization and easy access to the Internet, almost everything is available at your fingertips. Applications and social media platforms capture user behaviour and data to utilize in many different aspects, including ad surfacing and personalization. 
But it does not always work in our favour. Apps like Facebook show and track the location of its users, which many people might not appeal to. If how to change location on Facebook is your trouble, this article has got you covered.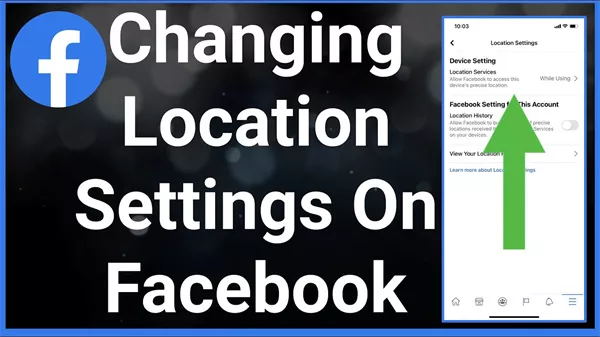 Before We Start: Can I Change Location On Facebook
The most basic question that arises: can you change your location? Short answer: yes. And for the long answer, there are multiple ways you can change your Facebook location with. For instance, there is a way for different Facebook functions, by using third party tools, etc. Let's dive deeper to know how to change Facebook location. 
Way 1: How To Change Location On Facebook By Check In
Whenever a user uploads a story or post, they get to add a location to their media to tell people where they are. While this is an excellent function, many people do not like it a lot. For starters, it does invade privacy, and also increases the risks of kidnapping and attracting stalkers. Fortunately, Facebook offers a feature to its users where they can edit, remove, and add locations to their posts manually. Follow these steps to know how to change country in Facebook by Check In:
Go to your profile.
Scroll to the post you want to change the location of.

Click on the three dots (…) and choose Edit Post. And then go to Check In.

Click on the location icon and enter a new location and click save.
In these easy steps, you can now easily change your Facebook location using the Check In feature to wherever place you like, even if you didn't go there!
Way 2: How To Change Location On Facebook Dating
There are different methods of changing locations on different Facebook features. Facebook dating is a wonderful feature for single people, as it allows you to find profiles within a hundred miles radius from the location you select. But what if you don't find the profiles near you to be a perfect match? This is where the question of how to change location of Facebook dating pops up. Just follow these steps:
Go to the application, select "Dating."
Click on Profile and then go to Edit.
Select the Dating Location option.
Enter the location you wish.

Choose update dating location and save.
Again, in five simple steps, you'll be able to alter the profiles you see and explore more profiles to find the perfect date for you. 
Way 3: How To Change Location On Facebook Marketplace
For specifically this purpose, Facebook introduced and made it compulsory for buyers and sellers to add their locations. This would help the app filter results based on proximity and in turn, save the user's time and efforts. However, changing and removing the location on Facebook marketplace is also not a herculean task. Follow these steps on how to change location on Facebook marketplace to quickly boost your sales and get more customers, or sellers. 
Go to your news feed.

Click on Marketplace.

Under the filters option, click on Location.
Enter the location and the distance you are okay with travelling.
Choose to apply.

Your search options will be updated.
Altering and adding location to your Facebook marketplace is a great way to attract new customers and make more sales when selling on Facebook marketplace. On the other hand, it also becomes easy as a customer, because you can then see and explore different buyers and their products, even if they're far away. 
Extra Tips: How To Change Location On Facebook on iPhone [100% Works]
Think about it, if you will be able to change GPS location, you will easily be able to change your location on Facebook on iPhone, right? Only if there was an application that showed you how to change Facebook location by GPS. What if there is? Presenting before you Tenorshare iAnyGo.
With this software, you will be able to change your GPS location be it for fun or security, and reflect the change on all your applications! Follow these steps for a hassle-free method on how to change location on Facebook on your iPhone. 
Launch the program, Tenorshare iAnyGo on your PC.

Connect your iPhone to the PC using a USB cable. Unlock your device and click enter.

Then, enter the GPS coordinate you want to "teleport" to you. Click on "Start to modify." Done! Your location will be modified. Along with that, your location on all location-supporting apps will also be changed to your fake one.
Conclusion
If you're someone worried over how to change location on Facebook, we created this guide to help you with it. You can use the Facebook app directly for this purpose. But many times, people complain and demand a more permanent and convincible method for this task. This is where Tenorshare iAnyGo comes to the rescue for you which can also prevent someone is tracking your Facebook.