Mock locations Pro Review: Free Android Location Changer
by Jenefey Aaron Updated on 2022-12-16 / Update for change location
without a jailbreakMock locations pro allows you to fake your current locations. For Android users, it's the most reliable app to change your real locations to a false location. This can be helpful in situations when you don't want to know people where you are. Not to mention, this app has 2.5 million positive worldwide users.  

What Is Mock locations Pro 
With the mock locations pro apk, you can create a virtual location on the provided map to protect your sensitive information related to locations. This way, you are not putting yourself at any risk in case someone is stalking you.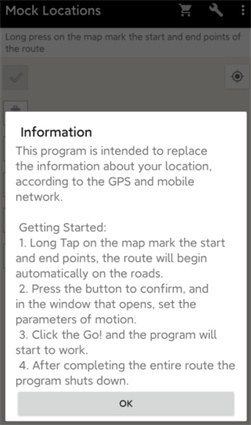 Pros : Here is why mock gps pro is popular among its users and what are the options you get after installing it. 
Ease of creating a route on the road.
Set stop points and confine those.
Create a closed route.
Can use the braking before bends.
Can hide the app from the status bar.
Can run the emulation locations at any specific point.
Ease of adjusting different speeds.
Cons : Here are some problems reported by the regular users of mock locations pro.
The free version only works for 24 hours after its installation.
Some users reported that the mock locations Xiaomi redmi note 8 is jumping back to the device's original locations.
According to some, joystick features do not work in mock locations Huawei p30.
Where To Download Mock locations Pro 
Downloading locations pro is not difficult as you can install it like other apps from the google play store on your Android device. The current app of locations offers cool features for android 11 and Android 12. To download this app:
Head to Google Play Store on your Android device.
Download file mock locations 1.87.apk.
Open the downloaded file and tap to install it.
Follow the on-screen instruction.
How To Use Mock locations Pro 
Mock locations Pro offers various cool features like creating a virtual route and building a travel route for a virtual location. Here is how to use Mock locations pro.
1. Enable Settings on Device 
Before using locations pro, firstly you need to enable "allow mock locations" from the settings of your Android device.
Go to Settings.
Scroll down to find About phone and click on it.
Now continuously tap on "Build Number" until you get a message saying "You are a developer now."

Now go back to settings and open the developer option from the list (Above about phone) and check the box "Allow mock locations". That's all.
2. Steps To Use Mock locations Pro 
After enabling the mock locations option, you are free to fake your locations using lock locations pro.
Open locations pro and you will be provided with a map showing your current locations.
With the help of different colours and designs, you can simulate other locations such as shops, hospitals, and schools shown on the map.
You can create a migration route by selecting start and endpoints. 
Mock locations Pro iOS Alternative: Tenorshare iAnyGo 
Spoofing can be for many reasons from your security issues to using it for fun reasons, you know how much beneficial it can be sometimes. Talking about iOS where changing locations is not easy as it's in Android due to strict iOS security measures. However, using professional spoofing software won't end up being detected by the operating system of your device. That's why we have brought a very reliable option Tenorshare iAnyGo which can spoof your locations in a matter of seconds.
1. Users can mock locations with iAnyGo's Change locations
One of the best things about using iAnyGo for changing locations on iOS devices is that it offers a secure and prolonged stable connection. You won't be detected by any app on iOS. Additionally, it has a user-friendly interface making it easy to use this software by beginners. So, it's not rocket science changing locations on iOS devices using Tenorshare iAnyGO.
2. Steps to use iAnyGo's Change locations
With just a few clicks you are all set to be at the place where you are not present in reality. Here are the simple steps you need to follow.
Download and Launch iAnyGo on your PC. Opt for its default mode which is "Change locations."

Connect your iOS device using a USB drive and add your PC to the trusted devices on your device and go ahead.

In the search bar, type any location you want to teleport and click on search. After selecting the locations, your iOS device locations will be updated to a new one. 

All the location-based apps will also change to new locations. Enjoy being in a new place virtually.
Wrapping Up 
Mock locations pro is a very trustworthy app due to its many positive users across the globe. It is one of the top location spoofing apps for Android users helping them with their needs of changing locations.