How to Get Pokemon Go Walking Rewards without Walking
by Sophie Green Updated on 2023-05-15 / Update for iPhone Tips
In this post, we will show you the Pokemon GO Walking Rewards you will receive in the game after you have reached different milestones in walking every week, and how to get the walking rewards without walking. Yes, there is no kidding.
You can watch the video to save your time from reading. Scroll down to learn more if you prefer to read.
What Is Pokemon Go Walking Rewards
Pokemon go rewards for walking are the weekly rewards that players can redeem after seven days based on the distance they walked in the past days. Rewards are given for hitting a total weekly distance of 5km, 25km and 50km. Note that you need to enbale adventure sync first if you want to get the walking rewards from the game.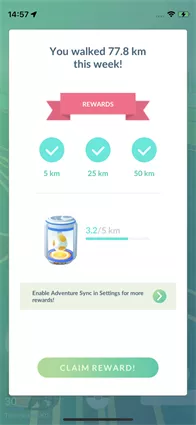 1. Pokemon Go Adventure Sync
This feature allows your Pokemon Go app to link with apple's health app on iOS or Google fit app on android. This way your steps or distance walked will be now recorded by Pokemon Go app without any need to open the app. It means that Pokemon go eggs can hatch when you are walking around with your mobile in pocket and app closed.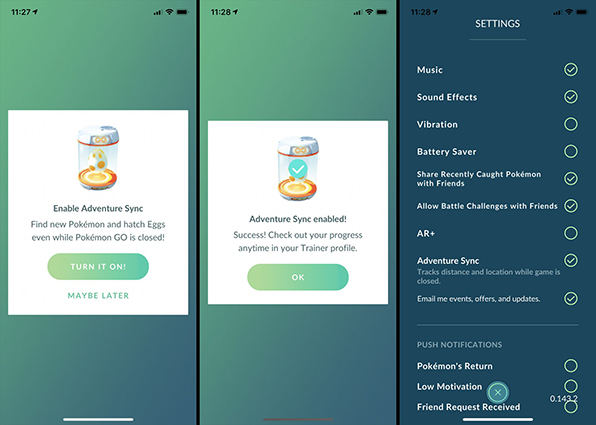 2. Walking Rewards & Weekly Rewards
Walking rewards Pokemon go are calculated on a weekly basis. You will be rewarded on the basis of walked distance in the past seven days. The minimum distance you need to travel to earn a reward is 5km with the highest reward at 100km. You can earn all the rewards together because these are stacked. Here is the list:
5km: 20 poke balls
25km: 10 Great balls + 500 Stardust + 1 Rare Candy or 5km Egg
50km: 5 Ultra Balls + 1,000 Stardust + Rare Candy, 5 Silver Pinap Berries, 5km egg or a 10km egg
100km: 16,000 Stardust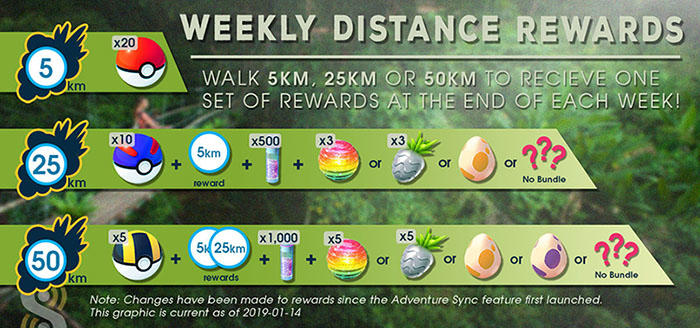 3. Pokemon Go Walking Rewards Reset Time
In terms of reset times, Adventure Sync is quite easy and simple to keep track of. These walking rewards are reset every Monday at 9 am local time. Before reset time, players are awarded the unlocks for the past seven days. For all the new trainers of Pokemon Go app, you need to be level five to access this Adventure Sync feature of Pokemon Go. 
How To Get Pokemon Go Walking Rewards
To earn Pokemon go rewards for walking, you should turn on Pokemon Go walking rewards. You can turn on Adventure Sync from Pokemon app when you have health app on iOS and Google fit app on android. Here is how to do it:
Turning on Adventure Sync on iOS:
Open the Health app.
Click on the "sources" option. Within the menu, press on "Pokemon Go" option.

In the sub menu, click on "Turn All Categories On".
Turning on Adventure Sync on Android: 
Open the Pokemon app.
From the main menu, hit the "In-game" option to activate Adventure Sync.

You will be asked to pick a google account to use with adventure sync. After picking a google account, you will be asked to allow Pokemon Go to read data from Google fit.
Note:If you are not able to turn on adventure sync in Pokemon Go, there is also video guide provided for you.
How To Get Pokemon Go Walking Rewards without Walking
Now there is an easier way to play Pokemon Go game without even walking. Tenorshare iAnyGo provides you with the easiest way to play this location-based game while staying at home. With its virtual GPS option, you can fake walking in Pokemon Go to get rewards. This feature enables you to move in the game without actually walking in reality. Here is how it works:
Click the download button and install iAnyGo on your PC. Launch it and go to the "Single-Spot Movement" mode.

Choose the location you want to arrive at and set the speed.

Click the "Start" and the movement will be begun. You can pause the movement to accomplish relevant tasks in Pokemon Go.
Troubleshooting About Pokemon Go Walking Rewards
1. Check Adventure Sync Is Activated or Not
When you install or update apps, there is the probability that these apps can accidentally turn off your Adventure Sync. So, make sure that the box of Adventure Sync is checked. 
2. Adventure Sync Isn't Working
If you see that Adventure Sync is not tracking your walking distance, then this is a problem with the permissions on your device. You should make sure that Pokemon Go has full access to the location services of your mobile all the time.
3. My Adventure Sync Distance Is Getting Wrong
There can be a few reasons for this. Firstly, give some time to Pokemon app as sometimes there can be a delay in showing the exact distance you walked. Secondly, battery saver can also affect the functionality of Adventure Sync. Lastly, Pokemon Go only counts which you walked in actual so putting "extra" data on this app won't help you.