Fix Find My Friends Location Not Updating: 3 Methods Works 100%
by Sophie Green Updated on 2022-03-31 / Update for iPhone Tips
What happens if Find My Friends Location not updating? It can be very frustrating and troubling. If you're facing this issue, then just thoroughly read this tutorial and find out proven methods to fix this problem.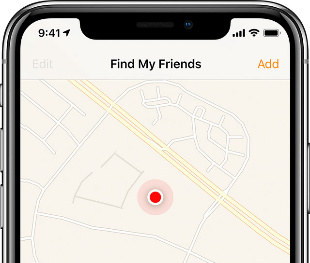 Part 1: 5 Reasons For Find My Friends Location Not Updating
If you cannot track the location on Find My Friends, then it means that there is an underlying problem ensuing this error. It can be:
Any temporary glitch in the iPhone.
Hide My Location feature is active on your friend's iPhone.
Location Services are disabled on friend's iPhone.
Inaccurate date on your friend's iPhone.
Your friend is in a region where Apple doesn't have this service.
These reasons also lead to why find my friends location not available.
Part 2: 5 Tips to Check Find My Friends Location Not Updating
After discussing the main reasons causing this issue, let us discuss 5 basic tips to avoid this problem beforehand.
Tip 1: Make Sure Internet Is On
Find My Friends feature requires internet to function. So, make sure both you and your friend's device has an active internet connection. Either your mobile has strong Wi-Fi network or cellular data connection.
You should also go to the Settings > Cellular Data and turn the toggle on and off.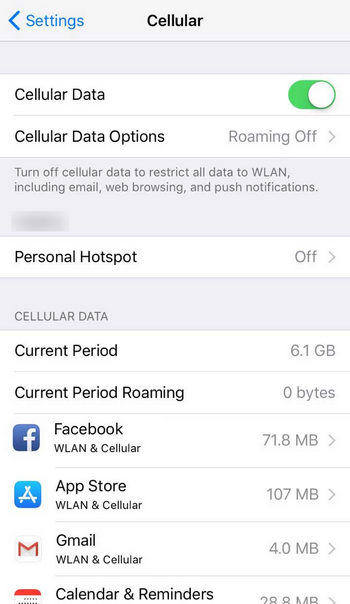 Tip 2: Check If Your Friend Turned off Location Services
You won't see your friend's location of you have disabled location services on your iPhone. To check that:
Go to the Settings > iCloud Settings > Location Services and turn on the toggle.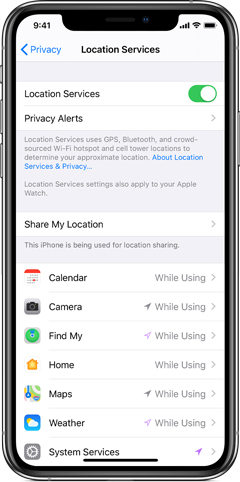 Tip 3: Don't Turn on Hide My Location on iPhone
Apple allows you to restrict permission to track your location to ensure privacy. So, make sure you haven't enabled Hide My Location on iPhone. If you cannot track your friend's location, it might be because you have enabled Hide My Location feature on your iPhone.
Tip 4: Sign into Find My Friends
Why does find my friends say location not available? If location not available on find my friends, then ensure you are signed into find My Friends app. You have to sign into Find My Friends app to get track of your friends and family location.
Tip 5: Make Sure Apple Supports Your Friends' Country/Region
Apple hasn't provided the Find My Friend services in all the regions of the world. So, make sure this service is available in your region/area.
It may be the main reason why is location not available on find my friends.
Part 3: 3 Solutions To Fix Find My Friends Location Not Updating
After implementing the afore-mentioned techniques, if you are still facing the same issue, then read the below paragraphs to learn three proven methods of troubleshooting this issue.
Solution 1: Force Quit Find My Friends
Force quitting the Find My Friends app is an easy method to fix on find my friends location not available. It doesn't require any expertise to force quit an app.
On iPhones 8 or earlier, double click the Home Button to bring the App switcher interface. Now, navigate to the app you want to force quit and swipe it up.

For iPhone X, Press the Gesture area and swipe up and hold your finger until App Switcher interface appears. Now tap and hold app you want to force quit until the red symbol appears, swipe it up.
For iPhone higher than 8 except iPhone X, press the left corner of the display and swipe it right. Now flick up the app you want to force quit.
Solution 2: Restart to Solve iPhone Find My Friends Location Not Available
You should restart your iPhone if Find My Friends says location not available.
For iPhone X and 11: Press and hold either volume button and the side button until the power off slider appears on the screen > Slide it to shut down the mobile > After a few seconds, turn on the mobile again.

For other iPhones: Press and hold the power button and slide the toggle to turn it off > Then, turn it on again after around 30 seconds.
Solution 3: Use an iOS Professional Tool for Find My Friends Location Not Available
There is a fair chance that location not available find my friends because there is a glitch or bug in the iOS. In such a case, you have to repair the iPhone using Tenorshare ReiBoot.
Its remarkable feature helps to fix over 50 issues of iOS in just a few clicks. To repair your iPhone:
Firstly, Install ReiBoot on your PC and launch it. Then connect your iPhone to the computer and select 'Repair Operating System' as shown in the figure'.

Now click on 'fix Now' to resolve all the issues of your iPhone including Outlook App.

Then, you will enter a new interface showing the details of your device. Click on Browse to manually select the desired path and then click 'Download' to start downloading Firmware Package.

Within a few minutes, it will be downloaded. Finally, click on 'Repair Now' to begin the recovery procedure. The process will take a few minutes and once it is finished, click on 'Done'.
Bonus Tip: Want a Fake Location for Apps? iAnyGo Supported
Well, if you want to fake your location for any app – including Find My Friends – then Tenorshare iAnyGo is the most trusted and safest app to spoof your location. This app helps you to:
You can simulate GPS movement.
You can preplan your route by selecting two or more points on the map.
You can also save your favorite places on the map to be able to access them quickly in the future.
Conclusion
If Find My Friends location not updating, then follow the above guidelines and fix this issue permanently. Moreover, you should repair your iPhone using Tenorshare ReiBoot to remove underlying bugs. And, if you want to spoof your GPS location, then no third-party tool is better than iAnyGo to fake your location.