[Must-Read Tip] How to Fake GPS No Root in 2023
by Anna Sherry Updated on 2022-12-16 / Update for Android Tips
The reason behind most of you is to play games like Pokémon Go and to access restricted apps at your location. There are various location-based GPS faking apps available to teleport your device. These apps mostly require the rooting of your phone and ask you to turn on your GPS settings. Here, we have the recommended tools and applications for you to try to fake GPS without rooting your Android phone.
Android Tip: Free Apps to Fake GPS without Mock Location No Root
App 1. Floater- Fake GPS Location
The floater is a GPS spoofing application available at Google Play Store. The application is handy to use due to its floating feature. You can work on any other applications while you spoof your location with Floater- Fake GPS location. Similarly, you don't need to switch between applications to access the service.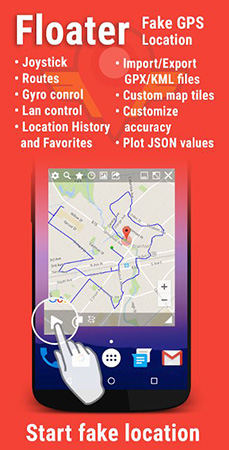 Features:
Get location history you've flown to
Save your favorite location on the go
No root is required to fake location
Make use of a Gyroscope to toggle between the location on the map
Set speed and accuracy of the location tracking
Save the location and track wherever you go
You would require an Android phone that supports Gyroscope, internet service, storage, and location to run the application actively.
App 2. Fake GPS location – Hola
Fake GPS location-Hola allows you to fake your location easily within a tap. The application can come handy when you want your friends or family to show you are far away for vacation. Similarly, various location-based apps, dating applications, and other restricted applications can be quickly accessed using the Hola application. Fake GPS location- Hola tricks your device proximity and flies it to a different location.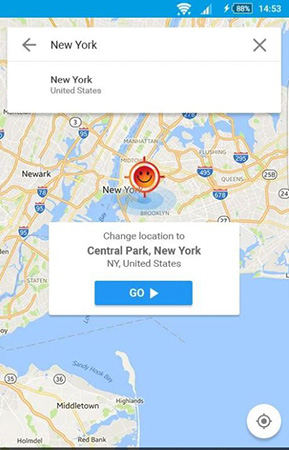 Features:
Navigate to a fake location with coordinate searching or pinching through the map
The application is free to use
Locations you mark to spoof are accurately placed with Hola
No rooting of a phone is required
Save location for the next time you spoof
The application requires the following permissions- Wi-Fi or Cellular internet, Storage, and Internet
App 3. Fake GPS GO Location Spoofer Free
Fake GPS GO Location Spoofer Free is a complete application you need to have that is compatible with flying between the counterfeit locations. The Spoofer tricks the proximity sensor and teleports you away to Europe or Australia as if you are on vacation. Location Spoofer Free comes with two application types- free and paid. With paid services, you get extra features to joystick control, expert spoofing, so on and so forth.
To start with, choose a location and hit the "Play" button; the application works like a charm to spoof your location far away.
Features:
Multi-lingual support
Supports almost all Android versions
Records history and reports
Integration ability with other applications using the share button
Free to spoof locations
No root method is needed for Android version 6.0 and above
The application requires the following permissions- Location, Storage, and Internet.
iPhone Tip: How to Fake GPS on iPhone without Jailbreak
However, faking GPS on the iPhone is not that straightforward compared to Android. Now, is it easy to fake location on your iPhone? – Yes, it is. With the help of Tenorshare's application named iAnyGo- iOS location changer, you can quickly fly to a different location while sitting at one spot. iAnyGo is a robust application available to download on Windows and Mac. You need not jailbreak your iPhone to use the service. Learn the detailed guide to fake GPS on iPhone without Jailbreak below.
Download and install the software on your computer.

After complete installation, launch the application and click on the "Enter" button covered in purple.

Now, simply connect your iPhone or iPad to the computer with a proper USB cable. If prompted, tap on "Trust This Computer" on your iPhone to gain computer access.

After you are ready, iAnyGo shows a map to choose a location. Now, tap on any place on the map or search for the area on the search bar. Similarly, you can search for the location with coordinates.

Tips: You can view your actual location and history of travel in the coordinate collection and historical records tab, respectively.
Subsequently, you can easily spoof your location between two and multiple routes using the iAnyGo tool. Here is a guide you need to follow through to march two-spot and multiple-spots.
1.Two-spot Mode
Open the application and hit "Enter" to go to the iAnyGo map.

There, choose a location on the map or type the destination on the search bar. A starting point on the map is set to the exact spot you are currently present.

Now, click on "Start to move" to begin lively spoofing.
2. Multiple-spot mode
Pin multiple locations on the map and click on "Start to move." The initial site is set to your present position and destination to where you mark.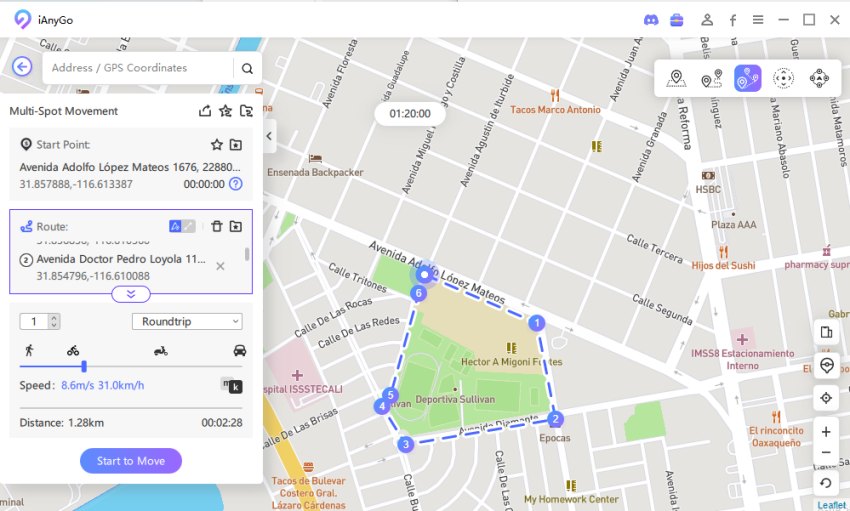 Video Guide:
Conclusion
That's all you need to know to spoof the location on Android and iPhone as well. With the use of the above applications, you do not have to root your Android phone. The apps will automatically trick between your proximity and spoof a location. Regarding the iPhone location spoofing, it's not easy like you do on Android phones. You would need a dedicated tool, and Tenorshare iAnyGo fulfills the demand without Jailbreak and iPhone.
Freely Change GPS Location without Jailbreak!
Plan a route by selecting two or multiple spots on the map
Easy to simulate GPS movement based on customized route
GPS joystick to take better control
Import GPX file to start a designed route
Change up to 15 iOS devices' location on 1 PC/Mac