Fix No Location Found Find My Friends in 8 Ways
by Sophie Green Updated on 2022-11-14 / Update for change location
The no location found find my friends issue is a common Find My Friends error. This problem is often caused by this location service not working correctly. If this error bombards your screen, you won't be able to get the GPS details of your friends or family members whom you have allowed to share location details.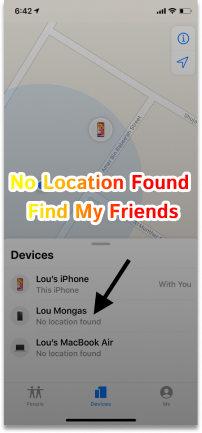 Reasons Behind "No Location Found Find My Friends"
If Find Friends keeps showing find my friends no location found, there's definitely a problem. This is probably because the location service is not working correctly. Some of these reasons are.
Incorrect date and time

 – If your date and time on your friend's device are incorrect, Find Friends will probably say no location found. 

No Internet Connection

 – If neither of your phones is connected to Wi-Fi or mobile data, then Find My Friends cannot get GPS information and communicate with the other device. 

Disabled Location Services

 – Your friend's phone's location services have been disabled, so Find Friends can't get the location details on your friend's device.

Technical problem

 – A technical problem with your phone or your friend's phone prevents the two devices from communicating correctly.

Login problem

 – Your friend has not logged in to Find my Friends.

Region Limits

 - Your friend is probably located in a region/country where Apple does not provide Find My Friends.
How to Fix No Location Found Find My Friends
If the person is out of network range, the app will show a "location not found when searching for my friends" message. Or he turned off the GPS, or the person in question ran out of battery. Whatever the reason, here are some solutions you can opt for.
1. Check Your Settings to Enable Location Services
No location found find my friends reddit suggests that If location services are disabled, you may see a Find Friends location not found error. To enable location services follow the steps given below-
Go to Settings>Privacy & Security>Location Service
Turn on Location Services.
Next, tap on Share My Location and make sure that Share My Location is also enabled.
2. Check the Internet Connectivity
If you are facing the find my friends says no location found issue, connectivity is the first thing you must check. Both Apple devices using Find My Friends should have a stable Internet connection. Here are the following things you can do-
Make sure you are connected to an active internet connection via Wi-Fi or mobile data.
If your device does not have internet access, go to Settings and check your WLAN and mobile data status. 
Do not forget to check if the signal strength is satisfactory.
3. Go to iCloud.com to Check Find My Status
The "Share My Location" option on iPhone is only available if you're signed in to your phone with your Apple ID and using the latest version of iOS.
If someone isn't signed in to iCloud, you won't be able to see their location. So the only solution is to log into iCloud and then share their coordinates with you. 
This often happens when someone upgrades or switches their phone, so they have to re-sign into all iCloud features and locations and check their status.
4. Correct Date and Time on iPhone
Incorrect date and time can cause Find my Friends no location found error. Therefore, the device must have the correct date and time. To make sure there is nothing wrong with the date and time on your device, follow the steps given below.
Go to Settings>General>Date & Time
Turn on the Set Automatically option.
5. Check the Region Compatibility
Everything else might work fine on your device, but if Apple doesn't support this Find My Friend feature in your country, you're likely to encounter the Find My Friends without Location problem. Apple may not support this service in some regions due to local laws or technical issues. Therefore, check if Find My Friends is supported in your country or region.
6. Try to Reset Location and Privacy
If the problem persists after trying the steps above, you may consider resetting your location and privacy settings to their default values. Here is the procedure:
On an iPadOS or iOS device, go to Settings.
Head to General.
Select the transfer or Reset iPhone 

Head to the Reset option and Reset Location & Privacy by following the onscreen instructions.
7. Restart the Device
If no location is visible in the app, you should restart your device and then log in again immediately. Before moving on to any complicated troubleshooting step, simply try this method and see if it solves your problem.
8. Update Your Device 
Make sure your device has the latest version of the operating system. There may be a widespread bug affecting some users of location services. But with the already-released updates, you can fix the issue. These steps will ensure your device is up to date: 
Go to Settings.
Head to the General option.

Click on Software Update.
Bonus Tip: How to Fake GPS on Find My Friends
If you wish to fake GPS on Find My Friends, you might have to scale through a plethora of diverse tools until you find the best one available. This is where Tenorshare Tenorshare iAnyGo has your back. This amazing tool helps you fake your GPS without Jailbreak and supports all iOS 16 and iPhone 14 series. 
Users can rely on the Tenorshare iAnyGo's Change Location feature to spoof their location effortlessly. They can also use the tool to play Pokemon Go with three types of virtual movement each based on the user's need. 
iAnyGo's Change location feature is super user-friendly and does not consume much time. Given below are the steps to use iAnyGo's Change Location feature. 
Download the application from the official Tenorshare website and launch it on your device. Once the application opens, select the "Change Location" mode. It will take you to the map. 

Now launch the program and connect your iPhone to your computer with the help of a USB cable. Make sure the connection remains intact throughout the process.

You can now modify and select your location on the map. Once you are satisfied with your choice you can confirm the location for the final modification. 
Conclusion
The no location found find my friends issue is a common problem encountered by many users every day. But solving this issue can be as easy as a cakewalk once you know the right tools and tactics to assist you.