Handy Tips to Catch Pokemon Go Groudon
by Anna Sherry Updated on 2020-08-22 / Update for iPhone Tips
There are tons of Pokemon legends, but only a few come close to Pokemon Go Groudon. But do you know what Groudon looks like? What are its best moves? Do you understand what you can do to catch it? This article will answer these questions and more.
Part 1. What Is Pokemon Go Groudon & How to Catch Groudon
Pokemon Groudon is an iconic Pokemon that has taken over Pokemon battles especially at Gyms. This top-notch Pokemon first came to the limelight a few years ago and many people cannot have enough of it. Since Groudon is one of the most powerful options out there today, it prides itself on having exceptional offensive and defensive moves that make it one of the most fearful Pokemons available.
Let's learn more about Pokemon Go Groudon below.
Part 2. What Does Pokemon Go Groudon Look Like?
Having known what Pokemon Go Groudon is, it is essential to understand what it looks like. Basically, in Pokemon Go, Pokemon Groudon comes with a maximum CP of 4115 as well as 205 stamina, 228 defenses, and 270 attacks. These features ensure that it is strong and difficult to catch by anyone. This Pokemon has the ability to absorb different types of energy from land to create a wide range of elements to attack. Besides, it can also rely on drought for more power.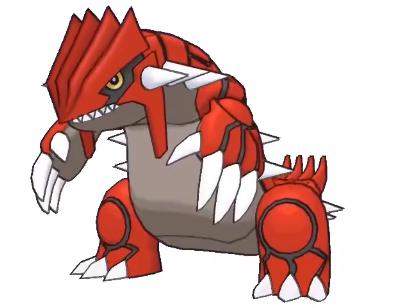 Notably, this Pokemon was initially discovered in the Hoenn region in Gen 3. However, it can be found in other ones today. Generally, Groudon is strengthened whenever it is inside sunny weather. However, its weaknesses include moves that are based on water and grass.
Some of its best moves include Earthquake, Dragon Tail, Solar Beam, and Mud Shot. It is important to understand that Groudon is believed to have a primal evolution in the future; hence, this Pokemon is likely to get stronger and better as time goes on.
Part 3. What Is The Best Moveset for Groudon?
Like other types of Pokemon, there are some combinations of moves that can give Groudon some fatal damages. Out of all the movesets available, it has been discovered that the combination of Dragon Tail and Earthquake will give you the best result if you are attacking Pokemon Go Groudon. Without a doubt, this moveset will provide the highest DPS; hence, it is highly recommended.
A few other movesets that can provide a relatively high total DPS are Mud Shot and Earthquake as well as a combo of Dragon Tail and Solar Beam.
Part 4. How to Catch Groudon in Pokemon Go If You Are Stuck at Home
If you are stuck at home, catching Groudon in Pokemon can be really fun-filled. However, it can also be challenging if you don't know the right moves to make and when to do them. For this, you should consider using the best movesets while still following some important tips that will be described below in an easy-to-use way.
Tip 1. Battle Groudon in Rainy Weather
Typically, Groudon is usually extremely powerful when it is clear or sunny weather. This is because its Fire, Ground, and Grass-type attacks are improved significantly by the sunny weather. With the help of this knowledge, you should think about attacking Groudon when it is raining. You can also take advantage of Water-type attacks to win your battle against Pokemon Groudon.
Tip 2. Use Golden Razz Berries to Increase the Chance to Capture Groudon
Golden Razz Berries are also great elements that you can use to capture Pokemon Groudon without wasting your time. This is because they are the strongest berries that you have in the game. Hence, they put you in a better position to catch Groudon. According to some Pokemon experts, Golden Razz Berries boost your chance of catching it by as much as over 20%.
To further boost your chance of capturing Pokemon Groudon, add Curved Great to the Razz.
Tip 3. Fake iPhone Location If You Are Stuck at Home
Normally, you have to move from a place to another as you enjoy your Pokemon game. However, this will practically impossible for you if you are stuck at home for any reason. But this must never stop you from having fun while capturing Pokemon Groudon. Therefore, it is suggested that you use Tenorshare iAnyGo to fake your iPhone location.
Using this tool is simple as long as you are ready to follow the basic instructions highlighted below.
The first thing you have to do is to download Tenorshare iAnyGo on your computer. Install the program and launch it. After opening, you should choose "Change Location".

Use a USB cable to connect both your iPhone and the computer. Afterward, you have to unlock the iPhone. A popup will ask "Trust This Computer"'; you should click "Trust".

Choose your choicest location on the map, with the mouse, you can zoom in and out of the map to choose your preferred destination. After choosing a location, just tap "Start to Modify".

This will change your location to the preferred one instantly. Now, you can go back to launch the Pokemon app on your iPhone and start playing anywhere you want despite being stuck at home.
Note: Changing your location back to the real one is easy. All you have to do is to restart your iPhone.
Groudon Pokemon Go FAQs
Q1. Is Groudon rare in Pokemon Go?
Yes, Groudon is a rare Pokemon in Pokemon Go.
Q2. Who is stronger between Groudon and Kyogre?
When they are in their base forms, Groudon is not as strong as Kyogre. This is because Kyogre has better speed, more fatal KO, and stronger defenses than Groudon.
Freely Change GPS Location without Jailbreak!
Plan a route by selecting two or multiple spots on the map
Easy to simulate GPS movement based on customized route
GPS joystick to take better control
Import GPX file to start a designed route