Zenly Fake location Guide [Can't Miss In 2023]
by Jenefey Aaron Updated on 2022-12-16 / Update for change location
Zenly is the talk of today and everyone is using it to stay connected with their friends and family members in real time. But location-based applications come with much danger to your personal information and privacy. This is precisely where Zenly fake location tools jump in. you can use these to efficiently spoof your location online and use the app the way you want.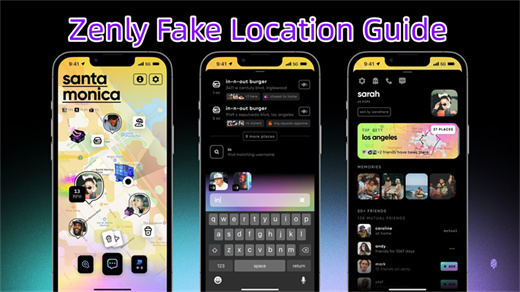 Now, prank your friends or surprise your parents with a fake Zenly location online. The tool we suggest at the end of the article is absolutely safe, private, and free of cost. What are you waiting for? Let's get started!
Short Introduction of Zenly
Zenly is a social map app that you can use to share and receive location in real time from people you care about the most. Being largely location-based, the tool lets you share and get location of your friends, see who's closest to you, who they are with, and what they're doing. In a gist, it cuts down the need of "Where are yous" to a great extent. You can just Zenly it! The app was developed by snap inc. Features:
Bump phones to tell people you're hanging out together.
See location of friends in real time.
Stay connected on a global level.
Go private with the ghost mode on.

Track and map diaries of where you've been over time.
How Does Zenly Work
Zenly is a location-based app that works by using the information linked to your friend's sim cards and phone numbers and asking them to agree to share them with you. The app has many options and features to ensure user security and preferences, like the ghost mode or bumping effect to tell people you're with someone. It uses technology like the GPS and IPS of a user to correctly deliver information about real time location.
How To Change Location on Zenly on Settings
There is no change location settings on Zenly. But you can add new places on Zenly. Here is how: Go to You Account on Zenly>"your world">Choose "opt-in to my world."
However, this doesn't do anything to your present location and you'll still be shown in the US if you're in the US, wont teleport you to India. If you really want to change location on Zenly, the only way is to spoof Zenly location.
Can You Fake Location on Zenly
Yes, you can! The internet being full of location spoofers and teleporters has made it extremely easy for users to fake location, and the same is to fake location Zenly. But finding the best option among this crowd is a difficult task, and we can save you from that trouble. The safest and easiest method, also free of cost, is guaranteed to solve your problems and use Zenly safely and have fun. Let's see how.
A SAFE Way to Get Zenly Fake Location
Tenorshare iAnyGo is the best solution to get a Zenly fake location and be safe, or prank your friends using the social map app. The tool is 100% safe and free of cost, and gives users an easy experience of use owing to its user-friendly interface. The tool is absolutely privacy friendly and a one-click solution to let you fake your location on Zenly, and any other location spoofing app. Let us see how you can use it to get fake location Zenly.
Download and launch Tenorshare iAnyGo on your pc. Now, select Change Location Mode.

Connect your iPhone or iOS device.

Enter the coordinates or address of the place you wish to teleport to and click on "Start to Modify."

You will be teleported to the newly set location.
Tenorshare has been used by over 600,000 people and everyone loves the tool. It has every pro of a spoofer and no cons, making it an ideal choice to teleport to anywhere on earth. The best thing about it all? In no time! Download Zenly and Tenorshare iAnyGo now and make the most out of the new age technology!
The End
Zenly is a great application to connect with your friends and family and stay connected with them online. Being a social map application, it lets you easily travel to any place virtually and change your location. How? Using a Zenly fake location application or tool that lets you spoof your location online. Awesome, isn't it?