[GuideLines] How to Cheat Pokemon Go and Why We Want to Do So
by Jenefey Aaron Updated on 2022-09-22 / Update for iPhone Tips
Pokemon Go - a truly a location based smartphone game so it demands you to move from one geographical location to another to catch the Pokemon. But with the progress the game will become more competitive! A common query strikes to the mind of any gaming freaks - Pokemon Go how to cheat!
Back to the question, if you are looking for how to cheat Pokemon Go. Then this blog will give you the tutorial. Pokemon Go hacks is possible with the help of some third-party tools. So read on and get the methods to cheat pokemon go.
Part 1: Want to Cheat Pokemon Go? Why
Many players are aiming to become the master of the Pokemon Go game anyhow. As Pokemon Go tracks the GPS location of your smartphone and uses a mapping technology for simulating the place into a virtual world where Pokemon will walk all over. So there is a geographical restriction for players because we can't actually fly to some places thousands of miles away to get a pokemon, right? Therefore, we can use some tools to help us to change our location when playing the game. This is what we call Pokemon Go hacks.
Part 2: Consequences Possibly Caused by Cheating Pokemon Go
Using game cheats is not ethically good and create unfair environment for most of the legitimate players out there.
You can break the rules on how to cheat Pokemon Go location and gain unfair advantage. But, you will always be in a risk of being punished!
Part 3: How to Cheat on Pokemon Go iPhone [FREE]
No doubt, it is a truth that many Pokemon Go hacks available today works against the terms and conditions of Pokemon Go. They will definitely work for your device but increase the chances of you being banned by the officials!
The same answer of What is spoofing in pokemon go. The method about how to cheat pokemon go iOS is to use a fake GPS location tool to trick others about your actual GPS location of your phone or Pokemon Go! Here are some suggestions to cheat your favorite Pokemon Go game on any of your iOS device.
Way 1: How to Cheat at Pokemon Go – Tenorshare iAnyGo(iOS)
iAnyGo can help you make GPS spoofing reality to catch more Pokemon. The best part of using this software is that all you need to do is just a single click to change the location of your iPhone without any tricks and jailbreak as a trusted tool.
Download, install and launch it on your computer, then choose "Change Location" option.

Connect your iPhone to the computer via USB cable to continue the process, then click "Enter".

Choose the GPS location, click on "Start to Modify" and you are done with setting a new fake location
Way 2: How to Pokemon Go Cheat – iTools
It is another program to spoof the location in the Pokemon of your iPhone. However, you can use this software only on iOS 12 or lower versions and can remain free for only a day!
Download iTools on your computer.
Use a USB cable to connect your phone to the computer.
Open the program, tap on "Toolbox", and further select the "Virtual Location".
Choose the Developer Mode if it asks you for the same.

On the top there a text box to add the fake location from the map, click "Enter" to proceed ahead!

Next, select Move here.
Way 3: How to Pokemon Go Cheat Location - Spoofer Go
A trusted location spoofing application can help an iOS user to change its GPS settings. However, the condition is the smartphone must be first jailbroken. You can find many helpful sources available online to get it done and then follow the below steps:
Download the application and install it from ispoofer.com.
Now open the App and follow the steps as directed.
Once you have iTunes installed, it will help you connect your iOS device with the PC.
Further, it will show the complete details of your smartphone, and then click on "Spoof" button.
Use "Single point simulation" mode to stimulate it!

Use 'Move' button to activate it!
Way 4: How to Cheat on Pokemon Go - AnyTo
Not just for faking the location it also helps in make virtual routes helpful in moving along while playing the game by actually being at one place. The spoofing app can be used to change the location in any social media or related AR games!
Download and install AnyTo on your computer.
Connect your iOS device to the computer using USB cable.
Launch it to see your current location in the map. Select the "Teleport Mode" located at the right side on the top.
Choose a new location on the map or use the Search box for the other places.
Tap on "Move" button to instantly change the location to a new one.
Part 4: How to Cheat on Pokemon Go Android
Compare with iOS users' location spoofing, it is easy to cheat Android phones, even on unrooted or jailbroken phones! Just download an application store and after few clicks your location are easy to go a fake location. Following are some Apps that you can try to get your desired job done.
Way 1: How to Cheat at PokemonGo - Fake GPS Location by Lexa
It has very user friendly interface and can be installed on android or windows based systems. You just needs two clicks to transfer the location of your phone to any desired location in the world.
Install the app from the Google Play store.

Launch it, select the desired location, and click on "Play" button.

Your phone will got its new fake location.
Way 2: How to Cheat on PokemonGo - Fake GPS Location by Hola
Using Fake GPS Location Hola is an another funny and fast way to solve the confusion about how to cheat Pokemon Go GPS! It overwrites player's current proximity and trick others by changing the GPS of your phone and make them believe you are actually somewhere else than reality!
Go to Android location settings in your phone and disable high accuracy mobile locations or location positioning. Leave it at "Device only" or "GPS only" mode!
Take the help of search bar or directly choose a new location in the map.

Tap on "Go" and your location will be changed!
Way 3: How to Cheat Pokemon Go GPS - Mock Locations by Dvaoru
The application offer many helpful features for the Android users. It can help with problems like how to cheat Pokemon Go walking! The app also offers closed route for movements and emulate GPS location.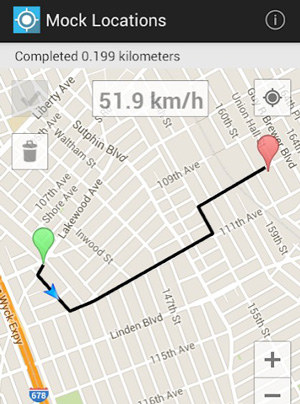 It is available on Play store, so download and install the same.
Choose the new location and set the co-ordinates.
It will quickly change your phone's GPS location to a new fake one!
FAQ about Cheat Pokemon Go
Q1: What happens if I got detected by Nintendo for cheating?
In case the developers of the game would catch your un-usual behavior, they will first send you a warning message for violating the terms and conditions due to use of unauthorized third Party software! In certain cases, you might not be able to use the account for some days.
Q2: How many warning do I get before my account gets banned permanently?
Nintendo's policy is to help their offenders to give about two to three chances so that one can learn from the past mistake and avoid repeating to use any methods of how to Pokemon Go cheat!
Q3: Whether there is any risk to my account while using a cheat?
Always download a third-party software from trusted source or their genuine websites to prevent your account from being spammed or got hacked!
Conclusion
How to cheat Pokemon Go? The answer is in the blog. It is really a hard job for someone to travel on different locations to complete the tasks offered by the game like catching a Pokemon.
So, using location spoofing app become a useful method for many users and playing the games with Pokemon Go hacks is not a shame. This is why Tenorshare iAnyGo appeared, if you need it, just give it a try!