How to Know If Someone has Blocked you on WhatsApp
by Jenefey Aaron Updated on 2022-11-16 / Update for iPhone Tips
With millions of users actively using the app, WhatsApp is arguably the most used instant messaging app that helps people stay connected with their friends and families. Most likely you also have a WhatsApp account that you use to send and receive messages from your friends.
With all these millions of people using the app, it's likely that some kind of misuse may happen. Maybe you keep on getting messages from someone who you don't even know. Or maybe you know the person who messages you but you just don't want to receive messages from them anymore.
Fortunately, WhatsApp has a feature that allows you to block people so that they can no longer message you. Your profile picture is also not shown to the users who you have blocked in the app. This way, you can make sure your account is only shown to those who you have not blocked, yet.
There's a question here though, how do you find out if someone has blocked you on WhatsApp? Well, WhatsApp doesn't send a notification to users letting them know someone has blocked them. Instead, it just prevents their messages from getting to your inbox. The following shows the top two ways to know if someone has blocked you on WhatsApp.
1. Check the Last Seen Message
To find out if someone has blocked you, simply open WhatsApp and tap on the user who you think has blocked you. You'll see the standard WhatsApp interface for sending and receiving messages.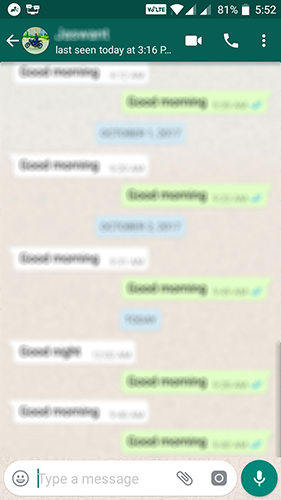 Just below the name of the person, you'll find their last seen status. If you don't see this, you've likely been blocked by them. However, keep in mind that WhatsApp has an option to hide the last seen status so it might be they've just hidden the last seen status from being shown to their contacts.
In most cases, though, this will let you find out if you have been blocked by someone in WhatsApp.
2. Send a Test Message
If someone has blocked you, they will not receive any of your messages. So, fire up WhatsApp and tap on the user who you think has blocked you. Type in a short and sweet message and let it go.

If you see two tickmarks, it means the message got delivered to them and they have not blocked you. However, if you only see a single tickmark, it means they never got your message and they have likely blocked you.
You should keep in mind that a single tick also appears when the user doesn't have an active Internet connection. So, your friend might be out of Internet and you will end-up thinking he or she has blocked you. You can wait, say, for a few days and see if the message gets delivered. It it does, you're not blocked by them.
Above are two of the ways to know if someone has blocked you on WhatsApp. There are also other indicators, such as their profile photo not appearing, calls not getting connected, and so on, that indicate if they have blocked you.
Boun Tips:
It may also be that you've got a wrong person's phone number in WhatsApp. You can verify this by checking the actual phone number in the Phonebook app of your device. If you don't see the contact there, you might have lost it and you'll need to recover it. Or sometimes you may lose important WhatsApp chats by deleting accidently. Fortunately, there's an app that helps recover contacts on your device- Tenorshare UltData WhatsApp Recovery. It is a professional data recovery tool to get back lost messages (iMessages, Viber messages, WhatsApp messages), Contacts, Photos, Videos, Notes, and more on iPhone/iPad/iPod with iOS 12/11/10.
Manage Your WhatsApp Messages On Your Way
Flexibly transfer WhatsApp from iPhone 14 to Android;
Flexibly transfer WhatsApp from iPhone to iPhone 14;
Backup WhatsApp iPhone to PC/Mac Freely & Easily;
Restore WhatsApp Backup to iPhone, iPad, Android;
Just download and install the app on your computer and you should be able to recover the contacts or WhatsApp chats you have lost on your device. And also, it's pretty easy to do that so no sweating!