Pokemon Go Joystick Android No Root (Update Guide)
by Jenefey Aaron Updated on 2020-08-10 / Update for Android Tips
Hi! I'm new to this, and I'm trying fake GPS Pro, but every time I move, it tells me it can't detect my location and takes a long time to load everything."
Pokemon Go is a popular AR game that offers an interesting and unique experience to all the participating players. This game offers the unique integration of AR and GPS technology, which makes it much more entertaining.
However, not all players will have the energy to go around catching Pokemon. For all such users, the ultimate solution is Pokemon Go joystick Android. With the help of this app, you can virtually catch any Pokemon. If you want to know how you can play Pokemon Go joystick Android no root, this guide will help you out.
Part 1: How to Use Joystick for Pokemon Go Android No Root
Do you want to know Pokemon Go joystick hack Android no root? Read on! To play Pokemon Go hack Android no root joystick, you will first need to download the app on your device. From Google play, you need to download fake joystick for Pokemon Go, and fake GPS joystick & routes Go apk. After this, you can follow the steps given below.
As mentioned above, download the required apps.
From "Settings" go to "About Phone" and then tap 7 times on "Build number to access developer mode".

From the location settings, set GPS to "High Accuracy" for the effective functioning of fake GPS.

Launch the routes and then enable GPS of your device.

Move the pointer to your desired location to spawn or select any location.

From Fake GPS settings, enable Non-Root mode.

Enable Joystick option as well.

Move the red colored dot to the desired location and hit "Play" and Fake GPS will get enabled. Check from Google maps if the location is correct.

Open Pokemon Go app, and you will find yourself in the location specified on Fake GPS.
This is an easy trick to fool Pokemon Go app and catch several Pokemon as desired by you.
Part 2: Can I Change The Joystick's Position in Pokemon Go?
Yes, you can change the joystick's position in Pokemon Go. All you need to do is tap and hold the joystick's outer circle. After this, you can drag and drop it anywhere across the screen of your device.
Part 3: Is There Any Other Apps Which Can Instead Joystick
While playing this popular game, you need to be in a particular position in order to collect Pokemons. However, it is pretty gruesome to go around physically looking for Pokemons. This is why you can instead use an app to collect Pokemons with a joystick.
There are other apps that can be used for this purpose, which are listed below.
1. Fake GPS Location - GPS Joystick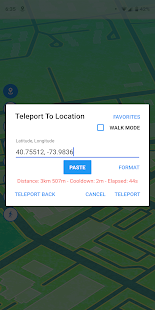 With the help of this app, you can test all location-based apps on your device like Pokemon Go by mocking your current location through an overlay control by joystick. It will overwrite your current location and make any location-based app think that you are in a different geographical location. With the help of this app's joystick, it is easy and fun to change your current location almost instantly while playing Pokemon Go.
2. Fly GPS - Location Fake/Fake GPS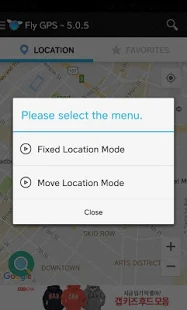 If you want to enhance the experience of playing the famous game Pokemon Go, you must definitely try out this app. This app lets you use the joystick feature to change your current location on Pokemon Go so that you can collect several Pokemons from different locations virtually by sitting from a single place. You can drag around the joystick to change the GPS location through this app.
3. NewGPS! Joystick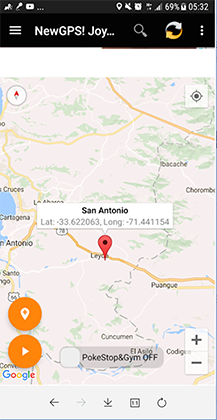 This app makes use of the internet to show the exact location if the in-built GPS app on your phone is not working. However, this app can also be used to mock your current location whenever required. So, if you want to collect more number of Pokemons by sitting at a given place, you can use this app to mock your current location and collect Pokemons virtually.
Freely Change GPS Location without Jailbreak!
Plan a route by selecting two or multiple spots on the map
Easy to simulate GPS movement based on customized route
GPS joystick to take better control
Import GPX file to start a designed route
Change up to 15 iOS devices' location on 1 PC/Mac