Why Is My Android Phone Not Ringing, How to Fix?
by Anna Sherry Updated on 2022-02-11 / Update for Fix Android
Missing important calls due to your Android phone not ringing? A number of users are complaining about this issue and asking "why is my Android phone not ringing". On the bright side, there are different methods that can help you get the ringtone to work on your phone. Have a look:
The Android phone ringing issue is normally associated with the ringtones that can lead to your phone not to ring when someone is calling. If you are asking the "why is my phone not ringing?" question, then these methods will definitely help you.
Fix 1. Make Sure that Your Phone Isn't on Silent
If you are a user complaining "my android phone doesn't ring when someone calls me," then you might check if your phone is on Silent or not. Press the "Volume Up" button until the volume reaches your desired level.
Fix 2. Make Sure That Your Phone Isn't in Airplane Mode
You phone won't receive any calls in airplane mode, which leads to complain "phone doesn't ring when i call someone". In this case, just remove your phone from airplane mode.
You can open the notification drawer and tap on the Airplane mode option to get your phone out of Airplane mode. Or you can also go to Settings > Network & Internet > Airplane mode. And toggle off Airplane mode.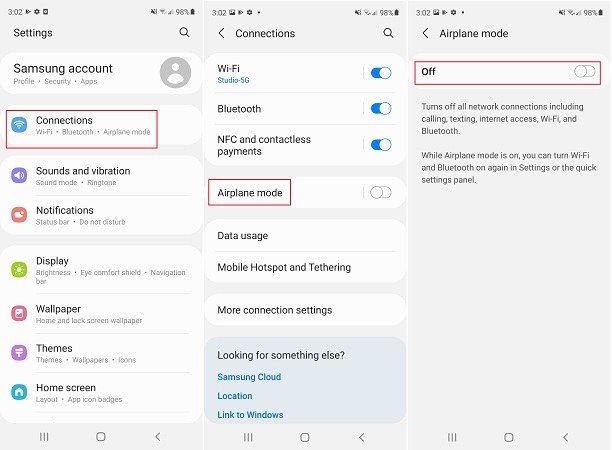 Fix 3. Check If Do Not Disturb Mode is Enabled
If you phone is on Do Not Disturb mode, then chances are high that your Android phone doesn't ring. Follow the below steps to know how to get your phone out of Do Not Disturb mode.
From the notification drawer, you can turn on and off the Do Not Disturb mode.

Or go to Settings > Sound & vibration > Do Not Disturb mode to turn it off.
Fix 4. Check If Call Forwarding Is Turned on
Call forwarding is used to transfer the incoming calles to other mobile phones you set. So turning off call forwarding might also help in solving why is my Android phone not ringing. Follow the below steps to check and turn off call forwarding.
Launch the Phone app and click the Menu icon on the top right corner.
Go to Settings, and locate Call Forwarding.

If any of the options are turned on, click the enabled option to toggle them off.
Fix 5. Turn off Bluetooth on Your Phone
If your phone has been connected to a Bluetooth device, then you might not hear the ringtones as they are played on the Bluetooth device. That might be the reason why you ask my phone is not ringing. Turning off Bluetooth or disconnect from the devices will help in solving this issue.
Swipe down to open the notification center and turn off the Bluetooth feature.

You can also go to Settings > Bluetooth. Toggle off Bluetooth or disconnect the connected device.
Fix 6. Repair Android OS to Fix Phone Not Ringing
If none of the above solutions work for phone not ringing, you can always depend on Tenorshare ReiBoot for Android. The tool is a professional Android system repair program that works and solves more than 50 issues (such as boot screen, stuck on Samsung logo, battery drain, forced termination, Apps keep crashing, and black/blue screen of death). Follow the below steps to solve Android phone doesn't ring issue.
Download and launch the program on your PC and connect your phone to it. Click on the Repair Android System on the main screen.

 

Here, you need to click on "Repair Now" if your Samsung Android device is not ringing.

Enter your device information on the next screen and click Next to download the corresponding firmware package.

One the download is completed, click the Repair Now option on the next screen. A pop-up will appear. Read carefully and, if you agree, proceed by clicking Continue.

Next, enter the Download Mode to launch the repairing process by following the instruction in the image below.

This will start the repairing process. Once the process is completed, your issue will be resolved and you will be notified.
Conclusion
In short, we just look at different methods that will help us solve why is my Android phone not ringing. Among those, the ultimate method is to use Tenorshare ReiBoot for Android, that will solve Android phone not ringing issue with just a single click.