6 Easy Ways to Fix Android White Screen of Death
by Sophie Green Updated on 2020-02-19 / Update for Fix Android
Android white screen is one of the issues you can encounter while using an Android device. As you can guess by its name, your entire screen goes white when the issue occurs on your phone or tablet. If the issue persists for a long time, you may want to take a look at some of the methods to fix it on your device.
There has been several ways to fix the black and white screen Android issue on your devices. What method is going to work for you totally depends on what has caused the issue. However, you can give each one a shot and see if something works for you and helps you get rid of the issue.
Part 1. One Click to Fix Android White Screen Due to Glitched OS/Update failure
If you are someone who prefers straightforward and simple options to fix issues on your devices, your best option to fix the white screen on Android phone issue is to use a third-party software.
There is a software called Tenorshare ReiBoot for Android that allows you to fix many of the issues on your Android based devices. It has a feature called Repair Android System that goes into the core system of your device and fixes the main essential files of the OS. This in turn fixes all other issues that you may be facing due to software on your phone.
The following shows how to fix white screen on Android phone using this software.
Download the software and install it on your computer. Launch the software and click on the Repair Android System option.

Image 1. Connect Android Device

Hit Repair Now on the screen that follows to continue with the procedure.

Image 2. Repair Now

It will ask you to enter your phone details. Do so and click on the Next button. It will download the firmware for your phone. Wait for it to do that.

Image 3. Download Firmware Package

When the firmware is downloaded, click on Repair Now to begin repairing your device. You will see the following while your phone is being fixed.

Image 4. Start Repair
Part 2. How to Fix Android Apps Display a White Screen
If it is a certain app that shows a white screen, you can use the following methods to get rid of the Samsung white screen of death issue on your device.
1. Clear Data and Clear App Cache
Each app on your device stores its data and cache files in your memory. Sometimes, these files may get issues in them but you can clear these files to prevent the issue from occurring.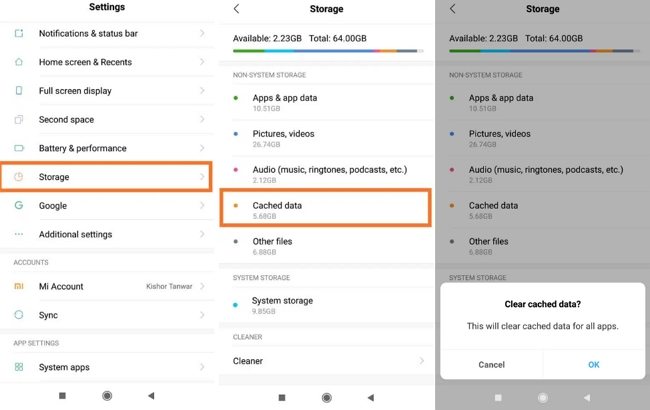 To do it, head to Settings > Apps & notifications, choose the problematic app, tap on Storage, and then select Clear Storage. Once that is done, tap on Clear Cache to delete the cache files as well.
2. Uninstall Incompatible Apps
If you have installed any apps that are not fully compatible with your phone, removing them from your phone should fix the Android white screen of death issue for you.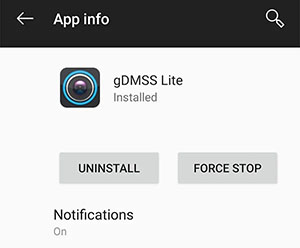 To do it, open Settings, tap on Apps & notifications, select the incompatible app, and tap on Uninstall.
3. Move Your Apps to Internal Memory
Apps are supposed to run from your internal memory. However, if you have been using them from your SD card, moving them to your internal space will likely fix the issue for you.
You can use a free app like Move app to SD card to do the task on your device.
Part 3. How to Fix Android White Screen due to LCD connector
The white screen issue may be the result of a loose LCD connector. If that is the case, you can open your phone and fix the connector for yourself.
Turn off your device and remove the back cover.
Pull the battery out of your device.
Unlock and take off the LCD ribbon.
If you see any dust on the ribbon, clear it using a clean cloth.
Put the ribbon back into its place and lock it up.

Put the battery back into your device and turn it on.

Pic 4. lcd connector
Part 4. How to Fix Android White Screen due to Display or Internals Damage
If there has been any physical damage to your phone like water damage or dropped it down, chances are some of the internal parts working with the screen have got seriously damaged. In this case, it is best you bring your phone to the official service center or a good technician and let them fix it for you.
Conclusion
We hope the above Android tablet white screen of death fix methods help you get rid of the issue on your phones and tablets. With the availability of a number of methods, it is pretty easy to fix these issues by yourself sitting at your home. ReiBoot for Android is highly recommended for you to repair various Android issues like Android phone stuck on recovery mode, headphone mode, bootloop, etc.