Best Cell Phone Repair Software – 2023
by Sophie Green Updated on 2021-12-30 / Update for Android Tips
Due to their very nature, cellphones are prone to both physical and virtual damage. If you have been using a cellphone for quite some time, you would know it can get damaged due to various reasons. While the physical damage can be repaired by replacing the damaged parts, fixing the technical damage is not easy. Fortunately, though, there are software for cell phone repair to help you repair and fix all the technical issues on your phones.
What most of these phone repair software do is they analyze the issues you are facing on your phone and then come up with possible solutions to help you get rid of the issues. When you find a solution that you think will work for you, you can implement it and the software will do its best to repair the issue on your phone.
The following are some of the best Android software or apps to help you repair your phones.
1. ReiBoot for Android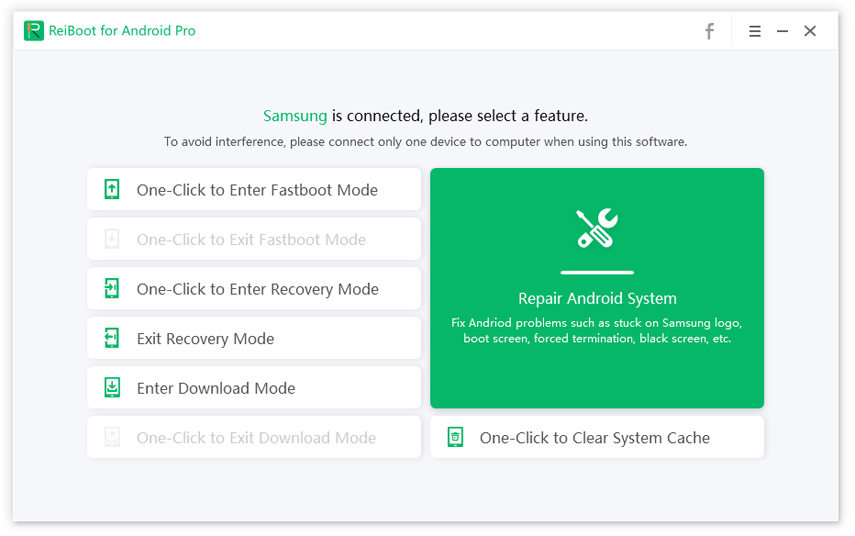 ReiBoot for Android ReiBoot for Android is one of the best apps to repair any issues you may be facing on your Android device. The app has solutions to almost all the issues you could ever face in the lifetime of your device. From the ability to help you easily enter the recovery mode to letting you fix stuck issues on your phone, the app has all the features you would ever need to fix any kind of issues on your device.
Recommended Features of ReiBoot for Android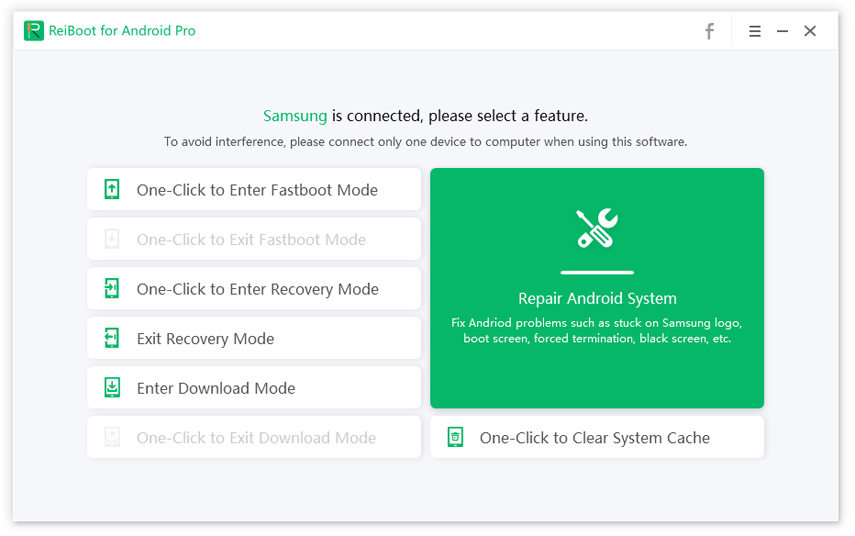 Dr.Android Repair Master 2019 eliminates many of the issues you could ever face on your Android device by fully scanning your device for any potential issues. It is a great tool to have on your device to keep your device away from any problems.
1 click to enter and exit Android recovery mode.
Free to enter or exit fastboot mode by one click.
Simple clicks to repair Android system to normal.
Get rid of various Android issues like stuck on Samsung logo, app crashing, black screen, unresponsive touch screen and so on.
Support 600+ Android phones and tablets, including new Samsung Galaxy S10 and Android 9 Pie.
As you can see, the app has a solution to pretty much any issue you could ever encounter on your Android phone. Give the app a try if you are facing any issue and it will likely fix it for you in a matter of a few minutes.
Here is the video link on how to repair Android with ReiBoot for Android
2. Greenify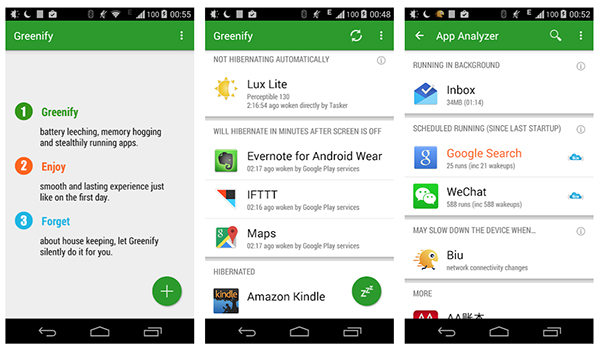 If you are facing lagging and slow performance on your device, Greenify could resolve the issue for you. What the app does for you is it puts all the inactive apps in the hibernation mode to help you save on your battery life as well as free-up the RAM space to run active apps faster than others. The app is used by a lot of users on a daily basis and it does the following for its users:
Recommended Features of Greenify
Maximize battery life.
Put inactive apps in hibernation mode.
Although it is not a full mobile repairing app, it helps you fix a few elements on your device and you can use it if those are the areas where you have issues on your phone.
3. Wifi Analyzer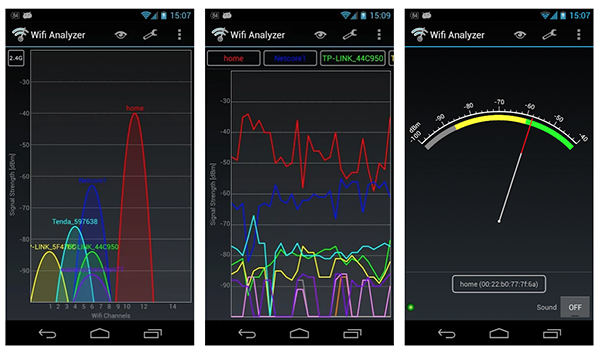 If you are having trouble connecting to a WiFi network due to crowded channel issues, you may use the Wifi Analyzer application to find less crowded channels and to join them. The application scans networks around you and helps you choose the best connection so you do not have any issues with your network. The app does the following for you:
Recommended Features of Wifi Analyzer
Scans networks around you.
Helps find less crowded WiFi channels.
If WiFi connection is a big trouble for you, the app will resolve the issue for you.
4. Phone Doctor Plus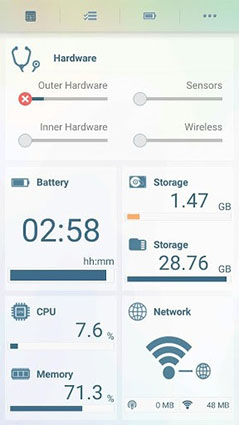 Phone Doctor Plus is an app that lets you perform a full diagnosis of all the elements on your device. It checks and provides you with information about how each and every part of your phone is performing so you can work on the weaker parts and improve them. The following are the main features of the app:
Recommended Features of Phone Doctor Plus
View phone information at a glance.
Record charge cycles of the phone battery.
Monitor network usage.
Check more than 30 hardware items on the phone.
If you have issues with any of the parts on your phone, this is the app you need to use.
5. All-in-one Toolbox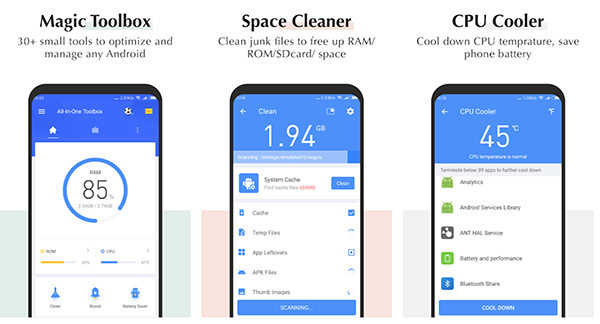 All-in-one Toolbox, as the name implies, is a full solution for your phone junk and speed related issues. The app has all the sub-tools you need to clean up your phone of any junk content and boost its performance. It even has a file explorer to let you explore your files like a file manager. Here's what the app offers to its users:
Recommended Features of All-in-one Toolbox
Remove junk files from the phone.
Cool down the CPU temperature.
Analyze your WiFi network.
Explore apps and files.
If you are looking for a cell phone repair near me solution, this is the app you should be getting.
6. Assistant for Android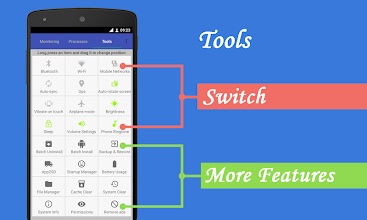 Assistant for Android lets you improve the performance and save the battery life on your phone. The app consists of many tools that let you perform a number of tasks including batch uninstall apps, backup and restore apps, and so on. Here are the main features the app has for you:
Recommended Features of Assistant for Android:
Monitor status of various elements.
Manage processes.
Clean cache files.
Clean system files.
Manage startup apps.
Conclusion
Instead of searching phone repair near me to look for any phone repair shops near you, you should be getting this app to get rid of all the issues you have on your phone.
If you are looking for any cell phone repair solutions, the above guide provides you with some of the best apps you can use to fix tons of issues on your mobile phones. We hope it helps you fix the issues you are facing on your phones.