[100% Working] 2 Ways to Skip LG Stylo 2 Stuck on Configuring Your Phone
by Jenefey Aaron Updated on 2020-07-28 / Update for Fix Android
When I first powered up my LG Stylo 2, it got stuck at the 'configuring your phone' screen didn't boot up at all."
While scrolling through the online forums, LG Stylo 2 stuck at configuring your phone screen was the most common query raised by users. If you don't know what we're talking about, the following snippet might ring some bells.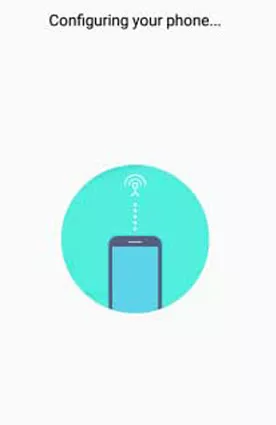 This type of message usually appears when you've recently performed a factory data reset without doing the activation before. As a result, the OS will fail to configure the device for calls & data and will eventually get stuck at the "Configuring your phone" window with no option to go back or forward.
Fortunately, this is not the end of the world as you can easily get past this screen and continue using your phone without any hassle. To make it easier, we've written down the most effective ways to fix LG Stylo 2 stuck on "configuring your phone" window.
Part 1: How to Skip LG Stylo 2 Stuck on Configuring Your Phone
Using Hardware Key Combination
The first method to fix the issue is to press all the hardware keys at the same time. Simultaneously pressing the "Power Button", "Volume Up", and "Volume Down" button will bring up a new pop-up with a dedicated "Skip" button. Press this button and the "Setup Wizard" will continue with the remaining setup process and you'll be able to access your device without any interruption.
However, this method only works half of the time. There are many users who have reported to not see any "Skip" option, even after using the mentioned key combination. If that's the case, you'll have to look for a different solution to fix LG Stylo 2 stuck on configuring your phone window.
Using Tenorshare ReiBoot for Android (Free Software)
In case the first method doesn't work for you, we recommend using ReiBoot for Android, a third-party system repair tool that's designed by professionals to solve 50+ Android issues. From entering/exiting recovery mode to entering the download mode, ReiBoot for Android allows users to perform different operations. Thanks to its intuitive interface, you'll be able to perform all these operations with one click.
Since getting stuck at "configuring your phone" window is the same as getting stuck at the recovery window, you can easily fix the issue using ReiBoot's "Exit Recovery Mode" function.
Let us take you through the step-by-step procedure to get past the "configuring your phone" screen on LG Stylo 2 using Tenorshare ReiBoot for Android.
Download and install ReiBoot for Android on your PC. Once the installation process completes, double-tap its icon to launch the software.

Now connect your LG Stylo 2 to your PC via USB and select "Exit Recovery Mode".

Select the "TWRP Recovery" option and follow the on-screen instructions to make your device exit the recovery mode.
After the device successfully reboots, you won't see the "configuring your phone" window again. So, if using the hardware key combinations doesn't fix the issue, make sure to install ReiBoot for Android to get the job done. Being a professional system repair tool, ReiBoot offers a 100% success rate.
It is also worth noting that these two methods will also work for other LG smartphones such as LG ls675 and LG G4. So, if you're using any of these two devices, feel free to utilize these two methods and fix LG G4 stuck at configuring your phone screen.
Extra Tips: Related LG Stylo 2 Issues You May Want to Know
LG Stylo google account removal tool
After resetting your device, you'll also encounter the Google FRP verification window. This is a security measure that Google has introduced to avoid theft. However, this feature could also become a severe headache if you've forgotten the Google account credentials you were using earlier on the device.
So, in this case, you'll need a dedicated tool to bypass the Google FRP verification. However, the way to remove LG FRP lock is quite complicated and very few products support LG. Here, we will show you how to unlock Samsung FRP lock by 4uKey for Android. You can see how does the software to remove FRP lock.
Connect device and choose "Remove Google LOCK (FRP)".

Follow instructions to get into recovery mode.

Choose the device information and hit "Next".

Enter Download Mode by following the steps on the screen.

Download the firmware package now and the program will ask you to get into recovery mode again. Do that and the lock will be removed.
LG phone stuck on LG screen
Apart from "configuring your phone" and Google FRP verifications, getting stuck at the LG logo is another common issue faced by users. This usually happens after you've restarted your device or performed a complete device reset.
In this case, again you can use ReiBoot for Android to fix the issue. Simply connect your phone to the PC and launch Reiboot. Now, in the main interface, select the "Enter Recover Mode" option. Next, exit the recovery mode. This will help you fix the "stuck at LG logo" immediately and you'll be able to use your device.
Conclusion
That concludes our guide on how to fix LG Stylo 2 stuck on configuring your phone window. Even though Android issues like getting stuck at "configuring your phone" and "Google FRP verification" window may seem quite frightening at first, you can easily fix them on your own. All you need is tool like ReiBoot for Android, it'll instantly fix the specific Android issue.