[Easy Ways] How to Fix a Bricked Phone
by Sophie Green Updated on 2020-02-19 / Update for Fix Android
Android brick has multiple forms and it can occur to any device at any time. If your phone is behaving abnormally or is simply refusing to turn on, it is likely bricked and needs to be fixed using an appropriate fix method.
The following guide shows how you can find out if your phone is bricked, and if it is, what brick form it is and how to unbrick Android phone of yours. It covers everything you need to know about various bricks of Android based phones and tablets.
Part 1. How is Your Phone Bricked: Soft Brick, Hard Brick or Broken?
Before you find any methods on how to fix a bricked phone, it is important to know what bricked form your phone is in. Whether it is a soft brick, a hard brick, or it is completely broken. Match the symptoms of your device against the ones given below and you should be able to find it out.
1. What is Soft Brick?
A soft brick is the lowest form of an Android brick and these phones can actually easily be recovered. Your phone will show the following symptoms when it is soft bricked.
Gets a white or black screen of death
Boots directly into Recovery mode
Boots straight into its bootloader
2. What is Hard Brick?
A hard brick is a more severe form of an Android brick. In this case, your phone will likely become unusable. Your phone will likely not turn on despite you pressing the Power button numerous times. Also, any other methods to revive the phone will also fail.
The phone won't turn on in any way or any formp
3. What is a Broken Android Device?
A broken Android device is a device that has one or many of its hardware components literally broken. This means a cable or any other part on your device has been damaged to the extent that it no longer does what it needs to do. As a result, your phone will not function.
Part 2. How to Fix the Soft Bricked Android Phone?
If yours is a soft bricked phone, then you have some really easy ways to fix it.
1. One click to Unbrick Android with Android System Recovery Tool
Tenorshare ReiBoot for Android is a one click unbrick tool for Android that helps you fix your soft bricked Android phones and tablets. It resolves the issues related with the core system that in turn fixes all other issues on your phone. It can be useful when your device shows the following symptoms.
When to Using ReiBoot to Fix Bricked Android?
A software error/crash occurred
Software problem occurred in the device mainly during OS upgrade or flashing
You fail to root the device properly
Installing malicious software on your Android phone or get virus attacked
How to Use ReiBoot to Fix Bricked Android?
If you would like to use it, the following shows how to unbrick a phone using the ReiBoot for Android software.
Download and launch the software. Click on Repair Android System.

Image 1. Connect Android Device

Click on Repair Now.

Image 2. Repair Now

Enter your phone details and hit Next and wait for it to download the firmware.

Image 3. Download Firmware Package

Click on Repair Now and wait for it to repair your phone.

Image 4. Start Repair
Your phone should now be repaired.
2. Wipe Your Data and Cache If Your Phone Keeps Rebooting:
When you are flashing a custom ROM, your Android phone will keep rebooting. This is because you forget to wipe all the data or cache of the previous ROM. The following is how to unbrick Android with this method.
Get your phone enters into the recovery mode, This method take ClockworkMod Recovery for example.
Use your volume keys to navigate the menus, and your power button to select menu items. Scroll down to Advanced, and choose "Wipe Dalvik Cache".
When that's finished, go back to the main screen and choose "Wipe Cache Partition".

Go to "Wipe Data/Factory Reset" to delete all your settings and apps, but you should still be using the correct ROM.

Pic 1. wipe cache
3. Flash a New ROM If Your Phone Boots Straight Into Recovery
If you boot up your phone straightly into ClockworkMod, then there's likely an issue with the ROM you flashed. In this case, you'll need to reflash new ROM.
Download the appropriate ROM (typically contained in a ZIP file) to an SD card.
Insert the SD card into your device.
Select Install updates from SD card.
Select the ZIP file containing the ROM.

Select Reboot system now.

Pic 2. flash new rom
Part 3. How to Fix the Hard Bricked Android Phone?
If your phone is hard bricked, the following methods on how to fix a hard bricked phone should help you.
1. Revive with a USB Jig
A few phones can be revived with a USB Jig. A USB jig is a small device that you can connect to your phone USB port and puts the phone into Download Mode to reinstall the stock firmware. You can find these for cheap on Amazon or eBay, but only for a very small number of devices.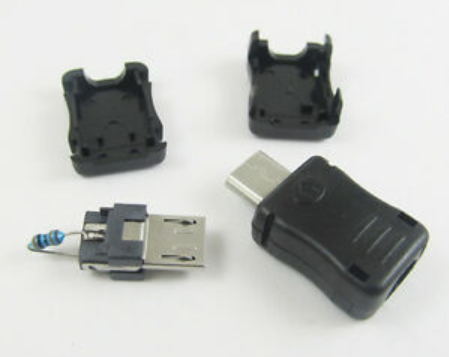 2. Take It to A Repair Store
If no matter how hard you try, it won't work at all. Then you need take it back to your carrier's store or the nearest repair store and let them fix it for you.
That is how you fix a hard bricked phone.
Part 4. How to Fix the Broken Android Device?
If your phone is in the most severe condition, which is broken, then you can try the following ways to fix it. These methods do not use any Android unbrick tool.
1. Repair or Replace the Electrical Component
If your Android is broken especially after water damaged, dropped down , contact your manufacturer for the nearest service centre to find out the part of your phone that is damaged and have it replaced with a new one.
2. Buy a New Device
If the phone is damaged beyond repair, your last choice should be to get a new device.
Conclusion
Our guide above shows how to unbrick Android without recovery and with recovery so you can fix your phones regardless of how they are bricked: soft bricked, hard bricked or broken. We hope it really helps you out. If your Android phone stuck on recovery mode, headphone mode, bootloop, etc. ReiBoot for Android is really a professional Android fix software for you.