Fix Samsung Phone No Sound with Best 8 Ways
by Jenefey Aaron Updated on 2020-03-02 / Update for Samsung
Frustrated over your Samsung phone speaker not working? Whether you're set to make a phone call or simply want to enjoy the latest YouTube video uploads, it is no exaggeration that having unresponsive speakers could be quite infuriating.
Fortunately, with the continuous development of Samsung devices, along with the presence of reliable troubleshooting software, there now lies a range of methods and tricks that are sure to help you solve this problem.
Part I. Why Is Samsung Phone Sound Not Working
Interestingly, there comes a ton of possible explanations why your Samsung J5/J7 Media Sound not working. In most cases, this could stem from a software glitch triggered by some unsuitable mobile apps, incomplete updates, or even incorrect audio settings.
In some cases, the problem could also be traced to some physical damages that may have negatively hit the phone's audio operations.
And lastly, as ridiculous as it may sound, there are also certain instances where you might encounter problems concerning your Galaxy S7 speaker not working due to the presence of what we call "ghost connections" involving other external devices (e.g. Bluetooth speaker, TV, etc.).
Part II. How to Fix Samsung J5/J7/S7/S8/S9/S10 Sound Problem
Generally, since there comes a ton of probable causes that could be linked to your Galaxy S9 Plus speaker problem, there also lies a range of possible methods that will help you fix the issue and put your device's audio back on track.
To help you fulfil that, here is a rundown of the most common methods you need to know.
1. The Official Method
As mentioned earlier, one of the most common reasons why your Samsung speaker is not working is due to the presence of some software glitches within your device's system. When this happens, Samsung recommends that you perform an immediate software update on your phone to put your system back in order.
To do so, you'll only need to follow these steps:
Go to Settings > About.
Choose Software Update.

If an update is available, hit Download and then Install.

Pic.- Software update

Your device will automatically restart once the download has been completed.
2. Restart Your Samsung Device
Still confronted by the same problem despite performing a software update? Here's one of the oldest tricks in the book: Restart your Samsung device.
Since random software glitches can sometimes affect a phone's audio operations, it is best to give your phone a soft reset to clear out any minor glitch in its operating system.
You can do this by simply hitting the Power options and selecting the Restart button. In most cases, especially in the presence of minor glitches, a simple restart can already fix your Samsung J7 prime sound problem.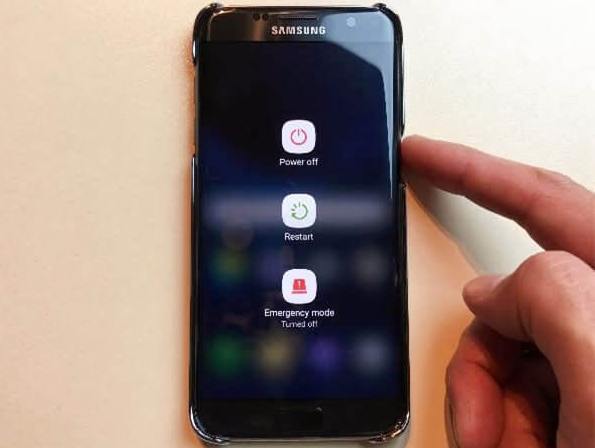 3. Check in-call Volume
This might seem ridiculous at first, but, believe it or not, some audio problems might not be problems at all. To make sure that you're not just mistaking your phone's Silent/Vibrate mode into an audio issue, it is best to check your in-call Volume.
To do so, you'll only need to press the volume key that is located at the side of your device.

Once the volume slider appears, select the small arrow located at the bottom of the slider.

Pic.- Check in-call volume

From there, you will be redirected to the status of your Media volume.
Once you've realized that your Silent/Vibrate mode has been enabled, you can proceed and turn it off by adjusting all the sound settings to become louder.
4. Clean Speaker
Here's another tip: Keep your device's speaker spick and span. Unknown to many, dust and dirt could easily accumulate within a device's audio jack and may lead to possible audio problems.
To fix this, it's important to clean your device's headphone jack and speaker right away to ensure that no dirt will prevent your device from giving you quality audio experience.
5. Use ReiBoot for Android
If you're looking for an easier and faster method, turning to a reliable repair & Recovery tool such as Tenorshare ReiBoot for Android, is probably the best option you can take.
Designed to work as professional Android system repair software, the ReiBoot app takes pride in its favourable set of features that promise easy reboot and fast recovery for any Android device.
Specifically, with the said tool, Samsung users can easily troubleshoot any software problem – including the issues related to their Samsung S8 no sound.
To do so, they only need to follow these steps:
Download ReiBoot for Android on laptop or desktop.

Click "Repair Android System".

Pic1.- Repair Android System

Select "Repair Now".

Provide correct device info.

Pic2.- Provide device info

Download firmware package.

Once the download is complete, you can click on "Repair Now" to launch the system repair.

Pic3.- Repair successfully
You may also like:
6. Reset All Settings
If you're not fond of relying on third-party repair apps, you can still fix your Samsung Galaxy S8 audio problem by performing a Setting reset to put your device's system back to its default.
This could be done by doing these steps:
Go to Settings.
Click on the General Management option.
Hit Reset.

Browse and hit Reset Settings.

Pic.- Reset settings

Once the resetting is complete, your device will automatically restart.
Check if your phone audio is already working.
7. Turn off Bluetooth
As discussed earlier, there are certain instances where you may find your Samsung a5 sound not working due to the presence of other external devices that may have been previously connected to your phone's audio.
To solve this, simply slide your finger down from the top edge of your device's screen to launch the Notification board. From there look for the Bluetooth icon and tap it to turn the function off.
8. Factory Reset Samsung
Lastly, if you're serious on wanting to fix your no sound on my Samsung phone, performing a factory reset could also come as a wise bet. Although this will completely wipe out your phone's data, including your favourite apps, this also promises to turn your phone back into a clean slate – with no glitches and app problems involved.
To do this, you'll only need to follow these steps:
Go to Settings.
Select Backup and reset.

Tap Factory data reset.

Pic.- Factory data reset

Select Reset Device.
Choose Erase Everything.
Once the process is complete, your device will automatically restart.
Test if your phone's audio function is already operational.
The Bottom Line
Perhaps, many would agree if we were to say that nothing could be more frustrating other than having your Samsung phone no sound. Since nearly every mobile activity requires the presence of sounds – from games, social media, to many more – ensuring that your device's audio feature remains functional comes as a necessity.
Be sure to try out these troubleshooting techniques to fix your audio-related problems as early as today. For faster and easier recovery, don't hesitate to download Tenorshare ReiBoot for Android by visiting the following button.