6 Easy Ways on How to Reboot Android or How to Restart Android Phone/Tablet
by Anna Sherry Updated on 2020-09-03 / Update for Android Tips
When your Android phone or tablet has the problem of freezing, crashing or working very slowly, reboot/restart is a great try to deal with them. However, if your Android phone is stuck in restarting stuck, normal reboot cannot work, in this case, you can use Tenorshare ReiBoot which can help you repair system and restart Android successfully. Here, 6 methods including Tenorshare ReiBoot will be introduced on how to reboot Android.
Way 1. How to Reboot Android Phone with iPhone Stuck Issues(ReiBoot is Recommended)
"How to restart my phone or how to reboot my phone if stuck in restarting?" is a question will be asked when you cannot reiboot your Android phone with normal ways, for example, when your Android phone stuck in restarting, iOS update stuck, Apple logo stuck, black/white/blue screen etc. Tenorshare Reiboot for Android can help you reboot Android in these situation with repair system function. Chech below steps on how to use it.
Go to download and install the software via clicking above buttons on your computer. Launch the software when it is installed.

Make sure the USB debugging option is enabled on your device. If it is not, enable USB debugging on your device using the following instructions.

Connect your device to your computer and click on "Repair Android System" > "Repair Now" in the software.

Now choose correct device information.

It will start to download firmware package.

Click "Repair now" and after a few minutes, it will be repaired successfully. Then, the phone will restarted, you can use with no problem now.
Tenorshare Reiboot can let you reboot Android phones and tablets without hassle. There are also some offical or other normal ways on how to restart phone. If you want to know more, check the following solutions.
Way 2. How to Reboot Android Phone With Power Button (2 Methods)
Soft reboot and hard reboot are two normal ways to restart your Android devices. Both methods need the help of Power Button.
Way 1. How to Soft Reboot Android Phone with Power Button?
Almost all the Android phones are shipped with the Power button that you can use to turn on your device, turn off your device, and even reboot your device. It is effective to solve issue of phone freezing, app not reponsing, and crashing.
If you would like to use the Power button to reboot your Android device, all you must do is press and hold on the Power button for a few seconds. A menu will appear asking what action you would like to take. Tap on the option that Reboot/Restart and your phone will reboot.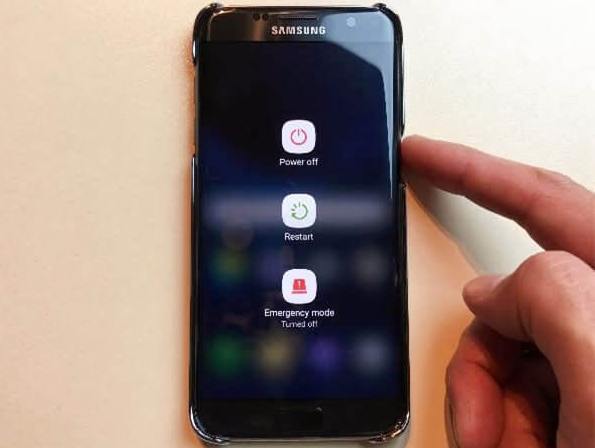 Way 2. How Do I Do Android Hard Reboot with Power Button?
If normal rebooting Android phone does not work or your phones do not response, you can hard reboot these android devices. This way is also called force restart android and can be achieved by pressing a specific key combination or hoding on Power button for enough time.
The following are the steps on how to reboot a phone from various manufacturers.
Samsung phones - if you are using a Samsung phone, press and hold both the power button and volume down button for around 10 to 20 seconds.

LG phones - LG phone users need to press the Power + Volume Down keys at the same time and release them when the LG logo appears.

Sony phones

- Press the Power button and then press the Volume Up key a few times and your device will hard reboot.

Google Nexus

- Press the Power + Volume Down keys together and you can force restart your Android phone.

HTC phones

- Press and hold on the Power + Volume Down buttons to force restart your device.

Huawei phones

- Press and hold on the Power button for at least 10 seconds until the phone is hard rebooted.
With Power button, it is easy to reboot your Android. But what to do if Power button does not work? Is there any way to help restart Android phone. In the following part, solutions for this will be introduced.
Way 3. How do I Restart My Android without the Power Button?(3 Methods)
If your Power button does not work, you cannot restart your Android phone with normal ways. But you can use third-party reboot app for android to help you out.
Method 1. Using Link2SD to Restart Android Devices without Power Button
Before using this tool to restart your Android devices, you need to make sure that your phone turns on. Link2SD is a free application manager with rebooting function.
Download Link2SD from Playstore. Open it after installation
Go to Menus, tap on "Reboot", choose "reboot" or "quick reboot" to reboot your Android devices.
Then, you phone will reboot directly without using Power button.
Method 2. Using XDA Screen Edge App to Restart Android Devices without Power Button
Also, you need to make sure your phone is turned on. Below is details about how to reboot Android with this tool.
Go to Playstore to download "Edge Screen - Edge Gesture, Edge Action"
After installation and all settting, you can click "Power off">"Restart" to reboot your Android.
Method 3. Using Quick Reboot to Restart Android Devices without Power Button
This is a reboot app and very easy to use. Simply install the app, launch the app, and tap on the appropriate option to restart android phones or tablets. It is as easy as that. However, keep in mind that most apps require root-access to let you restart Android phone.
Conclusion
If you are not sure how to reboot Android tablet or phone, the above guide should teach you how to do it using various methods. We hope it helps you reboot any of your Android based devices. And with Tenorshare Reboot for Android, restarting android phone is not a problem if you are stuck in restarting, Apple logo etc. Additionally, it can help you enter recovery mode, download mode and fastboot mode in one click.
FAQs about Rebooting My Phone
1, How do i reboot my phone?
There are 5 methods to reboot your phone: Reboot with Tenorshare Reiboot for Android, Using power button, via hard reboot for Android, running Quick Reboot tool, by rebooting In safe mode. More details to check the above article.
2, What happens if I reboot my Android phone?
Reboot is to restart your phone to solve some system problems such as App not responding, freezing, crashing. It will not erase your data or change any phone settings.
3, How do you restart a frozen Android phone?
Two methods to restart a frozen Android phone: Method one: Using Tenorshare Reiboot for Android. Install Reiboot>"Repair System" to repair your system, then, it can solve frozen screen problem. Method two: Doing hard reboot. Hold on "Power" + "Volume Down"/"Volume Up" or Hold on "Power" button only for 10-20 seconds according to your device brand to do hard reboot.