Why Is My Android Phone Offline and How to Fix It
by Sophie Green Updated on 2022-05-30 / Update for Fix Android
Hi, on my Android phone, when I tried to access Google Chrome, it is showing an error message "Offline. No Network Available. Check your connection and try again". How do I fix this issue and get my Android back online?"
Recently, Android users came across a certain issue that said their smartphone is offline. They started to acomplain and ask questions like: "why is my Android phone offline?" or "why does my phone say I'm offline?" If you are one of those users who want to figure out the reasons of Android offline, then this article will definitely help you. Read below to know more about what to do when your phone goes offline.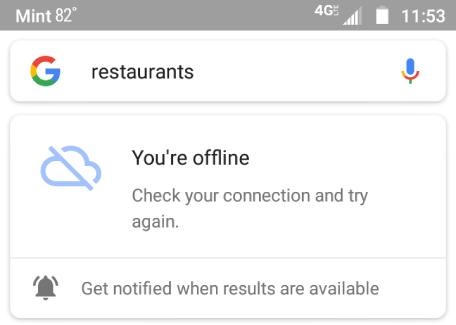 Part 1: What Does It Mean When Your Phone Says Offline?
When your device shows offline on the screen, it means it fails to connect to the Internet, cannot be reached by a server, and can't communicate with any other device. In the offline mode, you are unable to browse the Internet on your smartphone, cannot send or receive emails or instant messages, and have no way to stream music or video from the Internet. Instead, you can only do things that require no Internet connection to work.
Part 2: Why Is My Android Phone Offline?
It's really quite annoying when my Android phone is offline and the question is, why is my Android phone offline? Well, the Android offline problem can occur for one of the following reasons:
Airplane mode enabled
Internet connection issues caused by signal fluctuations or data loss
Bugs related to Google apps
Firewall prohibiting a connection on Android phone
Part 3: What to Do When Your Phone Is Offline?
No that you've figured out the answer to the question "Why does my phone say offline", it's time to provide some solutions that can help you tackle this issue.
Fix 1: Toggle Off Airplane Mode
When you enable airplane mode on your Android smartphone, your phone's connection to cellular and Wi-Fi networks are blocked. So when your phone is saying offline, you need to check if the phone is in Airplane mode or not. If yes, then you can always turn it off. If not, try toggling it off and on and check if the phone is connected to network. Follow the below steps to know how to toggle off Airplane mode on Android.
In your notification tray, click the Airplane mode icon to turn it on. Click it again to turn it off.

You can also go to Settings > Connection > Airplane mode to toggle it off.
To check if this method help in getting your Android back online, open you Google app to browse the internet.
Fix 2: Reset Network Settings
If you have never faced this issue before, then the problem is likely to finish when you turn off and restart your mobile phone. For this to restart, you have to:
Go to Settings > General management > Reset. (Depending on your device, these options may be different.)
Tap on Reset network settings.

Read info and confirm to reset the network settings which include WLAN, mobile data and Bluetooth.

After the restart is finished, try to see if the mobile network is now available.
Fix 3: Clear Google App Data
Sometimes, clearing Google app data cache might also do wonders. All you have to do is clear the cache memory or data of the app. This might help in solving the issue and getting your phone back online. Follow the below steps to know how to clear Google app data.
Go to Settings > App management.
Click on the Chrome app.

Click on Storage > Clear data. This will clear the cache memory from the app.
Fix 4. Uninstall Google App and Reinstall It
In case the Android phone offline issue is related to bugs in Google apps, you can also try uninstalling the app and reinstalling it again, and check if the problem is solved or not. All you have to do is follow the below methods to know how to uninstall the app.
On the Home screen, long press the app and tap on "Uninstall".

Now, open Google Play Store and search the app that you need to install.
Click on the install button and wait for the app to be installed.
Afterwards, restart you phone and check if your android is showing offline or not!
Fix 5. Repair Android OS to Fix Android Phone Showing Offline
If none of the above solutions work and your phone keeps showing offline, you can always use Tenorshare ReiBoot for Android. The program is one stop solution to fix any problems related to Android OS, such as apps keep crashing on Android devices, mobile network not available on Samsung S20/S21, and even black screen issues.
Here's how you can do to get your Samsung phone off offline mode with ReiBoot for Android.
Download and install ReiBoot on your PC. After connecting you phone to the PC using a USB cable, launch the tool and click Repair Android System.

 

On the next screen, click on the Repair now option to proceed. (Make sure USB debugging is enabled on your Android phone.)

Select your device model and enter appropriate details about your Android device.

Once you have selected your device, the app will start downloading the firmware package for your phone. Wait for the process to end.

Click the Repair Now option to start system repair once the firmware package is downloaded to your PC.

The whole process will take some time; do not disconnect the device during the process. Once the process is done, your phone will be repaired and will start working smoothly.
Conclusion
By the time you have finished reading this article, we hope you have stopped complaining "why is my Android phone offline". Among the above 5 different solutions can be used when Chrome says your smartphone is offline, Tenorshare ReiBoot for Android is your best choice, since it can solve not only the Android offline problem, but many other issues related to Android OS easily.