How to Fix Mobile Network not Available? Here're the Top 9 Solutions!
by Jenefey Aaron Updated on 2022-05-30 / Update for Fix Android
Hi, there! I tried to call my friend via my Samsung S20 this morning, but unfortunately it showed an error saying Mobile network not available. I'm sure that I am within coverage area but still, my phone has no service. What can I do to fix my phone losing network connectivity simply without any reason? Any solutions? Thank you!"
Are you one of those who is battling with the issue of cellular/mobile network not available on Samsung S20/21? You do not have to worry anymore and leave the fear of missing your important phone calls and messages because of this error. Here we've outlined the simple and quick steps on how to fix mobile network not available. Follow the steps and you won't face the trouble any further.
Part 1: How to Fix Mobile Network not Available on Samsung S20/21?
Mobile network not available error on Samsung S20/21 basically stops users from making phone calls, sending messages, or accessing any services that require mobile data. This may sometimes be a major problem for many of the users as they may miss their important phone calls or messages from important clients.

To help you with this issue and fix it, we'll first analyze the possible reasons for an unavailable network on Samsung S20/21.
Mobile network or cellular Network not available issue is most likely to occur in Samsung S20/21 due to a poor or lack of reception within an area, the bad coverage, or bad signals in the location. It can also be triggered by or a number of hardware or software issues. Hardware issues may include double SIM ports in mobile or there may be hardware problems in the signal receptors of android phones. Software issues in android such as simple system malfunctions, can also cause this issue.
Part 2: How to Fix Mobile Network not Available on Samsung S20/21?
Many of you, while using your Samsung Galaxy S20 or S21 might receive the error, "Mobile Network Unavailable" and when you check it with the IMEI number, it says that the IMEI is correct. This problem does not have any link with the IMEI number. The steps that have been identified below are all proven to be a solution for this most occurring error on the Samsung Galaxy handset. Here are a quick 9 ways for you to overcome your issue.
Way 1: Switch Airplane Mode on & off
If you have no mobile data service you must first check to see if your Airplane mode in your mobile is on or off. If by chance it is on, it means you are not receiving any calls because of this issue.
To turn the airplane mode off in your Samsung Galaxy S20 or 21,
Go to Settings, then click on Connection.
In the connections section, scroll down to the Airplane mode selection, and toggle it blue to turn it on.

Tap on the airplane icon again to turn it off and check if there's still the error message.
Way 2: Force Restart Your Samsung S20/21
If you have never faced this issue before, then the problem is likely to finish when you turn off and restart your mobile phone. For this to restart, you have to:
Press and hold the Volume down button and the Side button simultaneously until the power menu pops up.

Tap Restart button and wait about 30 seconds for the phone to turn back on again.

After the restart is finished, try to see if the mobile network is now available.
Way 3: Reset Your Network Settings
One should immediately reset their network settings in Android Mobile Phones if they are having trouble connecting to their cellular networks. Resetting the network would not result in losing any of your important data or images, but will only help you in connecting to your network easily and overcoming mobile network not available error.
To reset your network settings, you can:
Go to the Settings app in your Samsung mobile, and tap General management.
Click on Reset, and then Reset network settings.
Review the info then tap Reset settings. Enter the current PIN, password, or pattern if presented.

To confirm, review the info then tap Reset.
Way 4: Remove and Reinsert Your SIM Card
If your mobile network is unavailable, the error might also sometimes occur because the SIM card is not properly placed in the mobile phone.
To overcome this issue,
Press and hold the Volume down button and the Side button together to power off your mobile phone.
Remove the battery and SIM card.
Insert the battery and boot the mobile with the SIM card reinserted precisely.
Power on your phone.
Way 5: Fix Improper Radio Signal
There might be an issue that the radio signals are not broadcasted correctly. For S20 onwards, dial *#*#4636#*#* in the dialer. To correct signals, click on the phone information and run the ping test. Select GSM Auto (PRL) and turn off the radio. After that restart it.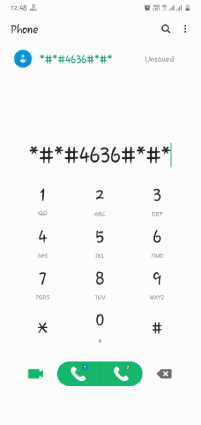 Way 6: Check If Roaming is Enabled on Your Samsung S20/21
Signal issues are one of the major causes and to fix that you'll need to check your Android phone's data roaming settings. It is obvious that you will face several connectivity issues if roaming is enabled on your Samsung.
To check if roaming is enabled on, go to Settings > Mobile networks > turn data roaming on.
Way 7: Update Your Samsung S20/21 to the Latest Version
If you have not updated your mobile to the latest version of the android as yet, then do it right away and pick calls without any issue. This will overcome cellular network not available error due to software issue.
Go to settings and then tap on "Software update".
Chose Download and install option.
Tap OK and then Start to update your device.
The upgrade will solve some software bugs that restricts the Network.
Way 8: Factory Reset Your Samsung S20/21
Performing a factory Reset is also a feasible solution to fix android mobile network not available. Before you can do that, make sure that all of your information and data is properly backed up.
For the factory reset,
Click on settings, scroll down and tap General Management.
Tap Reset and select Factory data reset.

Tap Reset and Delete all.
Way 9: Ultimate Way to Fix Samsung Mobile Network not Available
Many of the above ways to fix the error might have always been tried, but the following steps that have been designed are the best way to overcome the Samsung Network Not Available Error.
With Tenorshare ReiBoot for Android, a powerful and effective android system repair tool capable of fixing various android phone issues, the android mobile network not available issue could no longer be a headache.
Below is a step-by-step guide on how to fix Samsung mobile network not available using Tenoreshare ReiBoot for Android.
Install and run Reiboot for Android in your computer. Connect the android mobile to the computer and click on Repair Android System.

 

Click on "Repair Now on the following page to proceed.

Enter your device information on the following screen and click on Next.

Note: If you are unaware as to what is the correct info of your mobile, click "?", next to the scroll bar.

Download the latest firmware for your phone, and it would not take you long.

Hit on "Repair Now" and follow the on-screen instructions to start the system repair.

Now you have successfully resolved many of the issues like mobile network unavailable on android.