6 Quick Tips to Troubleshoot My Fitbit Versa Won't Turn on
by Jenefey Aaron Updated on 2022-05-30 / Update for Fix Android
In today's generation, Fitbit has become extremely popular among people who are into fitness. Although Fitbit is considered to be one of the best brands for fitness watches, occasionally users have reported issues like Fitbit screen black quite often.
If you are complaining about your Fitbit Versa's screen turning blank and not switching on thereafter and are thinking about why my Fitbit Versa 2 won't turn on, then you're at the right place. Here are some sure shot ways to know how to turn on Fitbit Versa 2/3.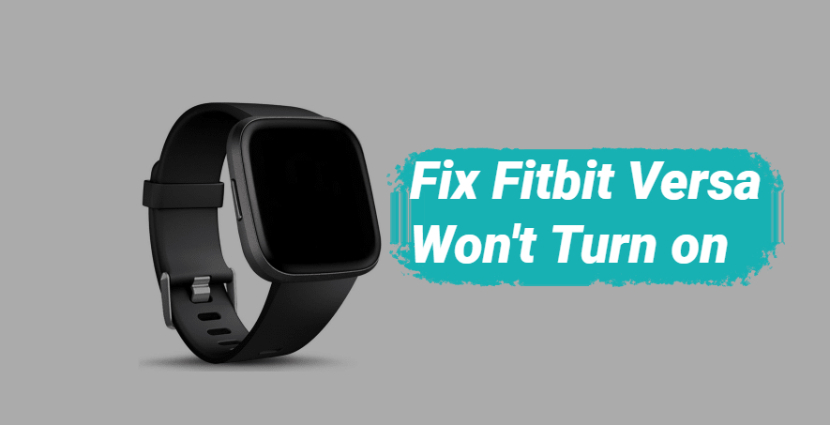 Part 1: Reasons Why My Fitbit Versa Won't Turn on
"Why won't my Fitbit turn on" is a question frequently asked by many Fitbit Versa users. Well,there can be many reasons behind such an issue and some of them are pretty common.
Reason 1: Drained Battery

The most common cause for your Fitbit Versa 2 not turning on is a battery problem. The battery of a Fitbit Versa can last for 3 to 4 days on a charge, but this is not always the case. If your battery is aged and not fully charged, it may either be completely drained all of a sudden, due to which your Fitbit won't turn on and shows a black screen.

Reason 2: Charger Issue

If the charger you use for your Fitbit Versa is faulty or damaged, such an issue can also arise even when the Fitbit Versa is plugged into the charging cable.

Reason 3: Software or System Issue

At times certain software problems can also lead to such an issue of your Fitbit not turning on. If the FitBit OS version for your Versa is outdated, the device might be buggy and even stop working. However, if none of the above reasons seem to be the reason why your Fitbit won't turn on, then the problem may be with the hardware.
Part 2: How to Fix Fitbit Versa Won't Turn on?
Now that the answer to the question "why is my Fitbit screen not turning on" has been revealed, it's time to list a few solutions that tell you what to do when my Fitbit won't turn on.
Tip 1: Charge Your Fitbit Versa
As mentioned earlier, a drained battery is the most common cause of your Fitbit displaying a blank screen and not turning on. When you do not charge the battery of your device for a long time, it can get switched off till you charge it again. The simple answer to how to turn on Fitbit Versa is to try and charge the watch, and wait untile the battery is fully charged.
If the Fibit device is still completely blank and does not respond to anything, the battery may be pretty old and may need to be replaced.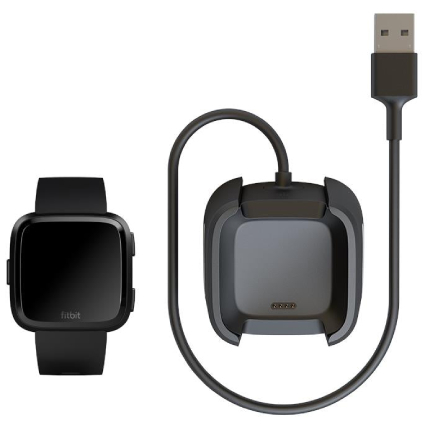 Tip 2: Check Your Fitbit Versa's Charger
Sometimes an issue with your Fitbit Versa's Charger could be to blame for your Fitbit Versa not turning on. If any part of the charger including the cable or adapter is spoilt or damaged, your watch won't charge at all and it will end up displaying a Fitbit blank screen or black screen.
To ensure that your charger is working fine, you can try charging your watch using another Fitbit Versa 2 charger. Wait for about 30 minutes before checking. If the problem persists, then the issue may not be with the charger you are using. However, if you are able to charge your watch with another charger successfully, then you need to replace your charger.
Tip 3: Clean the Charging Port
Over time, a lot of dust and grime may get settled in the charging port of your watch. This makes it difficult for the watch to get charged due to which it may get turned off completely.
If you suspect this might be the cause of the problem, you will need to clean the charging port carefully and try charging the device after that. You can use an earbud to do the same.
Tip 4: Restart Your Fitbit Versa
Another easy and effective way to fix the problem of the Fitbit Versa won't turn on is by restarting your Fitbit Versa.
For Fitbit Versa user, press and hold the Back and Bottom buttons until the Fitbit logo apperas on the screen.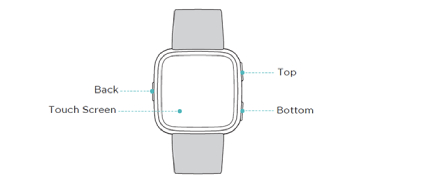 For users of the Fitbit Versa Lite Edition and Fitbit Versa 2/3, you just need to gently press and hold the Back/Haptic button for 10 seconds. Don't release it till you see the logo on the screen.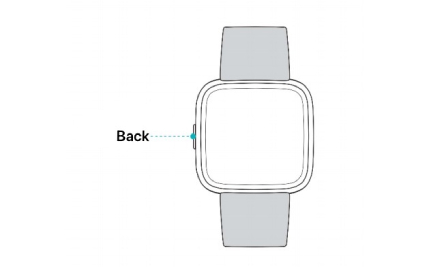 Tip 5: Factory Reset Your Fitbit Versa
If none of the above solutions seem to resolve the problem of the Fitbit Versa won't turn on, you will need to factory reset your Fitbit Versa. Performing a factory reset is one way of potentially removing bugs regaring your watch, however, this will erase all the data on it. This is why you need to ensure that your data is synced with your Fitbit account prior to performing a factory reset.
To factory reset your Fitbit Versa, follow the steps given below.
Hold all the three buttons of your watch for about 12 seconds.
When you see the Fitbit logo on the screen, release only the bottom right button and keep holding the other two buttons until you feel a strong vibration. This will start the factory reset.
After a few seconds, you will see that the device boots and setup is displayed.

Check if the problem persists.
Tip 6: Contact Fitbit Support for Help
If the issue of Fitbit screen not working is not resolved using the above methods, the issue may be with the hardware. You will need to contact Fitbit support and describe what issue you're experiencing in detail, so that they can find ways to fix it. If your watch is still under warranty period, you will get a solution to fix the issue of Fitbit won't turn on for no cost.
FAQs about Fitbit Versa
Q1: Can the Fitbit Versa be used without a phone?
Yes, you can use Fitbit Versa without a phone. The watch needs to be synced with a device which need not necessarily be a smartphone. You can sync its data to a Windows 10 computer as well. However, some features like text/call notification cannot be used this way but you can still use it effectively as an activity tracker.
Q2: How long does the Fitbit Versa battery last?
The battery life of the Fitbit Versa is 4 or more days on a single charge.
How to turn on the Fitbit Versa after shutdown?
To restart your Fitbit Versa after a shutdown, press and hold the Back and bottom right button for about 10 seconds till you see a logo on the screen. This will turn on your Fitbit Versa.
Extra Tips: How to Fix Fitbit Versa Not Connecting to Phone?
While syncing the data on your Fitbit to your phone, if your Fitbit Versa fails to connect to your phone due to some system issue, you can easily fix it by using Tenorshare ReiBoot for Android. This tool is highly effective in resolving all minor and major technical snags on your Android device and hence is an excellent investment.
You can use Tenorshare ReiBoot in the following way to fix the problem of your Fitbit Versa not connecting to your phone.
Download and Installed ReiBoot for Android on your Windows. Once installed, launch the program, connect your device to the PC, and click on "Repair Android System" from the main interface.

Next, click on "Repair Now".

Step 3: Select appropriate details of your phone from the drop down menu and click on "Next".

Download the latest firmware package.

Click on "Repair Now" on the next page.
Wait for a few minutes till the repair process completes. Once done, restart your phone and check if the syncing problem persists.
Also Read: Best Methods to Fix Apple Watch Not Connecting To Phone
Conclusion
Fitbit Versa is a pretty popular fitness gadget which is used by several fitness enthusiasts. However, just like with other electronic gadgets, it comes with its own share of problems. If you are ever faced with the issue of the Fitbit Versa screen turning black and Fitbit won't turn on thereafter, you can use the above solutions to resolve it. If you face any syncing issues when connecting it to your Android phone, try to get the issue fixed by using Tenorshare ReiBoot for Android.