Android Repair: How to Repair System Android with Simply Clicks
by Anna Sherry Updated on 2022-01-24 / Update for Fix Android
Android is one of the most stable mobile operating systems available out there. If you have been using an Android device for some time, you would know how bug-free and stable it is. However, that does not mean it never goes haywire. There are times when your Android OS behaves abnormal and that is when you need to repair system Android to bring it back to its original state.
A broken version of the Android operating system may cause a lot of issues on your device. Sometimes, it may even entirely prevent you from using your device. If this has happened to you and you are looking for a fix, the following guide should help you it. It shows methods for Android repair so you can fix the issues lying inside the operating system of your Android device.
The guide covers multiple methods to repair Android system files and you are free to choose any method that you think is convenient for you.
Part 1. The Best Android Repair Tool Free Download - 2019
While there are certainly dozens of tools out there claiming to be doing Android OS repair, not all of those do what they claim. Many of these tools often fail to repair the issue as the tools simply do not have the capability to figure out the issue and to apply a patch to it.
However, there is a tool that does work and lets you fix almost all kind of issues you can ever face on your Android device. The tool is called ReiBoot for Android and it lets users fix numerous types of issues on your Android devices.
The software has been built keeping Android users' issues in mind and its repair feature allows you to repair any Android device under the sun within a few minutes. The following are some of the things the software can do for you.
1 click to boot into Android recovery mode, Fastboot mode free to fix lots of Android issues.
Easily fix Android phone stuck in recovery mode, download mode, safe mode, fastboot mode, headphone mode, etc.
Quickly repair Android system to normal with simply clicks.
Fix 50+ Android system issues like stuck on Samsung logo, boot screen, app crashing, black screen, and so on.
Supports dozens of Android devices and all Android OS, including new Samsung Galaxy S10 and Android 9 Pie.
Quick and easy to use.
The software is loaded with tons of options to help you get rid of any issue on your Android device.
Part 2. How to Repair Android System Files with ReiBoot for Android?
If the features of the software fascinate you and you would like to use the software to do Android phone repair, this section will tell you exactly how you can do it using your computer.
The aforementioned software is available as a desktop software that runs on your computer. You need to connect your device to your computer and then you can choose the appropriate fix option in the software to repair your device.
The following are the steps on how you can use ReiBoot for Android to repair your device:
Step 1 Launch the Settings app on your device and tap on Developer options. Turn on the option that says USB debugging and connect your device to your computer.
Step 2 Get the latest version of the software from its official website. Run the software and select the option that says Repair Android System to repair your device.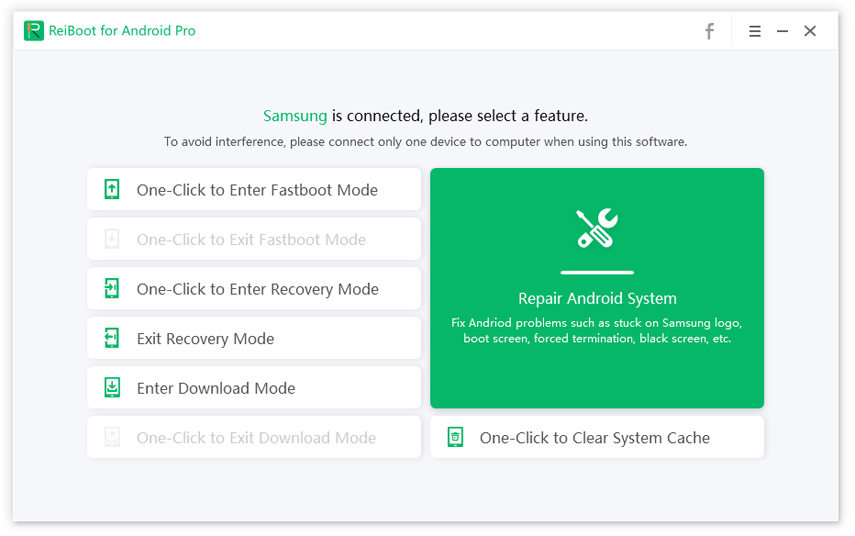 Step 3 Another screen will appear with more information to repair your device. Click on the button that says Repair Now to begin repairing your device.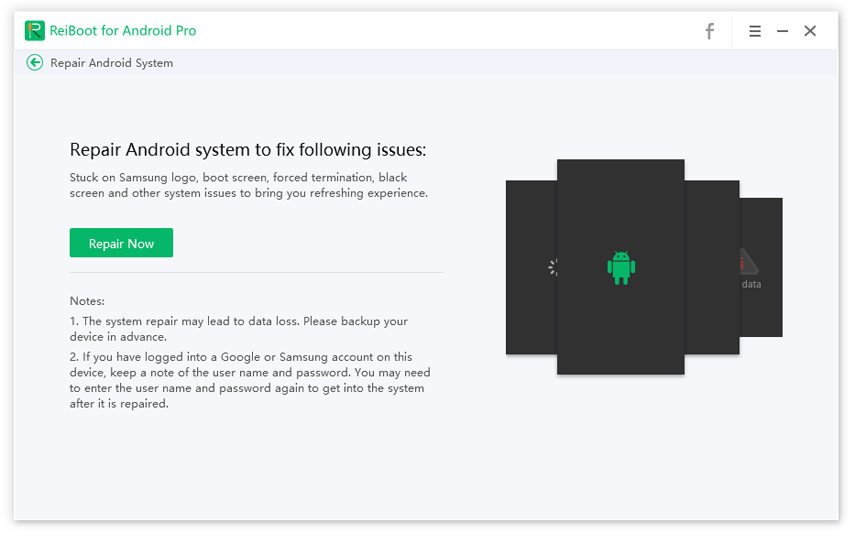 Step 4 The following screen asks you to select your model of the device. Use the dropdowns to select your exact device model and click on the Next button to continue.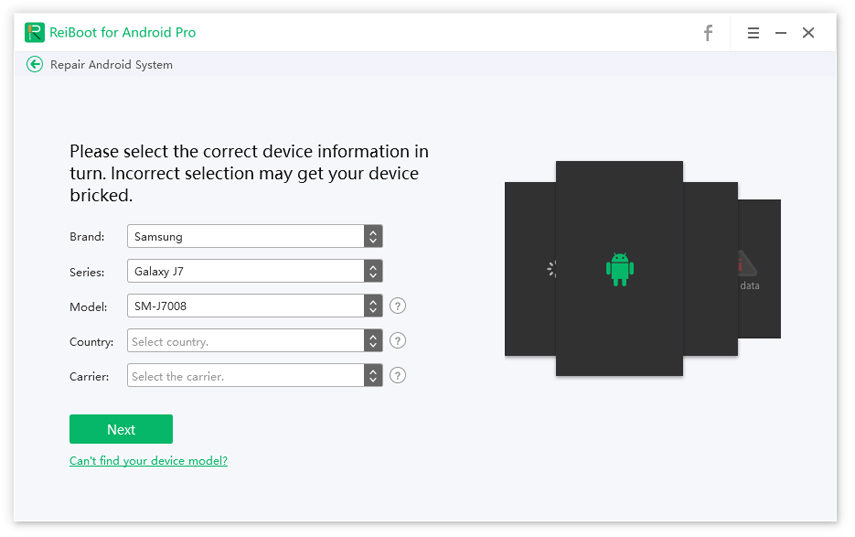 Step 5 It will download a firmware package for your specific Android device. Wait till it finishes downloading the firmware. A prompt will appear on your screen with some tips in it. Click on Continue when you have read the tips to move ahead.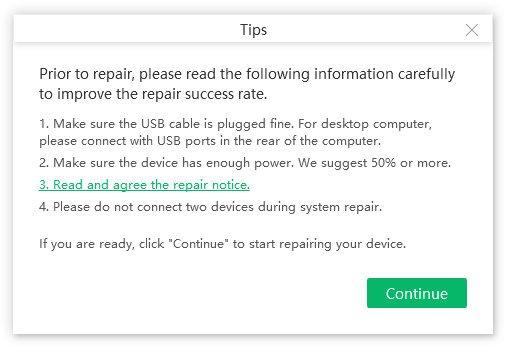 Step 6 Follow the on-screen steps to repair your Android system. You may eject your device from your computer when your device is repaired.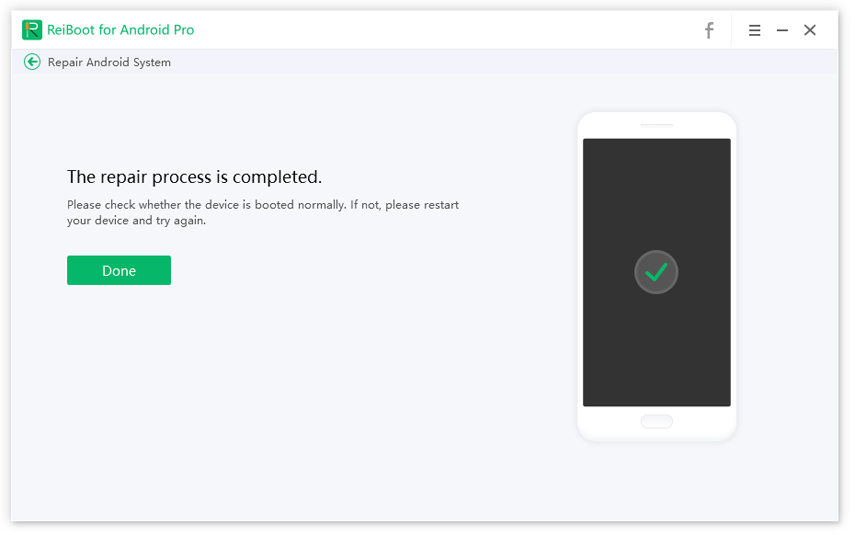 You are set. Your Android device is now repaired. With a software like this, you no longer need to Google queries like "Android phone repair near me" as you can fix your devices yourself.
Part 3. Other Android Repair Software You May Like
There are also many Android repair apps which let you have a health check and fix some common issues like slow performance for your Android device. The following are some of the software you can use. Note that those apps won't work if your Android phone completely dead.
1. System Repair for Android 2019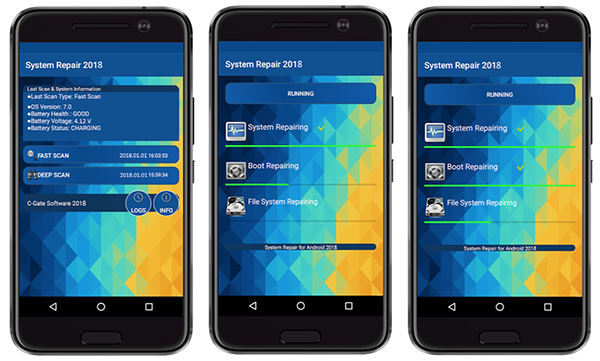 System Repair for Android 2019 thoroughly analyzes your device to find out the issues and then suggests the actions to be taken to resolve those issues on your device. It is a fully featured application to fix system issues on your device.
2. Phone Doctor Plus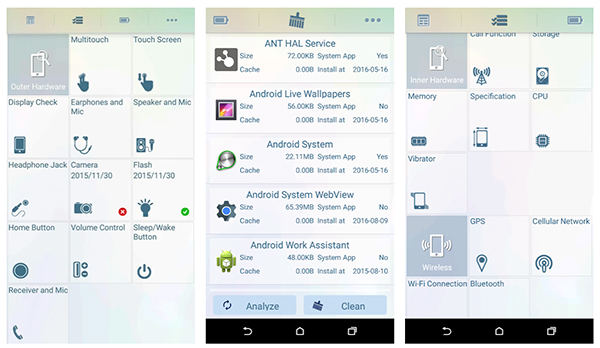 Phone Doctor Plus provides you with information about all the hardware items that are part of your device. That way you know what's behaving abnormal and you can get it fixed on your device.
3. Dr.Android Repair Master 2019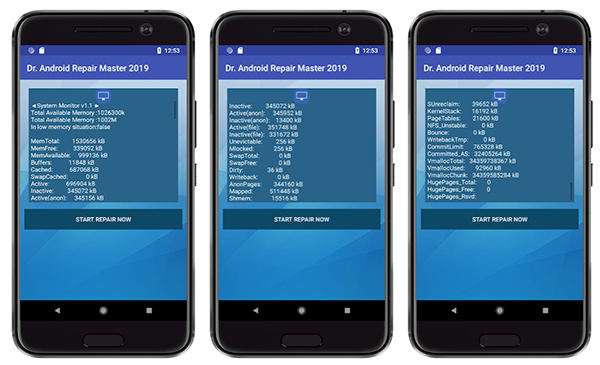 Dr.Android Repair Master 2019 eliminates many of the issues you could ever face on your Android device by fully scanning your device for any potential issues. It is a great tool to have on your device to keep your device away from any problems.
Conclusion
If your files have gone corrupt and you need to repair Android system files, the above guide should help you do it with ease on your device. The guide gives you multiple ways to fix any system related issues on your Android based phone or tablet. And for the most covenient way is definitely ReiBoot for Android.