6 Practical Ways To Fix Phone Not Allowed For Voice
by Sophie Green Updated on 2022-01-20 / Update for Fix Android
The market of smartphones is getting stuffed as new mobile phones are surfacing on the market. Some people prefer purchasing refurbished models. So, seeing errors like "phone not allowed for voice" is very common. This article will explain to you the six methods to resolve this issue.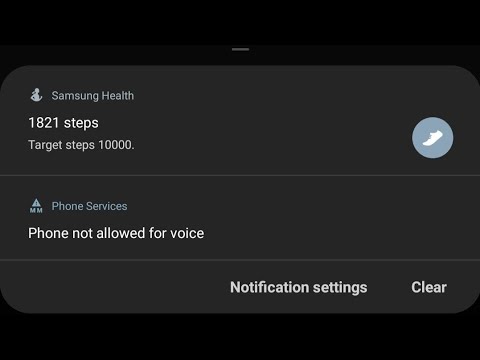 Why My Phone Not Allowed For Voice
You might be wondering what does phone not allowed for voice mean, this issue occurs when:
The phone is tethered or locked to a specific cell carrier. 
The incompatibility of your SIM with the carrier. 
The model of the mobile phone is too old.
The last reason especially works on phone not allowed for voice metropcs. And the first and second reasons may lead to t-mobile phone not allowed for voice error. 
6 Methods To Fix Phone Not Allowed For Voice
There are different ways to resolve t mobile phone not allowed for voice. We have discussed the most effective methods to fix this common error. 
1. Contact The Carrier Operator
This first method to fix phone not allowed for voice is to check your Plan of SIM. You can contact the customer care executive of the respective carrier and ask them to shift the lock. They will do a process named equipment switch which can unlock your phone eventually. 
2. Reinsert the SIM Card in Your Phone
This issue may also appear due to not correctly inserted SIM card. Your sim could be dusty due to which it could not make proper contact with the SIM slot terminals.
Remove sim card tray using sim ejector pin.
Swap the sim card in case your phone has a dual sim card slot.

Re-insert the SIM and restart your phone.
3. Dial the Unlock Code to Unlock Your Device
If you are seeing no success with contacting carriers and re-inserting your SIM several times, then try to unlock your device using unlock code. But this method requires your carrier and phone model to support an unlock code.
Open the Dialpad on your phone.
Type *#78#* code or any other code you got from Google.

Follow the operational menu options to unlink the carrier.
4. Check Network Connection
In android, there is an option to select your network connection manually or automatically. If you have made any changes in this option, revert it back to automatic, set by default.
Open the setting menu.
Press the option of Data usage.
Go to mobile network.
Press the "Preferred sim card" option.
Select it to Automatic.

Restart your device.
5. Check Software Update
Keeping your device updated also solves many such errors, including phone not allowed for voice. So, always check for any new updates and download all security and software updates frequently.
Open the settings menu.
Find an option for the device and click on it.
Tap Software update under that option.
Check for the updates on your phone.

If any update is available, then download and install it. tart your phone.
6. Repair Android System Issues by ReiBoot For Android
If you make sure that there is nothing wrong with your SIM card, the last way to fix phone not allowed for voice is to check and fix your android system. Tenorshare ReiBoot for Android is professional software that can solve various android system issues with one click only. 
Here are the steps to fix the android system issue and make sure your device is working well.
Download and install ReiBoot for android on your PC. Then launch it and connect your phone with a computer using USB.

Select "Repair Now" from the interface. Click Repair now to proceed.

Select the correct device information.

After you are done selecting the correct device information, download the corresponding firmware package. This downloading will not take much time.

Once the downloading of the Firmware package is completed, then click on "Repair Now" to start the android system repair.
Conclusion
The above-mentioned methods are easy to try and solve the "Phone not allowed for voice" error. However, if you are still not able to resolve the issue, then we recommend you try fixing your android issues using Tenorshare ReiBoot software. It allows you to resolve all such android problems as mobile network not availablem in a very short time with no hassle at all.