How Do I Fix Android Internet May Not Be Available Error
by Sophie Green Updated on 2021-03-03 / Update for Fix Android
Yesterday night I started to notice that every wi-fi network I connect to will say there may be no internet available. And the playstore tends to stop working. I wanted to download an app but the playstore just didn't load."
Most Android devices work great with just about any Internet connection. However, occasionally, you might see an error that says Android Internet may not be available. When this error occurs, you cannot connect to the Internet from your device. All of the apps using the Internet on your phone will stop working.
If you have not been able to fix the Internet may not be available Android issue on your phone and are looking for some proper fixes, this guide is all that you need. Here we list some of the possible methods for getting around the Internet issues on your Android phones.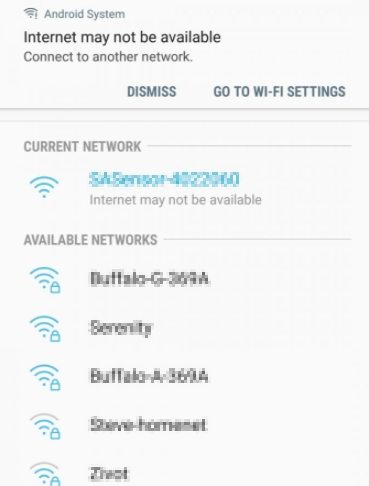 Part 1. Why Internet May not be Available Android?
It is a good idea to learn what is causing the Android system Internet may not be available issue on your phone before you go ahead and implement the fixes. This section tells you the possible reasons why you have no Internet on your phone.
1. Issues with DHCP
DHCP automatically configures the devices on your WiFi network including your Android device. If there is an issue with it, that is why your phone is unable to connect to the Internet.
2. DNS Blockage
If a certain DNS setting is blocking things on your phone, that may be why your Android phone will not connect to the Internet.
3. Malicious Third-Party Apps
If you have installed any apps that you think are suspicious, those could be interfering with the workings of your Android phone's Internet.
4. Conflicts with the WiFi Router
If there are issues with your WiFI router, your device's IP address could change and your router will then not recognize it.
5. Obsolete Android Version
You need to make sure your phone is not running a really old version of the Android operating system.
Part 2. General Troubleshoots to Android Internet May Not Be Available
The following are some of the general fixes you can apply to get rid of the Android WiFi Internet may not be available issue on your device.
1. Set Private DNS to Automatic
One thing you can do to fix the issue is to set your DNS to the automatic mode. This can be done as follows.
Head to Settings > Wi-fi & internet > Private DNS on your device.

Tap on the Automatic option and select Save.
Your phone will now use automatic DNS.
2. Change DHCP Mode
You can try changing the DHCP mode to static on your Android device and see if that helps fix the Internet may not be available on Android issue.
Go to Settings > Wi-fi & internet and tap on settings for your WiFi network.
Tap the pencil icon at the top.

Open the Advanced options menu and select an option other than DHCP from the IP settings dropdown menu.
That should likely fix the Internet issues on your phone.
3. One click to Clear System Cache (Cache Partition)
Cache files are often the reason for many issues on Android devices. If your phone has accumulated a large number of cache files, it is time to get rid of all of them from your phone.
There is a program called Tenorshare ReiBoot for Android that allows you to remove all the cache files from your phone in a single click. You can use the program as follows to get rid of all cache files.
Connect your phone to your computer and launch the software.

Click on One-Click to Clear System Cache.

Wait while it clears the cache from your phone.

Click on Done when the cache is cleared.
Your phone should now be free of any cache files.
4. Check If the Wi-Fi Connects in Safe Mode
Safe mode allows you to only load the essential files to turn on your phone. This lets you find out if any third-party installed apps are causing the Internet issues.
Press and hold down the Power button for a few seconds.
Tap and hold on the Power option for a few seconds.

Select OK to reboot your device into safe mode.

If you can connect to the Internet in safe mode, try uninstalling recently installed apps one by one until the issue is sorted.
5. Update Android OS
Lastly, you can update your device to the latest Android version to see if that resolves the problem for you. You can do that as follows.
On your phone, go to Settings > System > System updates.

If an update is available, you will be able to download and install it on your phone.