How to Hide WhatsApp Chat on Android & iPhone?
by Jenefey Aaron Updated on 2021-06-29 / Update for WhatsApp Tips
Hello Everyone! Can anyone please guide me about how to hide WhatsApp chat? I have an iPhone 11 pro max with me. Although I have enabled fingerprint lock on my WhatsApp still, I cannot risk exposing some of my highly confidential chats to anyone. Is there any way that the chat remains in my WhatsApp where only I can access it? Any leads would be helpful. Thanks"
Hey! Thank you for reaching out. We wrote this blog to help you in some privacy on your WhatsApp chats. Let's explore how to do it.
Part 1: Can You Have a Private Chat on WhatsApp?
WhatsApp chats are always public. The official WhatsApp version doesn't let its users have a private chat. However, if you want to have a private chat where your messages will delete later, then you can use the disappearing messages option. The disappearing message can last up to 7 days. After a week, your chats and media shared with a specific contact will disappear from the chatbox.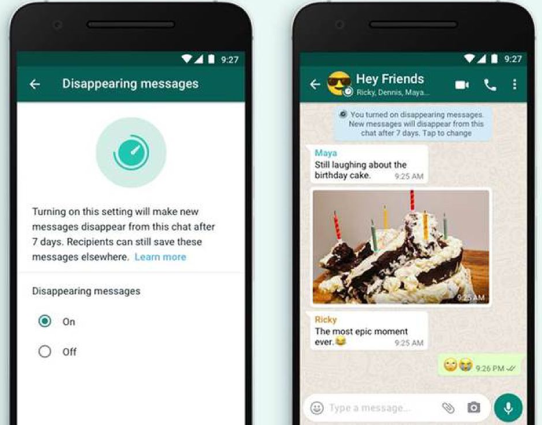 To enable it:
Go to a WhatsApp chat.
Tap on the user's name on the chat.
Scroll down and tap on the "Disappearing Messages."
Select "On."
The recipient will receive a text stating that the disappearing messages are turned on.
If you want to turn it off, then repeat the same procedure and select "Off."
Part 2: How to Hide WhatsApp Chat on Android?
Now that we have discovered the disappearing messaging option let's move forward and discuss how to hide messages on WhatsApp. There are two popular ways to do it – choose one of the chat options according to your liking.
2.1 How to Hide WhatsApp Chat with Archive?
WhatsApp Messenger has the option to hide your chats through an option called "Chat Archives." Through this facility, the users can hide any chat they want from the main messenger screen. 
Here is how you can archive your WhatsApp chats:
Step 1: Open your WhatsApp main page, scroll through the chats you wish to archive. When you find it, long-press the chat and wait till it is selected.

Step 2: When the chat is selected, click the second-last option beside the three little dots on the top right of WhatsApp. Your chat will be archived.

Step 3: The archived chat will reach the bottom of your chat list. Whenever you need to text that contact, you have to dive down to the bottom, open the "Archived chats," and then reply. Once you reply, the chat will be removed from the archives and reach the top.
Step 4: You can also long-press on an archived chat, then select the "Unarchive" option from the top, and your selected chat will be unarchived.
2.2 How to Hide WhatsApp Chat without Archive?
The archived chats option is great for those chats that are important, but you no longer want to interact with them. As we said, texting an archived chat will remove it from the hidden folder.
Another good solution is to use GBWhatsApp, which is a third-party app. If you want to know how to hide chat in WhatsApp without an archive, then use the GBWhatsApp version.
Follow these instructions to hide your chats in GBWhatsApp:
Step 1: Back up your chats on your WhatsApp. Then go to your phone settings, find the "Security" option, open it and enable app installation from unknown sources.
Step 2: After backup, uninstall WhatsApp from your phone. Navigate the GBWhatsApp's official website and download the apk program. Once downloaded, click on it and let it install manually on your phone.

Step 3: Open the app, enter your same WhatsApp credentials, verify the app and then select the chats you want to hide. Long press the chat and tap the three-dotted icon on the top right. Click on the hide option and enter the pattern lock for that chat. Now your chat is hidden.

Step 4: Tap on the green WhatsApp icon on the top left, and your hidden chats will show. If you want to know how to unhide chat in GBWhatsApp, then select a chat, press the three-dotted option, and tap the "Mark as unread" option. It will unhide.
Part 3: How to Hide WhatsApp Chat on iPhone?
You need to jailbreak your iPhone first. Use Tenorshare 4MeKey to jailbreak. Then the rest of the procedure is the same.
Back up WhatsApp and uninstall it. Then go to the GBWhatsApp website and download the iOS version of it. Then install it on your iPhone.
Verify and restore your chats after launching GBWhatsApp. Now long press and chat, go to the options and hide it.
If you want to know how to unhide chat in GBWhatsApp, then click the WhatsApp icon, enter the pattern, click the chat and mark it as unread.
If you would not like to use GBWhatsApp, then there is another way you can use to hide WhatsApp chats.
Go to WhatsApp and open it.
Choose the desired conversation and slide left.

Tap on the "Archive" option from the menu.
Part 4: How to Hide Chat in WhatsApp with Password?
GBWhatsApp allows you to set a pattern password on your chats.
Open GBWhatsApp.
Long-press a chat.
Tap on the three-dot option.
Click on Hide.
Enter a new Pattern password and confirm it.
GBWhatsApp will hide your chat with the password.
Extra Tip: How to Backup and Restore WhatsApp/Viber/LINE/KiK?
If you want to backup and restore WhatsApp, Viber, Line, or KiK, then use iCareFone Transfer(iCareFone for WhatsApp Transfer). Here is how to use it:
Video Guide on How to Transfer WhatsApp Between Android and iPhone
Connect your device, then select the app from iCareFone you want to backup. Select the backup device, and then click on "Back up now."

For WhatsApp, backup on the source device then verifies it on the software. The backup starts.

After backup is created, the program starts to resoring WhatsApp to the target device.

After backup is created, the program starts to resoring WhatsApp to the target device.
Conclusion
Archived chats and GBWhatsApp help you in hiding your chats. However, if you want to transfer chats from one device to another, then use iCareFone Transfer(iCareFone for WhatsApp Transfer).