What Is WhatsApp Archive and How to Unarchive WhatsApp Chat
by Anna Sherry Updated on 2021-01-14 / Update for WhatsApp
WhatsApp has emerged as one of the constants of our life. With a whopping base of 1.5 billion+ users, it is the most used social app. More than sharing messages, media files and a whole lot of chitter-chatter, WhatsApp renders amazing streak of features that includes archiving WhatsApp chat- that allows to secretly hide chats from your fellas to get entrapped in the heaps of doubts! Curious to know how you can actively maintain WhatsApp archived messages on your device! Explore right here.
Part 1: What is WhatsApp Archive and Unarchive Feature
In dictionary terms, "Archive" refers to a "collection of historical documents or records providing information about a place, institution or place", so are the archive WhatsApp chat. The "Archive" feature allows users to secretly store the chat by hiding it from the main chat thread where all the contacts and conversations reflect.
Here is how to "Archive" message on your WhatsApp on your Android phone:
1.Open WhatsApp and view all the available chats.
2.To archive a chat/group, just long press the desired contact.
3.You'll notice 5 options appearing at the top. Just press the one with the downward inverted triangle that is the "Archive" icon.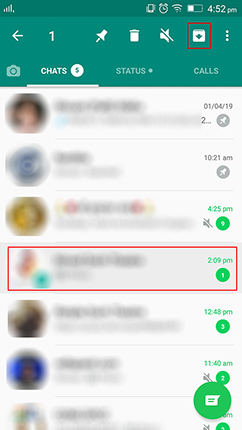 Archive WhatsApp message on your iOS device:
1.Launch WhatsApp and the chats will be displayed.
2.Simply, slide left on the desired conversation and tap on the "Archive" option available from the menu.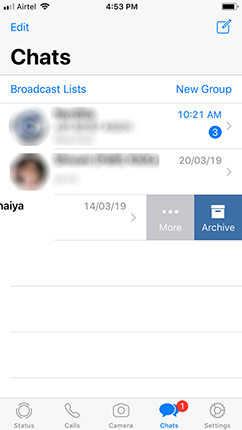 As we know archive feature allows users to keep hide the contacts they don't wish to keep. On the other hand, the un-archive feature does nothing unique, it simply undo the archive feature applied over. So, that users can access the contacts they had put on archive mode.
Part 2: How to See Archived Messages on WhatsApp
It's very easy to view the Archived Messages on WhatsApp. Whether you are running WhatsApp archive mode on IOS device or Android phone- the mantra to viewing them is just too easy! Read it here.
On iOS:
1.Locate "WhatsApp" bubble from the app drawer of your device.
2.Open it to view the chats available over your phone.
3.Just, scroll down the chat list, and the "Archived Chats" will reflect over the upper panel.
4.Tap on it and you'll view the archived contacts respectively.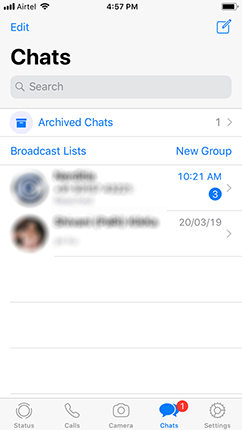 On Android:
1.Start by launching WhatsApp on your Android phone.
2.On the WhatsApp screen view your ongoing chat threads.
3.Just slide down until you reach the last chat available at your disposal. Here, you'll see "Archived Chats" option. Just press on that panel and access all your chats that have been archived.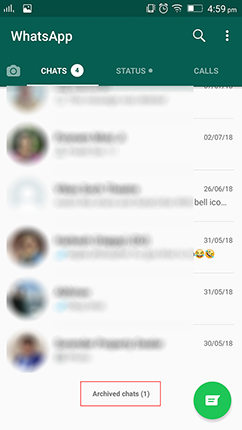 Part 3: How to Unarchive WhatsApp Chats
It's just not a rocket science to view the un-archive WhatsApp on your device at all. There is an ease of fetching back the contents in an unbelievably simple way. Discover it right below-
On Android:
Launch WhatsApp application and view the available chats.
Scroll down till the end of chats.
Here you'll view "Archive Chats" option shaded in black, press on to open it.
Long press the contact and options will appear over the upper screen, click on "upward triangle" to un-archive the chat!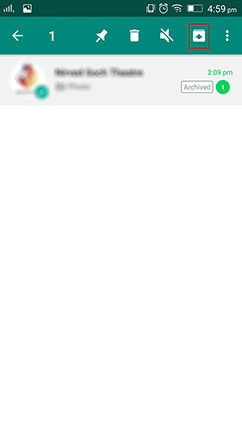 On iOS:
Start by opening WhatsApp in your iOS device.
Then slide the chats screen down and "Archive Chats" will reflect on top.
Tap on it, and slide left on the desired conversation that you wish to unarchive and hit the "Unarchive" option.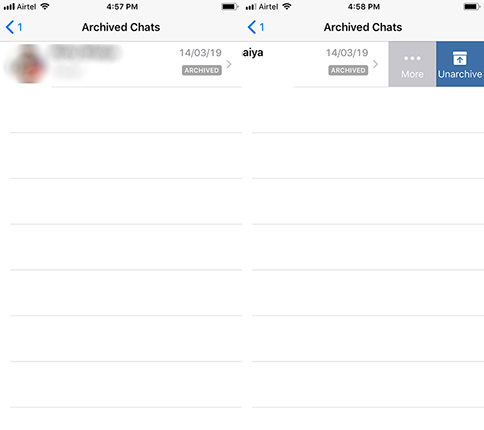 Bonus Tip: How to Restore WhatsApp Chat without Backup and Root
Since WhatsApp data is important for most of users, what if one day you delete WhatsAPP chat by mistake, how to restore it without backup? Here we recommend Tenorshare UltData for Android, which can meet your requirement. What's more, you don't need to root your Android phone. First, you should download and install this software on the computer.
Here is the extensive guide to recover WhatsApp chat via Tenorshare UltData for Android.
Launch the program, select the option "Recover WhatsApp Data", then connect your Android phone to PC / Mac via USB.

Note: It may prompt you to enable the debugging, you can follow the on-screen instruction.

If you haven't authorized your PC / Mac to trust your Android phone, tap "OK" to continue when it pops up windows.When it shows that your device has connected successfully,click "Start"to proceed.

Tip: Backup WhatsApp Data First to Avoid Data Loss.The program will guide you how to backup WhatsApp data step by step, follow the on-screen instruction! After that, click "Backuped up! Continue", then it will scan the WhatsApp data.

After the backup and the scanning is completed, all WhatsApp filles will be displayed, you can preview what you want to recover and then click "Recover".
Video Guide: How to Recover WhatsApp Data with UltData for Android
Conclusion
The WhatsApp Archive feature is useful in hiding down the messages available on your respective device. In addition, if you deleted WhatsApp data mistakenly, don't worry, you can resort to Tenorshare UltData for Android, it will help you restore WhatsApp chat without backup and root. Of course, this tool will teach you how to backup WhatsApp data if you are afraid of loosing data.