Everything About WhatsApp Archives, You Must Know It!
by Sophie Green Updated on 2021-02-26 / Update for WhatsApp Tips
Some unimportant chats messing up your chat list can be a tad bit irritating. WhatsApp has introduced a feature – Archive Chat. According to the patch notes, WhatsApp archives help us to organize our inbox. Just as archives help us to organize files in the real world, the archive meaning in WhatsApp is to hide personal or a group chat from our chat list to better organize our list. Moving on to what exactly happens to your archived chat!
Part 1: What Happens When You Archive A Chat on WhatsApp
You might often wonder what happens when you archive a chat on WhatsApp. Unclear knowledge leads to unnecessary rumors. Busting a popular belief, archiving a particular chat does not imply that you are blocking or deleting the chat contents. You simply put the messages out of your sight.
You do not have to worry on how to find archived chats on WhatsApp. Archived chats can be easily accessed by scrolling all the way down to the end of your chat list. The option "Archived chats (number)" shows you the number of chats you have archived thus far. Clicking on that particular option enables you to see the contents of the archived chats.
Part 2: How to Archive WhatsApp Chat on Android and iPhone
If you are new to WhatsApp archives and want to utilize this feature, follow the steps below to learn how to archive WhatsApp chat.
For Android Users
1) If you wish to archive one or more number of chats.
Under the "CHATS", click and hold the chat you want to archive.

Click on "Archive" icon displayed on top of the screen.
2) If you wish to archive all of your chats, rather than manually selecting them and repeating the above steps, perform the following steps.
While staying in the "CHATS" tab, click on three dots and then click on "Settings" from the top of the screen.

In the Settings, click on "Chats" to access Chat History.

Click on Chat History.

Now, tap "Archive all chats".
For iPhone Users:
1) If you desire to archive any number of chats,
Go to that particular chat.
Swipe left on that chat and tap on "Archive".
2) If you want to archive all of your chats,
Navigate to "Settings". Under "Settings" click on "Chats" and then "Archive All Chats".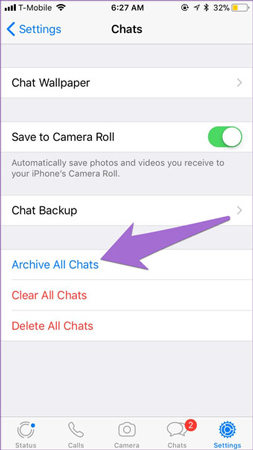 Part 3: How to Know If Someone Has Archived You on WhatsApp
WhatsApp maintains a strict Two-Way Secrecy policy wherein the other user is not informed about your activities. WhatsApp does not inform you whether someone has archived your chat in their mobile device or not.
The WhatsApp archives are all about keepsakes. Archiving a chat has no effect on the online status of the user. What it means is that the person whose chat you have archived can still see whether you are online or not.
Part 4: How to Delete Archived Chats in WhatsApp
Occasionally users tend to panic when they do not find an important chat and presume that they have deleted it. However, there is a possibility that you have archived the chat. Fret not as you can easily find the chats at the bottom of your chat list.
Scroll down to the bottom and click on "Archived Chats". This shows you all of the chats that have been archived.
Searching for "how to retrieve archived messages on WhatsApp" returns too many results. However, an archived chat automatically unarchives itself once something received in that chat. If you wish to unarchive WhatsApp archived chats iPhone users need to swipe left on the chat and click on Unarchive. For android users, click and hold on the chat. Now tap on "Unarchive" icon on the top of the screen.
Sometimes you might want to delete the archived chats that you no longer need. We have got you covered for how to delete archived chats in WhatsApp as well. After navigating to Archived Chats, select the chat you want to delete and from the top, tap on "Delete" icon to remove the chat permanently.
Part 5: How to Retrieve Archived Messages on WhatsApp
After learning about what does archive mean in WhatsApp, one certainly knows that archiving a chat is merely utilizing the accessible disappearance feature for your benefit. People mistakenly delete important chats instead of archiving them just to regret later. Now, this issue has been successfully dealt with by Tenorshare.
Tenorshare UltData for Android allows users to recover deleted messages, audio clippings, video, image and documents. The below-mentioned step guide will help you to recover deleted messages.
Post-installation of the software, launch UltData. Select "Recover WhatsApp Data"

Connect the device in which WhatsApp is installed to the computer via the USB cable.

Open developer's option in your mobile and enable USB Debugging. If you are unaware of the section, follow the steps displayed on the screen.

If the Window fails to appear, tap on "Show Again" in the program.

Now click on "Start" to proceed with messages recovery.

Log in to your WhatsApp and back up the data on WhatsApp to prevent data loss. Once back up is completed, click on "Backed Up! Continue."

After a few minutes, tap "Back up my data."

Now your wait is almost over. Preview the shown media and messages to restore the desired data. Once selected, click on "Recover".
Conclusion
This brings us to the end of the article on WhatsApp archive chat. It is anticipated that now you know all there is to know about archived chats and how to find archived chats on WhatsApp and even how to restore deleted data.