How to Spoof with VMOS in Pokémon Go (2020 New Update)
by Anna Sherry Updated on 2020-09-04 / Update for iPhone Tips
Catching Pokémon while spoofing location is one of the easy ways; you need not move a single step while you catch a Pokémon. A friend of mine asked for tips for catching Pokémon present anywhere without getting banned, and then I recommended him VMOS application. With the application, you can easily collect as many Pokémon as possible. I am confident this article will guide you in detail on how to spoof with VMOS in Pokémon Go.
Part 1. What Is VMOS APK?
VMOS is an application available to smartphones based on Virtual Machine. The application is capable of running in Android phones that rocks Android version 5.1 and later. With the virtual machine on your phone, you can run another dedicated Android on your phone that has its own interface, Play services, and settings. Using the application will not affect your original Android; that's why spoofing location with VMOS is a smart way to not get banned from Pokémon Go.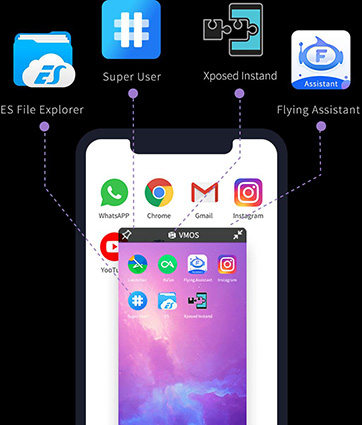 Part 2. Does VMOS Still Work for Pokémon Go?
The answer is yes! VMOS still works for Pokémon Go. In the last Pokémon Go update, developers patched the game that does not work in virtual devices. VMOS had rough times coping up with the Pokémon Go update; they received user complaints and responded. Eventually, VMOS developers came up with fixes that allow playing Pokémon Go virtually.
If you use the application with care and don't jump too high on the application, you will likely stay safe on the game. However, the location spoofing on Android devices does not work if it's not rooted. It is a significant demerit to consider while using VMOS on Android.
Part 3. How to Use VMOS for Pokémon Go?
Let's be clear, installing VMOS for Pokémon GO for the first time is not easy, as always. You need to do some configurations on both the Original Android and Virtual Android box.
Required Applications:
VMOS application
Lucky Patcher
File Explorer (ES File Explorer)
VFIN 1.0.1
Pokémon GO application
GPS Joystick App Ninja
The following steps will guide you with detailed steps.
Download and Install the VMOS application on your Android phone.

Enabling root mode access on VMOS

Disable "Find my Phone".

Open VMOS settings from its home screen > System Settings > Location > select 'Mode' and set it to 'High Accuracy'.
This is all for installing VMOS applications on your Android phone, now we need to install and setup other required applications.
Install Fake GPS location – GPS Joystick.

Also, down and install the Lucky Patcher application on the virtual box.

If Play Protect disallows to install the application, click on "Details."
Now, click on the "Install Anyway" option.
Also, grant root permission for Lucky Patcher.

Download and install ES File Explorer in your Virtual Android box. Open ES File Explorer and go to /system directory, there delete the xbin folder.

Uninstall Lucky Patcher application from your device so that system does not recognize the spoof application.
Subsequently, download and install Pokémon Go into your virtual Android.
Now, download VFIN apk. Launch it and tap on the "Kill Process" for a couple of times.
Now, open Fake GPS location – GPS Joystick and set the site to wherever you like.
Similarly, open the Pokémon Go application and enjoy it!
Part 4. Can I Spoof Pokémon Go Location on iPhone?
VMOS is particularly an Android Virtual Machine and doesn't support iOS devices, so we recommend Tenorshare iAnyGo. The tool allows you to route location once, twice, or multiple times. Follow the stepwise guides here:
Now, double click to open the application, the initial page you see is location changer itself.

Connect your phone with a USB cable to the computer with proper cable and click on "Enter."
Now, once you are connected, iAnyGo allows you to spoof location on your iPhone. On the search box, type any location or place name. After that, you get suggestions about the site.

Now, click on the "Start to modify" option below the location suggestion.

Also, if you want to view your actual application, click on the back button. There, you will see your exact coordinates. You can also see your "Coordinate collection" and "historic records," you can also set the coordinates to favorites.
Conclusion
Readers! Are you aware of how to spoof with VMOS in Pokémon Go? The following guides we have provided are the all-inclusive ways and tested to work correctly on Pokémon Go. After the update by Pokémon Go developers, they patched Android emulators to spoof location. The VMOS team pulled their application through to find their way to provide service to their customer.
Nonetheless, the Android version for the application to work is a bit complicated but worthy afterward. However, VMOS does not work on iOS devices because it is built solely for Android devices. You can use Tenorshare iAnyGo on your computer to spoof the location to play Pokémon Go at home.