You Should Know This Full Tips for Pokemon Go Walking Hack
by Jenefey Aaron Updated on 2022-09-29 / Update for iPhone Tips
I am an avid Pokemon Go player but due to the COVID-19 epidemic I am unable to complete tasks. I have heard that it is possible to play the game without walking. Can anyone tell me how to hack Pokemon Go walking?"
It is a well-known fact that Pokemon Go is a location-based game, it requires the users to visit different places to catch exciting Pokemons. But some people like the comfort of their home and in 2020 we have the COVID-19 epidemic, stopping us from getting out of our houses.
Although it is impossible to play the game without walking, you can use a Pokemon Go walking hack app to make the game think that you are walking. Such applications do exist and a free Pokemon Go walking hack is easy to get. You will get more information on the topic in the article below.
Part 1. How to Play Pokemon Go Walking Hack iOS
Due to limited options, it is difficult to locate and download Pokemon Go walking hack application on an iOS device. But we have 2 recommendations.
The apps we are recommending are the best desktop applications for IOS devices. So, if any iOS users out there looking for Pokemon Go walking hack, our first recommendation is Tenorshare iAnyGo; Using this tool you can easily spoof your location while playing Pokemon Go. It is one of the best walking hack on Pokemon Go. No need to be concerned about security.
Tenorshare iAnyGo comes with a friendly interface. You can easily mock your location and there is also no limit to location mocking.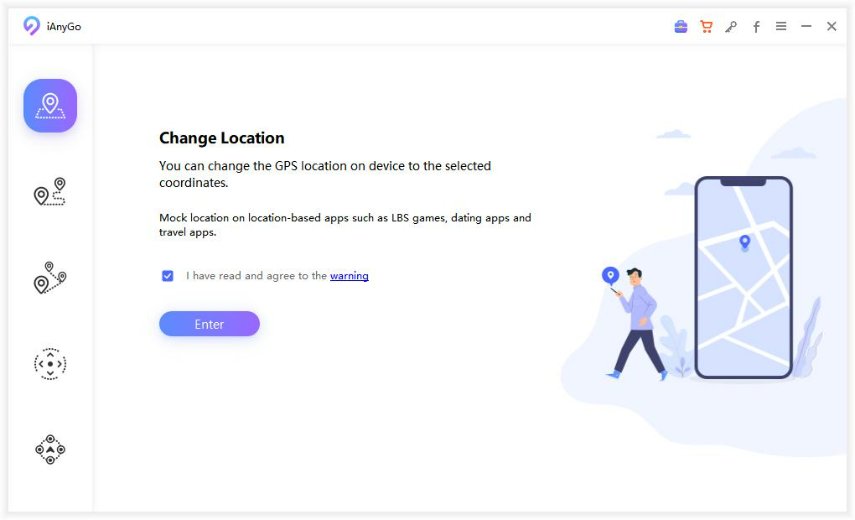 Pros
Jailbreak is not required for the installation of this app.
Easy to operate.
It has a stimulating feature that lets you walk in the speed of your choice.
Supports major iOS devices and different IOS versions.
Cons
The trial version is available for free and it doesn't come with all the features.
Video Guide on How to Hack Pokemon Go Walking
Part 2: How to Play Pokemon Go Walking Hack For Android Through Fake GPS Free
If you are looking for a way to Pokemon Go walking hack Android, then Fake GPS app is the best option.
Well, the name says it all. This walking hack Pokemon Go Android application creates fake GPS for your smartphone, making your movements completely incognito.
The Free GPS is a free locating masking application, available for free on Goole Play Store. It is a great way of Pokemon Go walking hack for Android. It has a simple operation, check it out below.
Open Google Play Store on your Android smartphone, locate 'Fake GPS Free'.
Complete the installation of the application and then, launch it.
A pop-up will appear, asking you to 'Enable Mick Locstions'. Say yes, and the 'Developer Options' will open.

Then, tap on 'Select Mock Location App' option under 'Developer Settings; and select 'Fake GPS Free'.

Once everything in its place, open the Fake GPS Free app again and tap on 'Search'. Select a location and then tap on the 'Play' button to engage the app.
Now, you just have to open the Pokemon Go game and find out if your new location has been implemented into the game.
As you can see, it is easy to install and operate Fake GPS Free app. It is a very useful Pokemon Go walking hack Android no root application. Check it out. But this app won't work on iOS device. But don't worry, we have recommendations for Apple devices too. Just check out rest of this article.
Part 3: Is There Other Ways to Play Pokemon Go Without Walking?
Besides the discussed applications, there are other ways to Pokemon Go hack without walking.
These methods are different and the success rate is a bit lower but if you can execute them properly, then you may have a chance to play the game without walking.
Way 1: Using Multiple Accounts
The first Pokemon Go free walking hack involves using multiple accounts. Mostly, people use a single account to play the game but if you use multiple accounts, you don't have to walk to play the game.
Way 2: Through Changing Phone Time
Changing the phone time is also a good Pokemon Go walking hack 2017. The game detects the time on your device and GPS location to provide results. If you change the time, you won't have to walk.
Way 3: Add New Friends As More
The last method for Pokemon Go walking hack no computer is to add new friends. The steps are simple.
Open the game and go to 'Profile'.
Swipe your friend list and choose a friend.
Add the friend.
This is another very different way to play Pokemon Go without walking.
Conclusion
Hence, the walking Pokemon Go hack is easy if you know the apps capable of doing the tasks successfully. We have detailed apps for both iOS and Android Operating systems. On iOS, the Pokemon Go walking hack apk won't be available in the App Store. You have to manually search and download them. We have also detailed other means to hack the game that doesn't require installing an app, you can also check them out. These methods are good but don't have a high success rate.
Freely Change GPS Location without Jailbreak!
Plan a route by selecting two or multiple spots on the map
Easy to simulate GPS movement based on customized route
GPS joystick to take better control
Import GPX file to start a designed route
Change up to 15 iOS devices' location on 1 PC/Mac