Instagram Help: How to Change Location on Instagram
by Anna Sherry Updated on 2020-08-17 / Update for iPhone Tips
Changing your location on Instagram is one of the top most means of generating traffic to the account. This action doesn't only give your business an edge over others, but it also makes it possible for people or groups within your new location to see what you are offering. Hence, it is a great way to promote your business or brand.
So, if you are interested in changing your location on Instagram, what are the things you need to do? They are explained below.
Part 1. Does Instagram Track Your Location?
Yes, Instagram tracks your location whenever you upload any images or videos on the platform whether your geotag is turned on or not. However, when the geotag is turned off, other Instagram users may not be able to see the particular location that you are posting images from.
Part 2. Funny & Easy Ways You Can Use to Change Instagram Location
Way 1. Download Tenorshare iAnyGo to Change Location in Instagram
Firstly, download Tenorshare iAnyGo on your computer and then install it. Now, open the app and select "Change Location".

With the help of a USB cable, connect your iPhone to your computer. Unlock the mobile device and you will be prompted to confirm the connection. Click "Trust" and input your passcode. Confirm it and continue.

You can choose any location that you want on the map. Alternatively, enter the particular location you want to change your virtual location to. After choosing a location, click "Start to Modify"

After you have completed the steps above, the location would have changed. You can use this app to ascertain the previously changed locations

Launch Instagram and add any post

Open the Instagram app on your device and click "Add Post".
Select any picture you want to upload and hit "Next".

Choose "Add Location" and you will see your current location. Now, select the preferred location and proceed to upload the picture.
Way 2. Download Double Location App on iPhone
Foremost, you need to set up the Double Location app on your device. To do this, learn how to set up the app here.
Afterward, download the app on the same page to continue the process.
When you are done with the download, go to "Settings" and then navigate to "General". Afterward, go to "Device Management" and choose the dev profile as a trusted developer.
Launch the Double Location app on your device and agree to its terms and conditions.

Go to the "Map" tab and move the location pin to any preferred location.

Click "Lock Position" and your location will be changed to the new one.
Now, you can open your Instagram app and it will detect your location as the faked one.
Having followed the steps above, you have changed your location on Instagram successfully.
Way 3: Download iSpoofer on PC to Change Your Location on Instagram
Start the process by downloading iSpoofer on your PC. Double the downloaded file and the instructions for installation will be shown.

When you are done with the installation, open the app to learn more about its interface and use. If you don't have iTunes installed on your computer, this tool will show you how to do so.

After installation of iTunes, use a USB cable to connect your computer and iPhone. Your iPhone will be automatically detected by iSpoofer. You need to unlock your phone and trust the PC to proceed.

Once the devices have been connected successfully, tap "Spoof" on your computer to start changing your location to anywhere you like.

NB: On Windows PC, the tool has to mount a Developer image document into iOS. For this process, you need to keep your iPhone unlocked.

Look at the map on your screen and look for a specific location. Then click the location to see "Move". Tap "Move" and your iPhone will change your location to this new one.
You have changed your location. Now, open your Instagram app and start using it with the new location.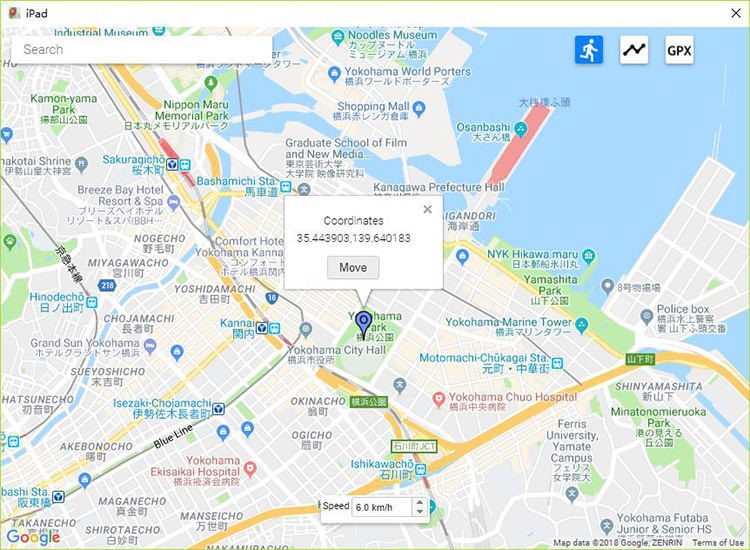 Conclusion
If you follow the different ways listed above appropriately, changing your location on Instagram should be as easy as ABC for you. It should be noted that various factors may make you consider changing your location. Whatever your reasons are, the apps mentioned above like Tenorshare iAnyGo can get the job done for you easily and quickly. Besides, you don't need any technical know-how to use these apps. Good luck!
Some Questions about Changing Location on Instagram
1. How to Edit Location on Instagram
If you want to edit your location on Instagram, here are the simple steps to follow:
Click the () icon that is found above your image or video
Click "Edit"
Click the name of the location and click "Remove Location or Change Location"
When you are done, click "Done"
2. How do I disable location on Instagram?
Click "Privacy"
Then select "Location Services"
Scroll down the options and choose "Instagram"
Choose "Never" and location will be disabled on your Instagram
3. Why does Instagram keep deleting my location?
Instagram can continue deleting your location for various reasons. One of the most prominent reasons is that your device needs software updates. Sometimes, the wrong updates may also cause this problem. Whatever the cause may be, finding a solution is crucial.