Best Tricks on How to Fix Android Stuck in Fastboot Mode Quickly
by Anna Sherry Updated on 2020-05-18 / Update for Android Data
My LG phone is stuck in fastbootmode and I can't exit out. Even when I hold the power button or remove the battery it won't exit fastboot mode"
Get stuck in Android fastboot and don't know how to get out of it? As we generally know fastboot mode is used to write data directly to your phone's flash memory. But sometimes if things go wrong, you will get fastboot Android stuck. Here we walk you through how to exit fastboot mode.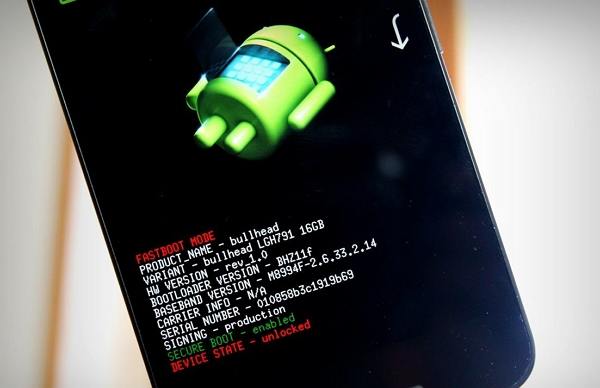 Part 1. One Click to Fix Android Stuck in Fastboot Mode without Data Loss
If your phone or tablet stuck in fastboot mode, you can use an easy way to on how to get out of fastboot mode, ReiBoot for Android-Free Exit Fastboot Mode Tool. Also, this software assists you to free enter or exit recovery/download mode quickly. By the way, if you actually experience system bug, ReiBoot for Android also works well.
Download ReiBoot for Android and launch successfully. Then connect your device to computer.

Launch ReiBoot for Android

Click Exit Fastboot Mode to proceed.

Exiting fastboot mode by ReiBoot for Android

Your Android phone does not stuck in fastboot mode anymore.

ReiBoot successfully gets Android phone out of fastboot mode
Note Tips: This is an feasible method to fix Android fastboot mode stuck. If the fastboot Android stuck persists, we recommend you use the repair Android system feature on ReiBoot for Android, which will possibly resolve the issue.
Part 2. Other Tools to Fix Fastboot Mode Stuck
Getting stuck on android fastboot mode usually happens to those with a rooted device. No matter when Asus tablet stuck in fastboot mode or stuck in Oneplus fastboot mode, here are some other ways that you can try to fix Android Stuck in fastboot mode.
1. Android Multi Tools
There are other applications that can help you. Android Multi Tools, developed by the nice Android geeks at the GSM Forum, is one of the tool is to help you get out of stuck on fastboot mode screen. However, it doesn't ensure you 100% successful rate.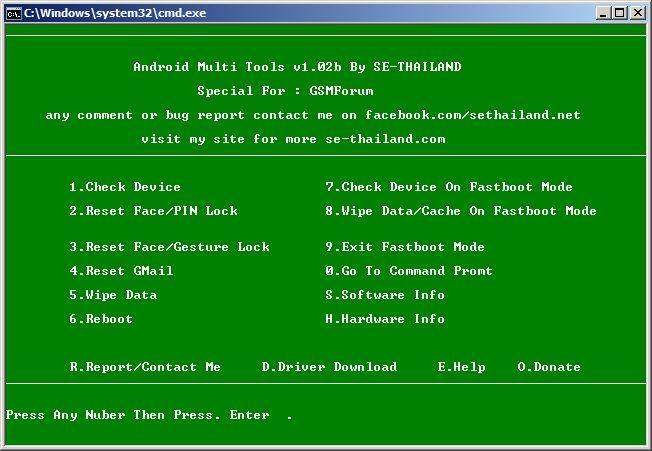 2. ADB and Fastboot Tool
Another alternative is ADB and Fastboot tool from the big man itself - Google. These two tools used to be part of Android Studio, but now it's available as a standalone download. You can get it using this link. You can get it using this link.
Of course, it would never be so easy to operate such tool except for an expert.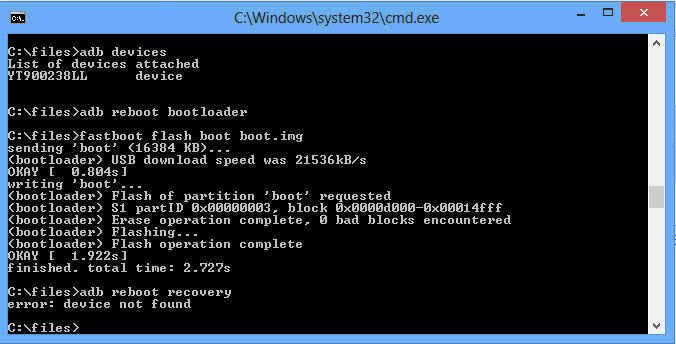 Part 3: Basic Methods to Exit Android Fastboot Mode
Of course, there are still somes ways out there. Just move on and take a look at how to do with these ways.
1. Restart Your Android Phone
How to close fastboot mode?The easiest way is to hard reboot your phone.
For most Android devices, just press and hold the power button for about 10 to 20 seconds.

For Samsung device, press and hold both the Power button and Volume Down button for about 10 to 20 seconds.

Force reboot samsung
2. Remove the Battery
If restarting the phone doesn't work, then try to turn off the device and pull out the battery. Leave it for a few seconds then put the battery back into its place and start your device.
Note: If your Android phone doesn't have a removable battery, never make a pull by yourself, which will cause hardware damage.
Part 4. FAQs about Fastboot Mode
1. What is fastboot mode?
It's a protocol to help users re-flash the partition on their devices.The process is an alternative to the Recovery Mode and useful to flash images such as recoveries, bootloaders, and kernels to your Android device.
2. Does fastboot mode erase data?
Fastboot Mode is a way of flashing your Android phone. If you choose erase command, which definitely wipes data, so please remember to have a backup of your Android phone.
3. What happens after fastboot mode?
If your Android is in fastboot mode, there are many commands for you to operate. You can execute fastboot flashing unlock, fastboot erase partition, fastboot flash system, fastboot reboot etc.