How to Quickly Fix LG V10/G4 STuck on Logo Screen - Tenorshare
by Sophie Green Updated on 2020-07-29 / Update for Fix Android
I was playing music on Pandora. Suddenly, my LG V10/G4 froze. After some seconds, I turned it off and tried to switch it on, but the screen displayed the LG logo only. This is not going away, and the screen is stuck with the same logo."
-- from IFIXIT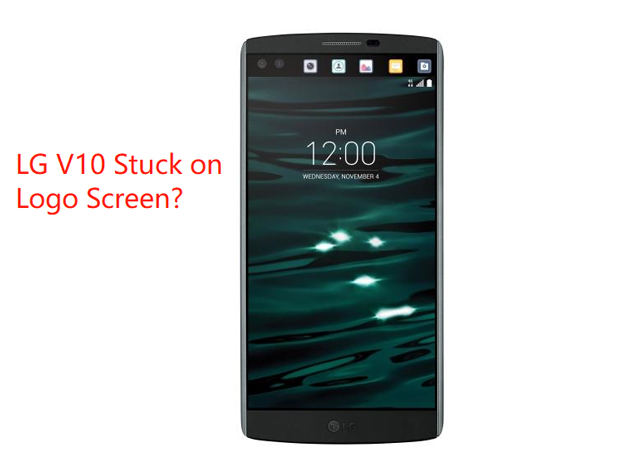 If you are the one who has experienced a similar situation in your LG V10 phone, then it is time to do something. This flagship device was rolled out in 2015. Despite being a great device, it is not perfect. It comes with minor bugs, and issues, but you can solve them quickly with a little effort.
LG v10 stuck on LG logo is just a small problem that you have to deal with but rarely. It's time to learn how do I fix my stuck LG phone logo to get rid of the LG v10 stuck on logo issue. We have found out the causes behind this problem and how can we combat it.
Part 1: What Causes Your LG Phone Stuck on Logo Screen
1. System Issue
One of the possible causes of LG G4 stuck on logo screen can be a system problem. Suppose you are playing music, listening radio, receiving a call, or trying to do something else, these things can abruptly freeze your phone and cause LG v10 stuck on logo screen trouble.
2. Hardware Issue
It is said that if you take custody of things properly, then it lasts longer. Dropping your LG v 10 devices in water or ground can damage it badly. You need to hold it carefully. Besides, a problem in the battery can make things worse. Therefore, hardware issues are another reason behind LG g4 stuck on LG logo problem.
3. Unknown Reason
It's not always that you can figure out the causes of LG g3 stuck on LG screen problem. Sometimes, there will be unknown reasons, and you can't dive deeper into that.
Imagine playing a song on Pandora and your device switch off automatically. This might frighten you first, but turning it on will show the LG logo only. Take another situation when you open an application, and it malfunctions leading to the LG phone stuck on LG screen problem. For tackling this LG phone stuck on LG screen problem, go through the next section.
Part 2: How to Fix LG Phone Stuck on Startup Screen In Minutes
As I said before, LG V10/G4 is rarely seen on the market. So, many professional Android repair tools doesn't support these models anymore. However, there is one ideal tool named ReiBoot for Android still works on LG V10/G4.
It works as an Android system repairer that can eliminate 50+ issues suhc as app crashes, stuck on startup(logo) screen, and so on. It is also very easy to use. Now, let's see how it works.
Downlaod and install ReiBoot for Android on your computer. Now, connect your LG G4 stuck on startup screen using a USB cable.

It will identify your device, and the instructions on enabling USB debugging will be shown on the screen. If you know to do this on your own, it's much better.

Now, click on "One-Click to Enter Recovery Mode" for the software to run and put your device into the recovery mode. Wait for a while for the successful entry to the recovery mode.
Once in the recovery mode, try deleting cache or factory reset to get the problem fixed.
Related Read: 11 Easy Ways to Fix Hotspot Not Working on Android
Conclusion
Many users have complained about phone stuck on startup screen LG stylo 4 problems. This is the reason behind creating this content so that we can help them. ReiBoot for Android offers you an efficient way to fix LG phone stuck on LG startup screen. Therefore, you will never worry about LG V10/G4 stuck on logo screen anymore.
People Also Asked about LG Phone Stuck on Logo Screen
Q1: How do I force restart my LG phone?
Press and hold the 'Power' button and 'Volume Down' key for 5-10 seconds. The screen will shut down automatically. In some models, you have to press and hold the 'Power' key for at least 10 seconds.
Q2: Is there a reset button on LG phones?
No specific reset button, simply press and hold 'Power' and 'Volume Down' key together. When the LG logo is displaying, remove your fingers from the power key for a second and repaet the above steps.