Best 8 Ways to Fix Security Certificate Error Android
by Sophie Green Updated on 2020-10-20 / Update for Fix Android
Android is among the most popular mobile phones in the world with millions of people using it, but it is far from perfect. One of the most common issues many Android users face is 'there are problems with the security certificate for this site'. This error may show in the newest mobile phones having updated systems.
It means the website certificate isn't matching any certificate of your browser. I know it is very frustrating and annoying to face this error but you need not worry as we have compiled a simple guideline to help users overcome this issue.
Part 1: Reasons for There Are Problems with the Security Certificate
A range of reasons can lead to this error, including:
Outdated phone browser
Unsecured internet connection
Wrong date and time settings
Temporary bugs in the browser or mobile phone
Temporary bugs in the browser or mobile phone
So, now that you know why does my tablet say security certificate, let us proceed to solutions of this error.
Part 2: Best 8 Methods to Fix Security Certificate Errors Android
Now that you have learned the underlying reasons of why there are problems with the security certificate for this site android, let us discuss 8 easy methods to troubleshoot this issue.
Method 1: Check Network Connection
Some Wi-Fi internet connections particularly public connections having a lot of users are unsecure and may lead to security certificate error Android. You should check disconnect public Wi-Fi connection and connect to a private Wi-Fi and check if the issue persists.
Method 2: Correct Your Phone Date and Time
Android mobiles show Security Certificate error if your mobile phone has wrong date and time settings. Make sure, date and time are correct.
Open Settings and scroll down to Date & Time. Here, tap Automatic and turn on the toggler in front of it.
Now validate your device is showing the correct Date, Time and Time Zone.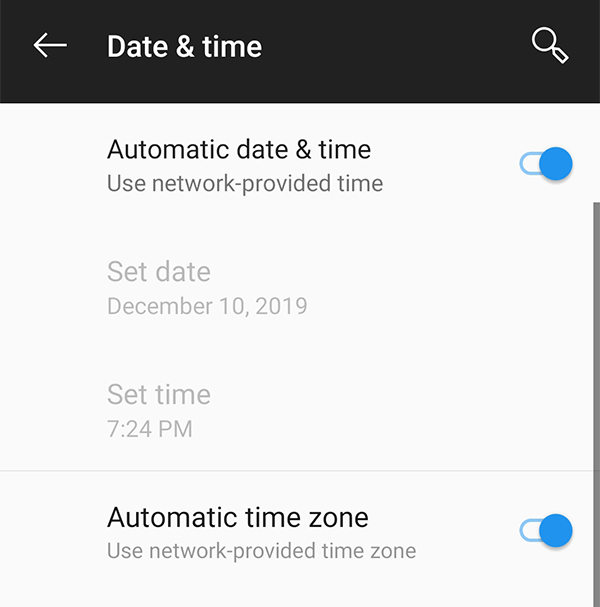 Method 3: Clear Browsing Data
Internet browsers stores browsing data temporarily in the form of cookies and caches. Deleting browsing data can solve the security certificate error.
Go to Settings > More > Application Manager and find the browser on which you are getting the Security Certificate error like Chrome or any other browser you use.
Now, click on Clear Data and then Clear Cache to remove temporary files stored in the browser.
Finally, restart your mobile.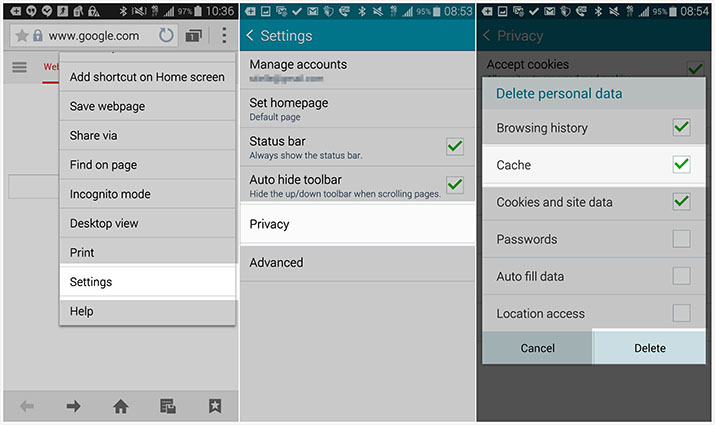 Method 4: Turn off Antivirus or Security Apps
Antivirus and other security applications on your Android phone can interfere with internet browser, leading to SSL issue. Turning them off is an effective method to fix security certificate error on android.
So, you should disable or turn off the antivirus installed on your mobile device and then check if the Security Certificate error is still present or not.
Method 5: Perform a Soft Reset
Performing soft reset on your Android phone is another simple and effective method to how to fix security certificate error android sony. This method removes any temporary bug or error in mobile system.
If you have a Samsung mobile with a portable battery:
Turn off your device and take out its battery. And put the battery in after a couple of minutes and turn your mobile on.
If you cannot take out the battery:
Switch off your mobile for a few minutes and then turn it on again.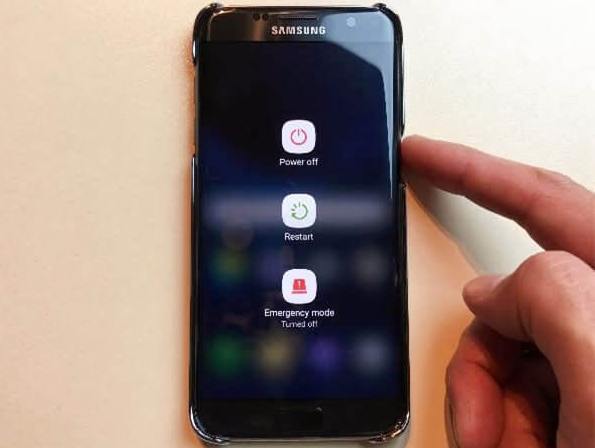 Method 6: Update Phone Browser
App developers regularly provide updates to automatically troubleshoot any errors or bugs in the previous version. It is recommended to install the latest version of the Internet browser you use and keep checking for updates in the Play Store.
Go to Play Store > My apps and Games and scroll down to the phone browser you use.
If you see the Update option in front of it, simply click on it.
So, if you are looking for how do i fix security certificate error on android, update the phone browser.
Method 7: Factory Reset Your Android
If none of the above methods work, then you should factory reset your mobile phone to fix the issue. This method removes all the data from your phone, so backup your mobile before factory reset. Now:
Turn off the mobile and press and hold the Volume Up and the Home keys simultaneously.
Now, press and hold the Power key and when you see the device logo on the screen, release only the power key.
Now, you will see the Android system recovery menu after a few seconds.
Use Volume down key to highlight 'Wipe data/factory reset' and press the Power key to select it.
Again, use Volume down key to highlight 'Yes — delete all user data' and select it using Power key to start the master reset.
The device will take some time to complete the master reset and will highlight the 'Reboot system now'.

Finally, press the Power key to reboot your Android mobile.
Method 8: Fix Security Certificate Error Android with ReiBoot for Android (Samsung Only)
Many a time, the above-mentioned methods don't produce satisfactory results in fixing the Security Certificate error – particularly if there is an issue in mobile system. Then, you have to rely on a third-party app to fix the issue and Tenorshare ReiBoot for Android is the most reliable and efficient software to do that.
This wonderful tool performs and in-depth scan on your Samsung mobile and troubleshoots 50+ Android system issues in just a few minutes. (Remember, this software works only on Samsung mobiles).
Install and launch ReiBoot from Android on your computer and connect your Samsung phone via original cable. On the main interface, click on Repair Android System.

Now, hit on Fix Now to fix Security Certificate Error on your device.

On the next window, enter the correct information of your Android device. Use the drop-down arrows to fill in details.

Now, the program will download the right firmware package corresponding to your Android device. The downloading will take some time to complete.

After the firmware is downloaded, click on Repair Now to proceed.

Then, follow the instructions on the screen to enter corresponding to your mobile phone type i.e., with or without home button, into download mode.

The software will take a few minutes to completely repair your mobile phone. Once it is completed, click on Done and your mobile will restart and function properly.
Conclusion
To sum up, this article has provided 8 easy and proven methods to fix security certificate error Android. So, whenever you face this irritating error on your Android phone, just read this article thoroughly and apply the above methods one-by-one to troubleshoot it.
Additionally, we discussed that Tenorshare ReiBoot for Android is the most effective and reliable software to get rid of this error permanently. This tool is very easy to use and removes the error without any complications or unnecessary delays.