Everything You Need to Know about Android Safe Mode
by Jenefey Aaron Updated on 2019-07-25 / Update for Android Tips
When you start any Android phone or tablet without the help of any third party applications, you are launching it in safe mode. There are several ways in which your Android device can be out into safe mode. To get your device out of safe mode can be very cumbersome. This is especially true for those Android users who are not that well versed with the functioning of the Android device. If you are one of those people whose Android phone or tablet is stuck in safe mode, you need not worry! Read on to find out more about what safe mode Android is and how you can get your Android device out of it.
Part 1: What is Safe Mode on Android and What it can do?
Your Android phone or tablet goes into safe mode when there is some adverse issue with your device. It may be possible that an application may have bugged out or it can even be that the function of the main system has gone haywire. In some cases, this also happens when your device is under the attack of Malware.
However, it is even possible that you yourself would have accidently put your Android device into safe mode unknowingly. If you are a bit familiar with the analog in Windows, safe mode functions somewhat that way. Safe mode in android would work by stripping off the core functions of the system operator. This prevents you to run any kind of app or tool which has not come along with the Android device originally.
Basically, safe mode Android phone is used for troubleshooting but if you do not have to troubleshoot anything on your Android device, it becomes frustrating as safe mode would prevent you from using your Android device to its full capabilities. Find out about how to turn off safe mode on Android by reading on!
Part 2: How to Turn on and Turn off Safe mode on Android
Depending on the scenario, you may want to know how to turn on safe mode or how to disable safe mode in Android device. Find out how you can do this by reading the following points.
1. Boot Android Into Safe Mode
If there is some issue going on with your Android device, you can put it into safe mode for troubleshooting. You can do this by following the steps below.
If in case you are using Samsung Galaxy S9, Google Pixel 3, LG, Sony, HTC etc,
Step 1: Press the Power button on your Android device and keep holding it for a while.
Step 2: Tap the Power Off icon and hold it for a while.
Step 3: A prompt window will appear asking you if you wish to reboot in safe mode, tap "OK".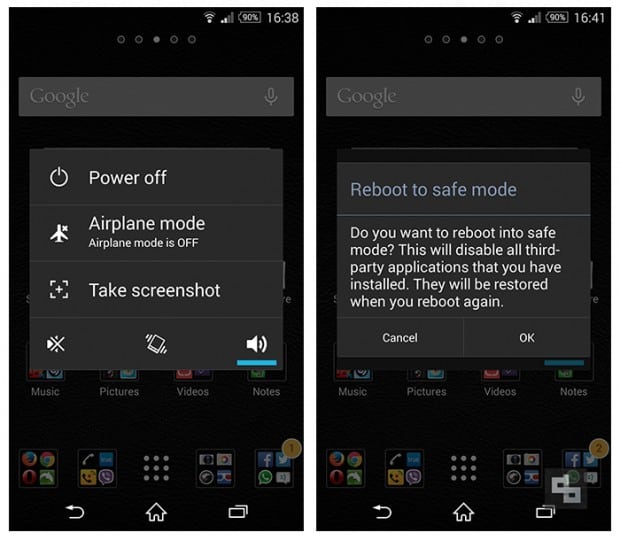 If in case you are using HTC U12, Samsung Galaxy Note 9 etc,
Step 1: Press the Power button and keep holding it and tap on Power Off.
Step 2: Press the Power button and keep holding it up until the Samsung or HTC logo appears.
Step 3: Let go of the Power button and press the Volume Down button and hold it.
Step 4: Do not leave the Volume Down button till your Android device boots up and "Safe Mode" gets displayed on the bottom left corner of the device screen.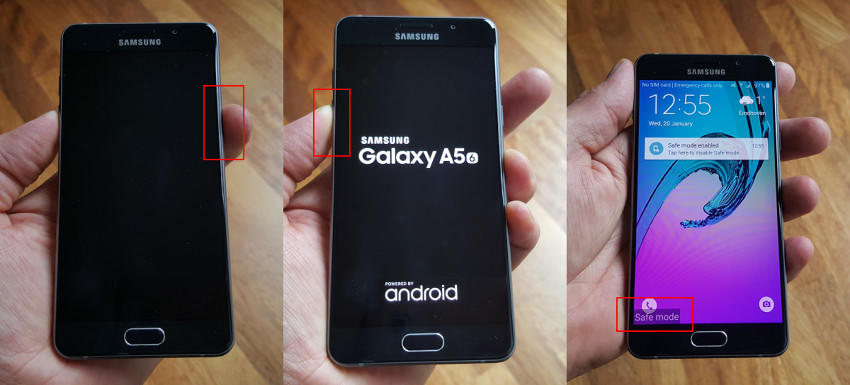 Once your phone or tablet is in safe mode you can clearly see what has been going wrong with the functionality of your Android device.
2. How to Turn Off Safe Mode on Android
If you are done troubleshooting or have accidentally entered safe mode and want to turn off safe mode Android, you can follow the steps below to know how to remove safe mode in Android.
Step 1: Press the Power button of your device and keep holding it
Step 2: Tap on "Reboot" option when it appears on the screen.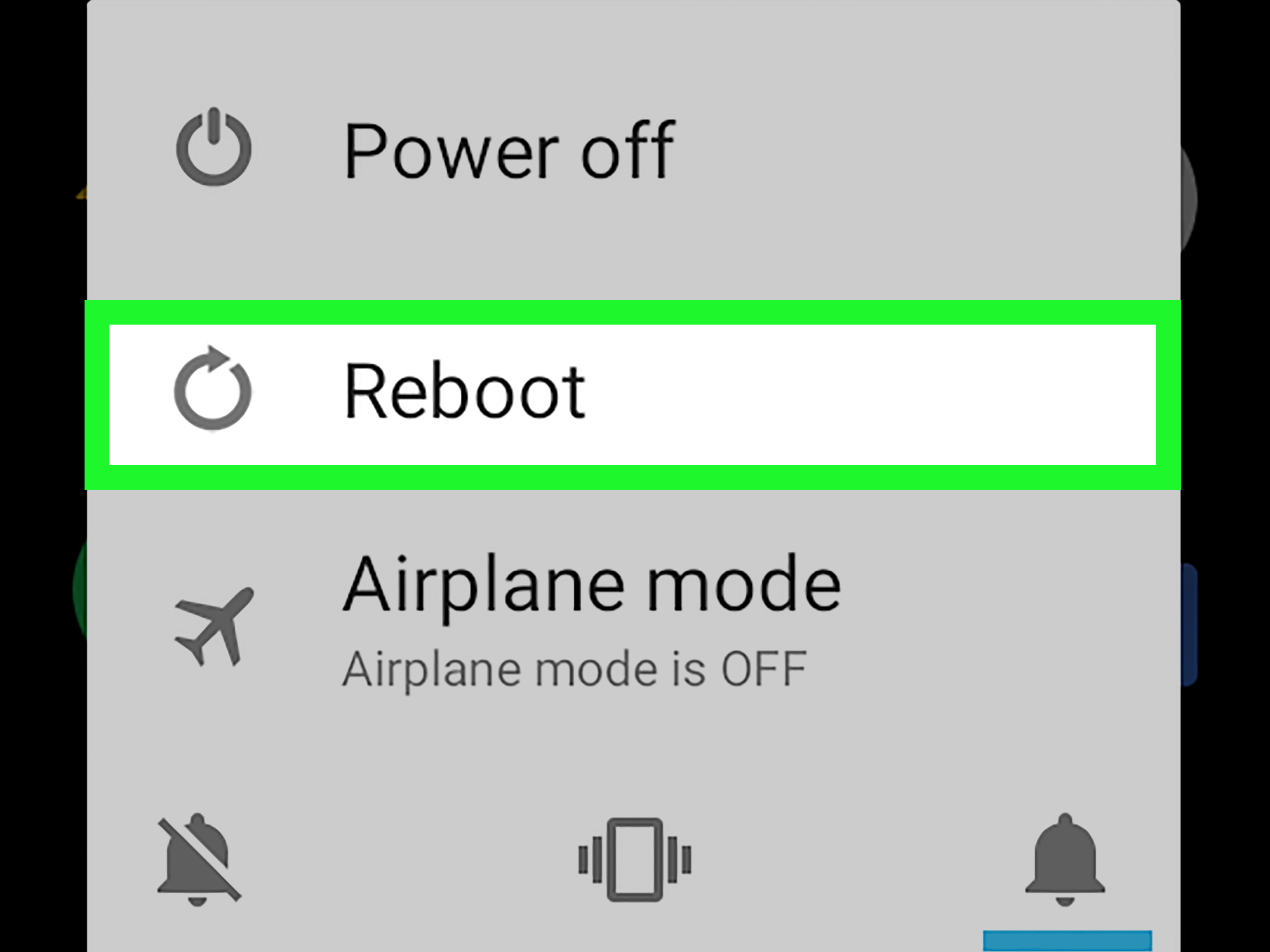 Your phone will then reboot normally and you would have safely disabled safe mode on your Android device.
Part 3: Android Stuck on Safe Mode, How to Fix?
If in case your Android device is stuck on safe mode and even after numerous tries you are unable to get out of it, you can use a third party tool. Tenorshare ReiBoot is an efficient software which effectively solves all the major and minor technical issues on your Android device. This software is highly recommended to efficiently repair your Android device.
You can follow the steps below to use Tenorshare ReiBoot to know how to get out of safe mode Android.
Step 1Download Tenorshare ReiBoot and install it on any of your system. Launch this software, connect your Android device to the system and once the device is detected click on "Repair Android System".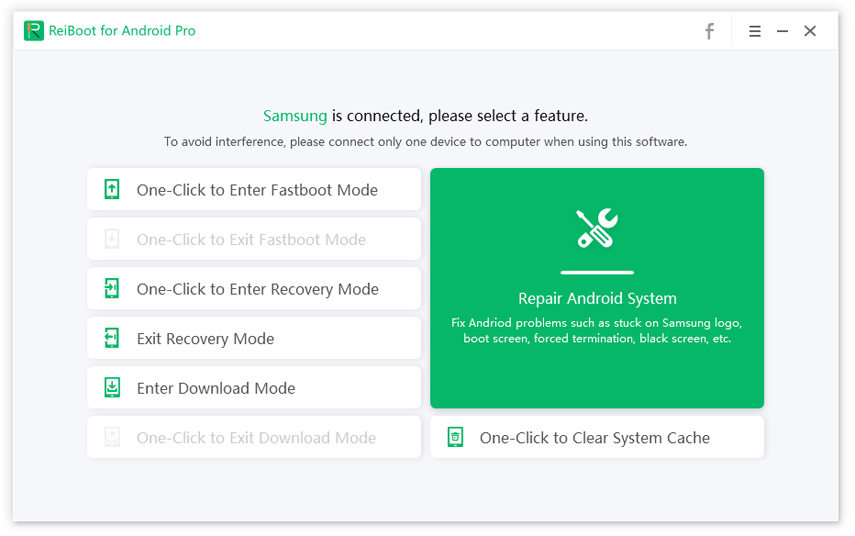 Step 2Click on "Repair Now" to proceed to the next step. Your device information would be displayed. If in case of any changes, use the drop down menu to select the correct information and click "Next".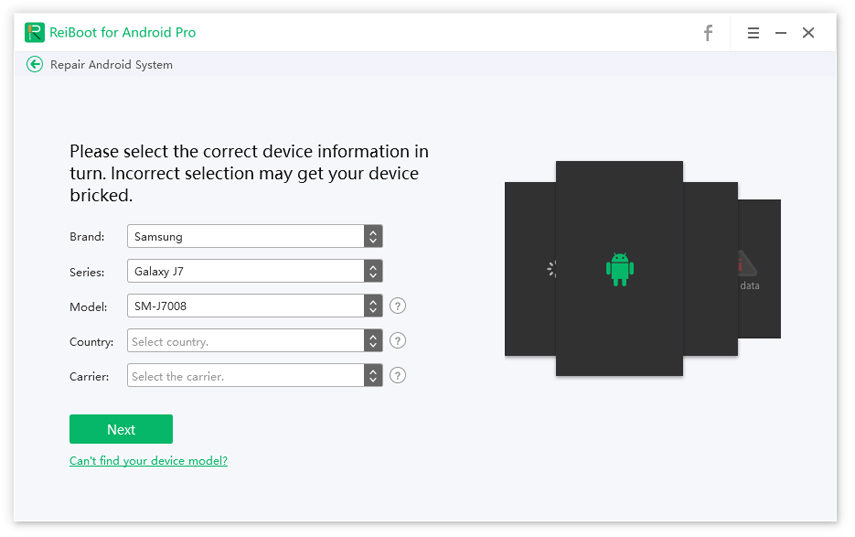 Step 3After you are done selecting the correct information about your phone, download the latest firmware package.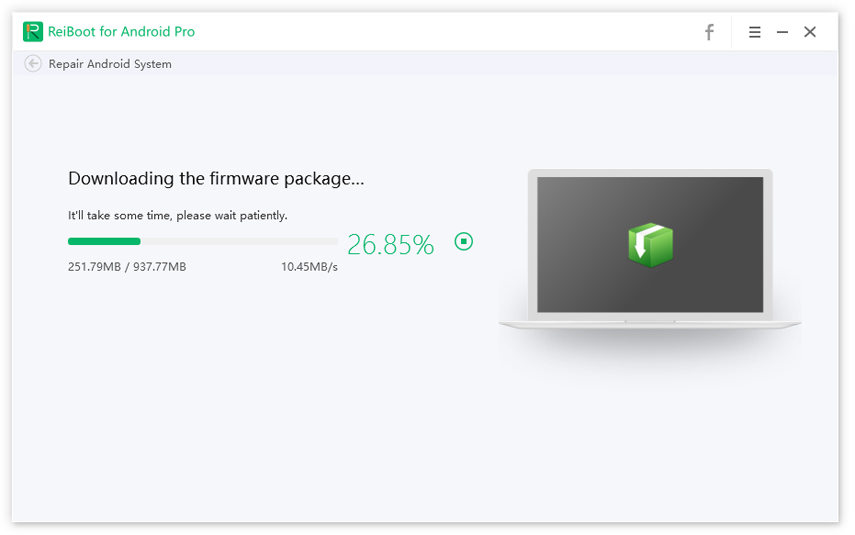 Step 4Click on "Repair Now" to start repairing your Android device. The progress of the repair process would be shown on the screen and once the process is completed you would be notified.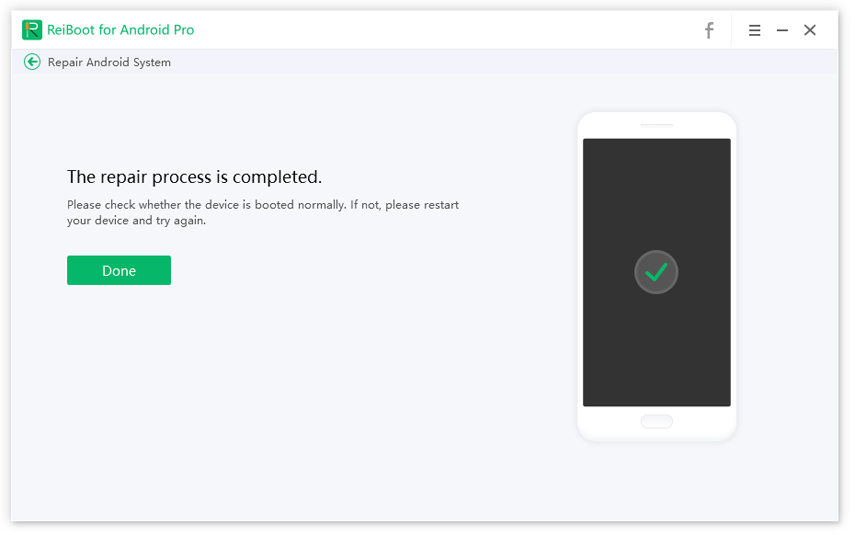 This would repair all the issues with your Android phone and you would have effectively exited safe mode as well.
Conclusion
As you can see, Tenorshare ReiBoot for Android is an all rounder. It can help you fix any Android system stuck issues like stuck in recovery mode , download mode fastboot mode , etc. with ease. Not only can you use Tenorshare ReiBoot for exiting safe mode, you can use this to fix other technical glitches on your Android device as well. Highly recommended software for any type Android system errors!