Can You Download WhatsApp for iPad? Here's Everything You Should Know!
by Sophie Green Updated on 2020-08-28 / Update for WhatsApp Tips
Have you also searched for how to download WhatsApp for iPad? Well, We hope that this will change for sure in the future. However, as for now the feature of downloading WhatsApp for ipad is not available for iPad users and this is what we are going to discuss through this article. Worry not if you feel bad about not having WhatsApp on your device, read this article and get to know more about how you can use it on iPad.
Part 1: Will WhatsApp Work on iPad in the Future?
A common question that all the iPad users "is there WhatsApp for ipad" has a single and common answer of "No", unfortunately for now. However, it's not the end. With a simple workaround like opening the website version of WhatsApp on iPad and synchronizing that with the WhatsApp of iPhone you can access WhatsApp on iPad.
But for this your iPhone should be online or connected closely otherwise it will log out from the web.whatsapp.com. Let us get more in detail about this.
Part 2: How to Use WhatsApp on iPad Mini/Air without Jailbreaking
At this point, we know that Whatsapp has been developed keeping the Android and iPhone users in mind, unfortunately it is not available on iPad. Though, if you wish to sue it on your tab or iPad, you can take assistance of your web browser. Please note that the instructions vary as per the age of your iPad.
Here are the instructions that help you to setup WhatsApp on your latest iPad:
Step 1: In the Safari Browser, type "web.whatsapp.com".
Step 2: A QR Code will be displayed to connect with your iPhone.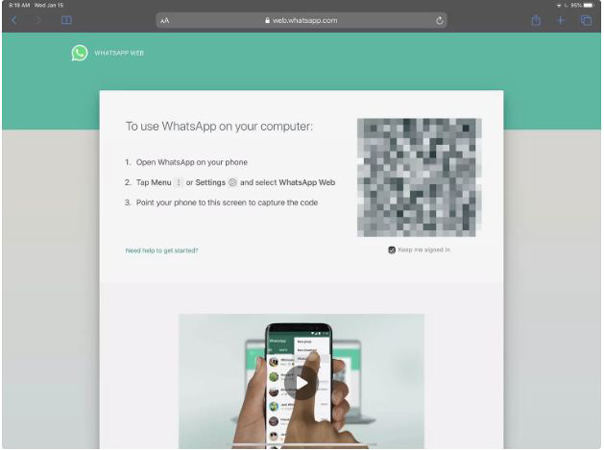 Step 3: Open WhatsApp on your iPhone
Step 4: Tap on "Settings" > "WhatsApp Web/Desktop".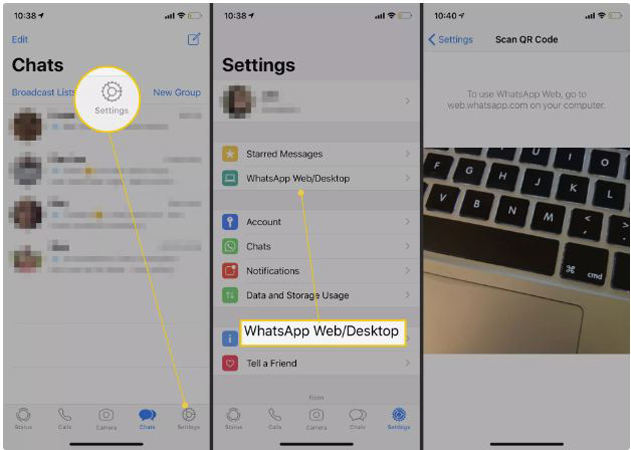 Step 5: Scan the QR code displayed on the iPad.
Step 6: After successful scan, all the messages will be displayed on the iPad and you will be able to use WhatsApp on your iPad.
When we come to an older iPad, it's a bit different as it uses iOS and the settings are a bit different. Let us see the instructions:
Step 1: In the Safari browser, type "web.whatsapp.com".
Step 2: Tap and hold the "Refresh" that appear on the right side of the ipad.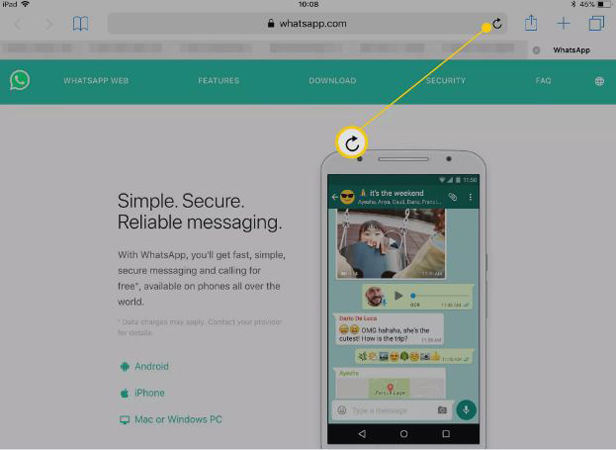 Step 3: Touch on the "Request Desktop Site" which appears after a long hold.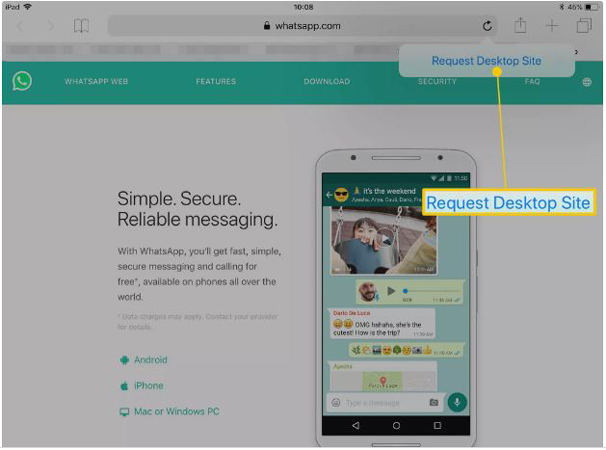 Step 4: Now the website will reload with the QR code.
Step 5: In your iPhone, go to "Settings" > "WhatsApp Web/Desktop". Scan the QR Code with your iPhone and enjoy the services of WhatsApp on your iPad.
Apart from this, you can use a third-party app like WhatsTablet for WhatsApp to use WhatsApp for ipad free.
Must Know: How to Transfer WhatsApp Data from iPhone to iPad
The importance of WhatsApp data can't be ignored especially when people use WhatsApp business. Since the entire business related detail is there in the app. So, if you're a type of person who keep switching devices, it is essential to get WhatsApp data transfer between the device with much ease.
As for this, iCareFone Transfer(iCareFone for WhatsApp Transfer) is the best tool that can help you to make a single or batch transfer. You can simply transfer between iOS devices, iOS to Android and vice versa in hassle free way. It is Compatible with latest iOS 14 Beta/13.6/13.5/iPadOS and iPhone SE(2nd)/11/11 Pro(Max) and more.
Let us know how you can do this.
Launch the tool after installation and connect iPhone and iPad to the PC. Choose iPhone as source device to proceed.

Click "Transfer" and click "Yes" on the pop-up that comes.

Log in WhatsApp on iPad if not and click "Logged in" on your PC screen.

It will begin the restoring process now. Wait until the process is over.
Some Good News for iPad Users
As per the latest news in Forbes, WhatsApp is planning to release "WABetaInfo" which will ensure that your WhatsApp will be seamless from your phone to iPad to desktop. If this feature is enabled, WhatsApp will still work if the main device is not switched on or online.
Once the "WABetainfo" feature is successfully activated the WhatsApp developed for iPad will be release as it is more reliable to work with the feature. Once this is launched it will make WhatsApp easily available for all the iPad users.
As this is the future project of WhatsApp, it is not possible to download WhatsApp for free on your iPad and use the simple workaround that is discussed in the above article. We hope that things are clear to you now.
Frequently Asked Questions about WhatsApp for iPad
Q1: How to download files from WhatsApp in iPad?
Unlike the past, the files, documents or videos are now being directly stored in the Files app. These files can be found in the Downloads Folder under the iCloud Drive directory as they are downloaded in this location by default.
Q2: Can you get whatsApp on laptop?
Visiting web.whasapp.com on laptop and tapping on "Menu" > "WhatsApp Web" on phone will help you. Once you see the QR code, scan it to open your chats on laptop.