[2023] How To Check Someone's Location on WhatsApp Without Them Knowing
by Jenefey Aaron Updated on 2022-12-16 / Update for WhatsApp Tips
How to check someone's location on WhatsApp without them knowing? In this blog, we will show you 3 practical ways to do so. Try each method to check someone's location. But before you start, do remember to not use these methods for illegitimate purposes.
Method 1. Using 'Command Prompt'
How to track someone on whatsapp without them knowing? A simple method is to utilize the Command Prompt on your PC. This method only works when you log in the WhatsApp on the web page version; however, it is easy and highly effective to do. Here is how you can do this.
Start by opening the WhatsApp Web and open a chat with the individual you want to track in order to get his IP address.
Close all the apps that are running in the background, except the browser that you're using to avoid interference. Just click 'Ctrl + Alt + Delete' simultaneously to open task manager then shut off the apps.

Now hit 'Win +R' keys simultaneously on the keyboard and type "cmd", after that hit enter key.

The command prompt will open, now type "netstat-an" and after that hit enter button. Note the IP address that shows on the screen before closing command prompt window.

You could go to http://www.ip-adress.com/ip_tracer/ and then enter the IP address that you have noted to find its estimated location.
Method 2. Using Tracking Link
You could likewise make a tracking link and send to the person you want to locate. This tracking link will provide you with data regarding the person's whereabouts. Here's the way how you can do that;
To start, you have to make a free web hosting user account. You could do that at 000webhost, Hostgator, or My3gb. Sign in to the account, and after that, click "File Manager." Now download the ZIP file named "Tracking ZIP File."

Unzip the file that you have downloaded to extract all 3 files that are in it. After doing this, upload all the files in root (public _html) folder of file manager in the hosting account.

The link that you have to send to the device that you're tracking will be named as Techhacks.my3gb.com.
You could find all the info that you require about the device you're tracking in the log.txt file on the root folder.
Method 3. Using mSpy
How to find people's location on whatsapp without them knowing? Take a shot on mSpy. mSpy is a greatly acclaimed application that permits to track the WhatsApp messages without knowing them, and furthermore comes with plenty of exceptionally helpful features.
mSpy offers the users a bucketload to look over including observing calls as well as managing the upcoming call limitations

Tracking sent and got instant messages, web history, for example, browsing patterns and accessing calendars, contacts, outgoing and incoming emails and even managing the installed applications.
Here's the method to start with WhatsApp tracking utilizing mSpy software.
Register mSpy and download the application on the target device.
Now move to mSpy dashboard and click WhatsApp messages option from the left side panel to obtain a list of sent and received messages. Moreover, you could also sort over the messages by date to view them easily.
The location of the target device can be viewed from the dashboard in real-time, and you can also set up the geo-fences as you like.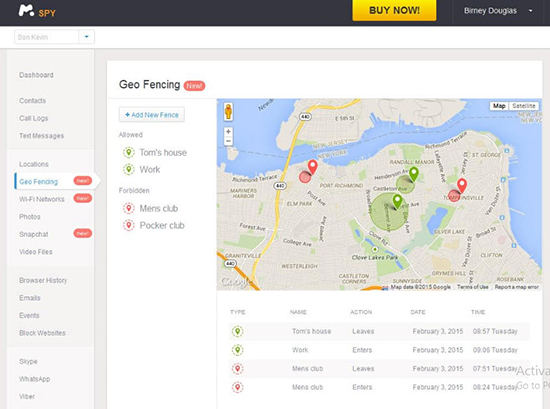 Tips: How To Prevent Someone Tracking Your Location on WhatsApp
After we learn these methods to locate other people's locations, have you ever thought that you are the one being tracked for a long time? Sounds horrific, doesn't it? However, you have no need to worry about this problem because you have Tenorshare iAnyGo to help you out.
Tenorshare iAnyGo is a desktop application designed to imitate GPS location on iOS devices. No matter if you want to protect the leaking of your location information, or spoof LBS games like Pokemon Go, iAnyGo can always meet your needs. Here are the steps to change location on iDevices with iAnyGo:
Click the download button to install iAnyGo on your Win/Mac. Launch it and then we enter the interface of iAnyGo. Here we choose Change Location.

After entering Change Location mode, you need to connect your iDevices to the PC via a USB cable.

The last step is to select a location you like and click Start to Modify. Now the location of iOS devices will be changed to the new one, and it won't be detected by any apps.
The End
From here, we are almost to the end. Try these 3 methods mentioned above to check others' locations. And the problem of how to check someone's location on WhatsApp without them knowing will no longer be a problem for you.