Beginner guide: How to Play Pokemon Go without Moving
by Anna Sherry Updated on 2022-06-13 / Update for iPhone Tips
The COVID-19 epidemic has been hard for everyone in the world. But it has terribly affected the Pokemon Go community . Without being able to go outside, they have become frustrated, and most of them are looking for a way to play the game without moving at all. This video below provides practical methods for iOS users to play Pokemon Go without moving.
So, how to play Pokemon Go without moving? Well, it is possible. You just need to use a tool to make the game think that you are actually moving. These tools are available and if you want to know more, check out the article below.
Part 1. Is It Possible to Play Pokemon Go without Moving
Yes, it is possible to play Pokemon Go without moving at all. A lot of people using this method to play the game during the COVID-19 epidemic.
You have to use tools to make the game think that you are moving. That's it. There are specified tools available for this task. You will know more about them below.
Part 2. Pokemon Go Walking Hack on iOS [FREE TRIAL]
We recommend using a professional location changing tool to start a pokemon go walking hack on iOS. We have an excellent suggestion for you: Tenorshare iAnyGo. It is a genuine professional tool and developed only for iOS platforms. This tool will stimulate GPS movement without leaving your home.
Note: Do not change location frequently as the developers of this game have a strict policy for the player to not use location spoofing.
Here's how to play Pokemon go without walking on iOS:
Download and install iAnyGo on your PC or Mac.

Now, launch the tool on your computer and connect your iPhone to the computer.

Select the 'Joystick Movement' which is so easy to use! Click 'Enter' to proceed.

After enter Joystick Movement, all you need to do is set up the moving speed and click on the circle on the map to start the movement. Duing moving, you can change the direction by using left and right keys on the keyboard. Once you need to stop, just click the pause botton to stop. It is very useful as I used it myself when playing pokemon go.
Part 3. Pokemon Go Walking Hack on Android
If you are an Android user, then you have a lot of options for the Pokemon Go walking hack. But not all these options are eligible.
However, we do have a suggestion. It is a free app, and it is, of course, available on the Google Play store. You can try, Fake GPS GO Location Spoofer Free. This is an Android app, but this app is specially designed to spoof location for Pokemon Go.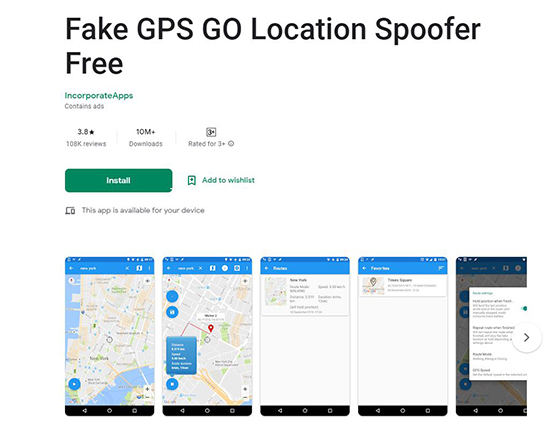 Here's how to move in pokemon go without walking Android:
First, enable the Developer Mode on your mobile from the Settings.
After that, you need to install the Fake GPS GO location spoofer app. download from the Google Play Store and run it. Tap on the 'Enable Mock Locations' option.
Tap on the 'Select Mock Location App' option and then select Fake GPS Free.
Now, tap on the back button, and you can switch back to the Fake GPS free app. Look for the location you would like to set for the game and click on the 'Play' button.
Finally, run the game and verify your changed location.
This is the best location masking app on Android for Pokemon Go. This app is easy to use, and the chances of getting caught are minimum.
Conclusion
Therefore, some might think that catching Pokemon at home is an impossible task, but it is possible. You just need a good tool to mask your location, make the game think that you are actually moving. And we do recommend Tenorshare iAnyGo to help you to start Pokemon Go walking hack.
Freely Change GPS Location without Jailbreak!
Plan a route by selecting two or multiple spots on the map
Easy to simulate GPS movement based on customized route
GPS joystick to take better control
Import GPX file to start a designed route
Change up to 15 iOS devices' location on 1 PC/Mac