Efficient 5 Ways to Fix Oppo WhatsApp Notification Problem
by Sophie Green Updated on 2020-09-21 / Update for WhatsApp Tips
Are you an Oppo smartphone user? If yes, then you must have noticed the Oppo WhatsApp notification problem. In Oppo devices, the notification problem is quite common, but it is a huge problem for the people who may need to receive a timely message. But this issue could be fixed easily.
Furthermore, you will know how to transfer WhatsApp between Oppo and iOS or Oppo and other Android devices in this article.
Part 1: Several Common Possible Causes of Oppo WhatsApp Notification Problem
There are several common possible causes that may lead to the WhatsApp Notification problem. And some of the common problems are mentioned below that you must check and fix before you try to fix the main Oppo WhatsApp Notification Problem.
Reason 1: Internet Connection Issue
The main reasons that you might not get the WhatsApp notification are the Internet connection issue.
Reason 2: Background Data Is Restricted
The other essential reason for the cause of the notification receiving problem in Oppo is the restriction of the background data.
Reason 3: Disabled WhatsApp Notification
WhatsApp comes with the setting of disabling notification. So in case if you have disabled the WhatsApp notification, then you may not receive the notification.
Reason 4: Specific OS Troubleshooting
If you are not getting any notification on your phone, then there might be some problem in your setting.
Reason 5: Unknown Reasons
There might be many unknown reasons for the notification problem that you are facing in your device. Many different settings and permission issues could be the reason if you are not receiving notification. Hence check through such problems and fix it to resolve your issue.
Part 2: How to Fix Oppo WhatsApp Notification Problem
As we mentioned the reasons that may cause Oppo WhatsApp notification problem. Now let's see how to resolve and fix the Oppo WhatsApp notification problem in corresponding ways.
Way 1. Ensure Internet Is Ok
As mentioned above, the major reason for Oppo WhatsApp Notification Problem is the internet connection. Hence you must make sure that your internet is working fine. You may check your internet connection properly by testing the connection on other devices.
Way 2. Make Sure Background Data Is Not Restricted
If your internet is working and still you cannot get the notification, then there might be some other issue. So you may check with the background data set. For this, you may go to the phone "Settings" app then to "Apps", and then you may choose the "WhatsApp" option. In the WhatsApp option, you will be able to see the "Data usage". Make sure that WhatsApp background data is not restricted in your device. In the case of Google services, also you may repeat the same process.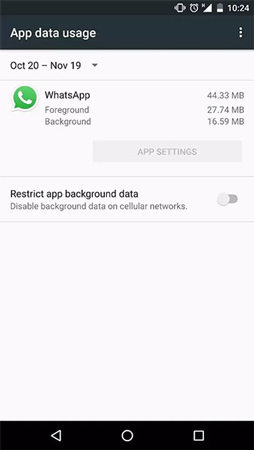 Way 3. Enable WhatsApp Notification
Make sure you have checked the above two steps; if still you are not able to get the WhatsApp notification, then you must check the WhatsApp notification option. In order to enable WhatsApp notification for oppo f3 WhatsApp notification problem, open "WhatsApp", then touch in the upper right corner and go to the "Settings" and open notification. In the notification, you may see the options popu notification you must click on always show popup option.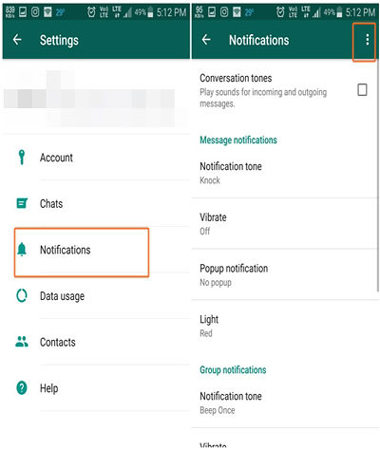 Way 4. Update Android System
After checking the entire setting, if you are still facing the same issue, then you must update your Android system. For that, you can head to the "Settings" and in the "About" or Software Updates" section, check with all your updates; if you devise or application is not updated, you must update it.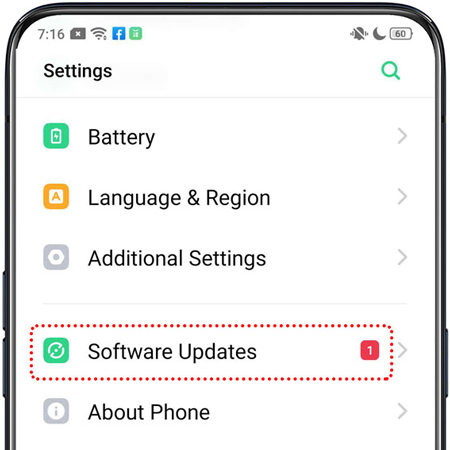 Way 5. Reset App Preferences
For an unknown reason for oppo f1s WhatsApp notification problem, you must reset all your phone setting. For this, open your "Settings" and tap "Apps" > "Menu" > "Reset App Preferences" option.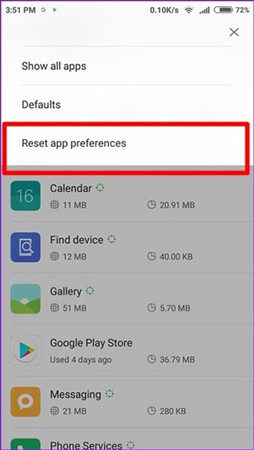 Part 3: How to Turn on Whatsapp Message Preview in the Notification Bar Oppo
Here is how you can how to turn on WhatsApp message preview in the notification bar:
1. Turn on the screen and get a notification
Go to the phone "Settings" followed by "Notification & Status bar"
Tap on "Wake Screen When Notification Received on the Lock screen".

Enable "Turn On Screen for notification" to get the notification.
2. Show notification on your lock screen:
Go to "Settings" and then "Notification & Status Bar".
Click "Manage Notifications."

Select an app and click on the "Message notifications".

Enable your app and allow notification to display on the lock screen.
Extra Tips: How to Transfer WhatsApp Data from Oppo to Another Device
Do you want an effective solution to transfer your WhatsApp data to some other devices? If yes, then iCareFone Transfer(iCareFone for WhatsApp Transfer) could be your ultimate choice. This effective tool allows you to easily and quickly transfer different data from one device to another device easily and quickly. Here is how you can do that.
Download and install iCareFone. Connect the two devices now.

Click on "Transfer" and confirm the actions.

Follow the onscreen instructions and backup your WhatsApp data.

Now wait for a while as the program will begin to transfer WhatsApp to the target device.
Final Words
In fact, these methods are not only suitable for solving the oppo notification problem. It also suits for many Android devices. Apart from this, you've also leant how to transfer WhatsApp between different devices with iCareFone Transfer(iCareFone for WhatsApp Transfer). If this article helps you, don't forget share it with anyone who need it.