Easy Ways to Fix Currently Unable to Download Android
by Sophie Green Updated on 2021-08-31 / Update for Fix Android
The error message "currently unable to download galaxy s5", when you try to download Android on your phone can be frustrating! When this error occurs, it implies that the issue is pertaining to the device you are trying to download android on, therefore, to resolve this concern, you need to follow a couple of troubleshooting steps with the support of a stable wifi connection.
At the onset check whether your wifi is working properly or not as this error shows when there is an unstable or intermittent internet connection. Therefore, make sure the network you are using is stable before going ahead with troubleshooting the problem. After checking for a stable connection, you can follow the below troubleshooting steps to permanently fix the concern.
Fix 1. Restart Your Android Device
The error "android currently unable to download" could be due to hanged-applications on your device. Therefore, restart your device to fix Android currently unable to download problem. When you restart your phone, the hanged-application gets back to normal functioning. Therefore, restart to check whether the problem is resolved or not.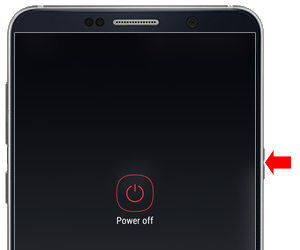 Fix 2. Stop Auto-Retrieval in Messages App
At times, when your internet connection is unstable and your phone is trying to retrieve a message, the android download will not start until the connection is stable or restored. The unstable internet connection will repeatedly give the error message. Stopping auto-retrieval will be able to eradicate this message.
Launch the messenger on your android device and navigate to the menu.

Now, select Settings.
One doing so, you will be saved from the frustration of getting the error message again and again!
Fix 3. Turn on Automatic Date and Time
The other reason for this error to take place is the inconsistency of the date and time on your android device with the Google server's time and date. To fix, follow the below steps:
Go to the device settings.
Now, look for the date and time by scrolling down and click on the same.
After this, check whether your device can select time and date automatically.

If your device is unable to check the date and time automatically then, click on the box next to the automatic date and time to do so.
Fix 4. Reboot into Safe Mode to Check Issues
The android error message currently unable to download can take place due to the processing of third-party apps or software in the background. To ensure if the problem is caused due to third party software, restart your phone in safe mode. When you restart in safe mode, all the third-party applications in the background halt to stock up android apps on your device.
tart by pressing and holding the power key to bring up the power options on your device.
Now, long-press the power-off button until you get a pop up asking you to restart the device in safe mode.

Click on OK to confirm changes and your device will restart in safe mode.
When see the word safe mode on your screen, check if the issue has been resolved or not. If no error occurs, then check for the application which is causing the concern. You can uninstall the last downloaded app followed by uninstalling another app until the error goes away. Besides, if you don't want to uninstall the apps at the same time, you can factory reset your device.
Fix 5. Repair iOS to Fix Android Currently Unable to Download
After trying all the above-given steps, if you are still unable to resolve "currently unable to download please try again later", ReiBoot for Android got you covered! This easy to use and quick software can be downloaded for free and requires no expertise to use it on your device. With this tool, you can get over a number of Android errors such as MMS messages not downloading, Couldn't establish a secure connection on Android and so on to seamlessly access your device again. To know how to resolve an android currently unable to download, follow the below steps:
Download the software and install it in your system. After this, connect your android phone with your computer and select "Repair Android System".

After this, click on "Repair Now" and then select your device info as listed.

After selecting your device information one after another, the firmware package will start downloading, which won't take much time to be finished.

Once the firmware package is successfully downloaded, select "Repair Now" to begin system repair.
Now, wait for the whole process to finish and it should be able to resolve your problem.
Conclusion
The error "currently unable to download android" takes place due to an unstable or intermittent internet connection. You can follow the above-given steps to resolve the concern and start using your device without any hassle. ReiBoot for Android is highly recommended if you have any Android errors or problems.
Updated on 2021-08-31 / Update for Fix Android
Join the discussion and share your voice here