Best Battery Fixer for Android in 2023 (Desktop & Mobile)
by Sophie Green Updated on 2022-10-13 / Update for Fix Android
Smartphones have become rather a necessity in today's digital age. We all perform countless functions using out smartphones, be it shopping, communicating with friends and family, entertainment, or browsing news. But nothing is more annoying and irritating when your Android phone keeps draining its batter even when idle.
You have just charged your mobile phone and the next thing you know it's about to turn off due to low battery. Well, there's no need to be chaotic as we will guide you on how to fix battery Android using top software available online.
Part 1: 3 Best Android Battery Fixer with Computer
Tenorshare ReiBoot for Android
Mostly, any bug or glitch in the Android system is the leading cause of your phone draining battery fast. That's why the first thing you should do is repair the Android system using third-party software, . Looking for the best and most reliable software to repair your phone, Tenorshare ReiBoot for Android.
This tool repairs the entire OS of your Samsung mobile and subsequently, fixes the android system battery drain issue. Once you are done with repairing the OS, the health of Samsung mobile's battery will improve and function properly.
Pros of ReiBoot for Android
100% safe and does no damage to your Samsung phone
Easily fixes 50+ Android OS issues
Intuitive and easy to use
Cons of ReiBoot for Android
The only downside, if you may say, of ReiBoot is that it's not free and you have to buy the pro version to get Repair Android System. And in rare cases, it doesn't yield satisfactory results.
So, if you're looking for how to fix battery android, Android for ReiBoot should be your first priority.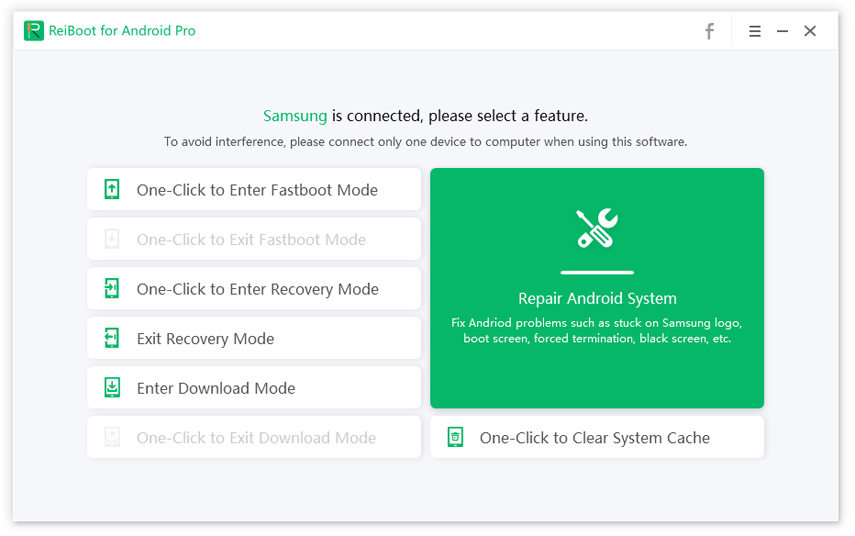 Phone Doctor Plus
Phone Doctor Plus is another effective software to fix multiple issues in Android phones. Like other software on the list, this tool can also fix android system battery drain and many other issues. Because of its simple dashboard, it's very easy to understand and use. It also keeps a check on the overall health performance of your phone.
Cons of Phone Doctor Plus
It only identifies most issues and can't repair them.
It crashes too often.
Assistant for Android
Android for Assistant is ranked among the best battery repair app android and can fix a long range of Android OS issues. Its intuitive interface makes it easy to use for even the novice and performs task quickly. Along with multiple repairing features, it also offers several exciting features like quick boost.
Cons of Assistant for Android
It fails to identify and repair many Android OS issues.
It often gets stuck, frozen, or unresponsive during the repairing process.
Part 2: 4 Best Battery Repair App Android with Mobile Phone
The aforementioned tools are compatible with desktop, which means you have to connect your Android phone to a computer to solve them. In this section, we will shed light on 5 Android system repairing apps that you can install directly on your phone from Google Play Store.
GSam Battery Monitor
GSam Battery Monitor is a useful tool to determine how much battery is left on your mobile phone. It breakdowns the battery use and apprises how an app is using the battery and identifies more accurately which apps are killing your battery.
Such categorization helps to shut down or minimize the use of apps that drain the battery quickly. You can create alarms or notifications when battery downs to a certain level or a specific temperature.
Cons of GSam Battery Monitor
It can skip some important details or statistics sometimes.
After updates, this app shows unknown bugs and crashes often.
Remember, this software only points out what is causing the battery drain, not how to fix battery android drain issue.
Servicely
Servicely is another battery fixer for android that tells you which apps are draining the battery even when mobile is not being uses. Then, you can pause the apps and services at night that kill your battery. It also helps to disable background running apps and thus, helps you increase battery health and timing.
Many Android users prefer Servicely because of its simple interface – and free usage.
Cons of Servicely
You have to root the Android phone to use this app.
You have to disable broadcast receiver from any app on the mobile.
Wakelock Detector
Like other apps on the list, Wakelock Detector helps users to detect the battery draining services and apps on your mobile device by checking the wakelock usage history. After installing this app, you can easily identify what is draining the battery so fast when the mobile is idle – and then, you can disable, put to sleep, or minimize the use of that app or service. This app is also free to use and rightly ranked among the best battery repair app android.
Cons of Wakelock
It stuck and becomes unresponsive too often.
It can provide inaccurate data.
Greenify
This app is probably the best of the 4 and makes your device run almost as smoothly and efficiently as a new one. It not only identifies but also helps to disable the misbehaving and battery draining apps – and preventing them from leeching the battery. Because of its intuitive dashboard and high efficiency, it has a worth-mentioning user base.
Cons of Greenify
You have to root the Android device or else it disables screen locks – that can compromise your security.
It can shut several important apps that you're using as soon as you out your phone to sleep.
Conclusion
If your phone is draining battery fast then this article is meant for you. The aforementioned software, both desktop compatible and mobile apps, are ranked among the best battery fixer for android. They all have high success rate in repairing your phone's OS the fixing the issue.
However, if you're looking the most reliable and powerful tool that can fix mobile's draining issue without any complications, then Tenorshare ReiBoot for Android is the tool you should choose.