Best 4 Free Fake GPS Play Store App Review
by Jenefey Aaron Updated on 2023-03-02 / Update for change location
Location modifiers are a hot topic in the industry now. Everyone keeps on using them because they help in spoofing the location. Then whether a person is a gamer and wants to change their location virtually they can do it. 
In this article, therefore, we will discuss how one can download a fake GPS using the play store and download the fake GPS play store. So, without any further due, let's look into these applications one by one.
App 1: Fake GPS location 
Fake GPS location is a location modifying application that helps users teleport their location to any place in the world. Using this application will let the users set a fake GPS location and everyone else will feel as if that person is at some other place.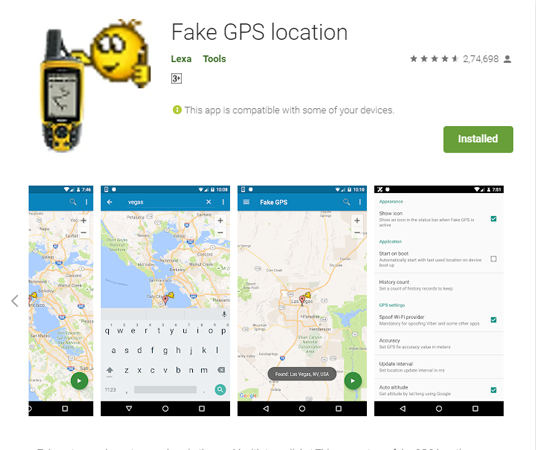 To download the fake GPS google play application, follow the steps. Just click the link to install the application Fake GPS Location from the play store.
App 2: Fake GPS 
Fake GPS is another application that helps in stimulating the location anywhere in the world. This app is made for people who want to transport their location to play an online game or just want to modify it for social media usage. 
To download the play store fake GPS application, click the download link.
App 3: Fake GPS Location Spoofer 
Fake GPS location Spoofer is an improved application in the world of spoofing. Apart from location spoofing, this application has a variety of features. There is a cooldown chart, stops and gym, and even a joystick feature. The route options and GPX import makes it a great application.

App 4: Fake GPS Location Professional 
Fake GPS location Professional is an application that will help user mock their location. What this application does is it deceives the user's GPS and therefore after using it, one can set their location to any place in the world. With an easy interface, it has an additional movement simulation feature too. One can set the type of movement they want and it will start moving in that direction. 
Install the "fake GPS Location Professional" from the play store. 
Users with the android 4.2 version will need to activate the hidden developer mode.
Find mock location.
Choose the fake GPS Location Professional from the available application.
Start your application .
Just mark the new (virtual location and start playing.
The application is ready to use. 
Are You Looking for Apps to Spoof Pokémon GO on Android 
These were some of the applications that users can use for spoofing their location. All these applications work but if a user wants a more authentic application that is trustworthy and can be used for spoofing without bugs, this application "PGSharp" is for them. 
Fake GPS App Works on iPhone Recommended 
In this article, we covered android users. But what about the iPhone users, how will they be able to use these location-modified applications? Well, we didn't forget about them. There is an application that will help iPhone users in spoofing your location in a very intricate manner which is efficient and has amazing features. That application is Tenorshare iAnyGo. 
This application will help our users modify their location on their favorite online games, it will virtually help them stay close to their friends and play their favorite games together. Follow these steps to enjoy the feature of the iAnyGo to fake gps.
Launch the iAnyGo and connect your device to the pc/mac. Select the joystick's mode. It will appear on the lower left corner of the screen.

Now set the movement speed by dragging the slider.

Now use the joystick to start the automatic movement
The Bottom Line 
In this article, we learned about many applications that help users fake and modify their location. Users can use any of these applications and decide which fake GPS play store application worked the best for them.