Questions about WhatsApp Search by Name
by Sophie Green Updated on 2021-02-26 / Update for WhatsApp Tips
When the second generation of internet (2G) was launched, the very first text was sent. From that day to the newest technology of internet has allowed everyone to text their loved ones using application without any carrier charges. WhatsApp is among the top messaging apps used by the people all around the globe. The application is the game from early internet years and after several years, it is the most used application.
Sometimes applications start to glitch and there can be many underlying causes of this. The best thing you can do to overcome such issues is by uninstalling the application or clearing the data. The feature of WhatsApp search by name gets disables for many users and this can be really frustrating. This guide is about the same issue and about how to find WhatsApp number by name without fail.
Part 1: Can I WhatsApp Search by Name?
The question here have two perspective and don't worry we will explain you both of them in detail. If you are searching for someone by name that is added in your contacts then yes, you can find WhatsApp number by name on it. But, if you are looking for a particular person without having their number saved, then it is not at all possible.
You have to save the number with the name you remember and then only it is possible for you to check for the same. However, there are times when you are unable to perform this when your phone doesn't have permissions to search. So, let's look for ways that can help you search for the number by name in some easy ways. In the end, the answer comes as yes, you can search the number by name only when you have the number saved in your contacts.
Part 2: How to Find Someone on WhatsApp by Name
WhatsApp search by name for a person from the participants of a group is pretty easy and here are some of the easiest steps you need to follow on your mobile. Make sure you don't fall for WhatsApp group search by name as the only people with their name saved on the app will be available to search by name. So, let's see how to do it –
To get started with the searching part, go on to open the group where you want to search for someone you are looking for.

Once you are in the group, you have to head for search on the top of the group info. You just have to type the name you are looking for and they will appear as shown in the picture above.
Once you have found them only if they are available in the group, you can send them a direct message to let them know. Hooray! You've finally did it.
Part 3: WhatsApp Search by Name Not Working How to Do?
To start with the fix you need for search WhatsApp number by name, you have to look for your iPhone settings. Sometimes the only thing that starts to block your contacts into WhatsApp is your iPhone settings and only then can fix it. You might be confused but all you need here is the privacy settings of your iPhone and this will help you fix the issue. Here's the screen you will see after you get into the privacy settings to set the contact access of any app like WhatsApp.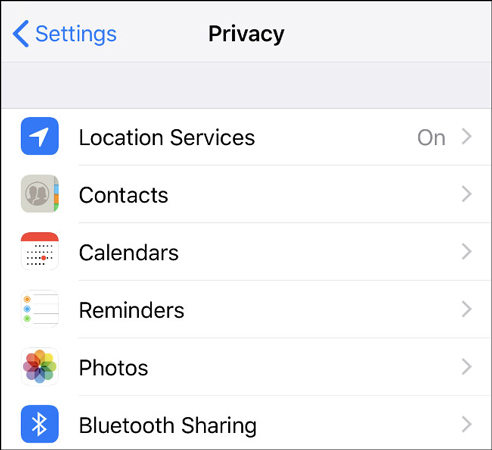 To get started with the fix, you have to go into the iPhone "Settings" and search for "Privacy" option. After you get into the privacy settings, you will be redirected to some of the feature like calendar, contacts and photos which any app can have access to if you allow them.
When you disable the interference of any app into contacts, it will be unable to access the same. To get it fixed, you have to allow the same settings to WhatsApp. Just go into the contacts and check for WhatsApp access to find someone on WhatsApp by name. If the privacy is set up, remove and it you are done. This will surely fix the issue of not showing names and contacts into your WhatsApp. Make sure the button or the switch is turned to green and this will turn it on.
Essential Tips: How to Export WhatsApp Data
iCareFone Transfer(iCareFone for WhatsApp Transfer) makes the exporting of your WhatsApp pretty easy. It is the most amazing tool you will ever come across and it also saves you a lot of time. Here are the steps you need to follow in order to export your WhatsApp Data.
From iCareFone, go to the main dashboard and look for WhatsApp transfer. Go to "View and Restore" on left panel to proceed with the same.

Now on iCareFone, you have to select the chats you want to restore. Click "View" for this.

Now click the messages that are listed as you wanted them to be and then tap on export.

Now you just have to select the folder where you want to store the back and you are done exporting your chat. Repeat the same for photos and videos by selecting media instead of messaging.
Conclusion
After knowing all this, we hope you have learned the easiest way to search WhatsApp number by name by simply following them. Always use some applications like iCareFone to help create a backup as it can save you a lot of time. Go on to find other ways and we wish you have got the error fixed to find someone on WhatsApp by name with the help of this guide.
People Also Asked about WhatsApp Search by Name
Q1: How do you find your WhatsApp number?
To find your WhatsApp number, you can just go to "Settings" by clicking on three dots on top right corner and go to profile. Under your display picture, you will get to see your WhatsApp number.
Q2: How can I detect nearby phone numbers?
You have to ask them for location and unless they share the location, you cannot detect anyone who's nearby. Snapchat is the app you want to find nearby friends.
Q3: Is my phone number visible on WhatsApp?
Yes, your phone number is visible to everyone if they have it or you are added in a group with several people.