How Do I Get WhatsApp Notification on Mi Band 5/4/3
by Sophie Green Updated on 2021-11-26 / Update for WhatsApp Tips
The rolling out of MI band has made the life of sportspersons super easy. Because of its affordability, the demand is higher. More and more people are willing to buy a cheap sports watch, which only Xiaomi can provide. It is something that we need to purchase. So, when you are running or spending time doing sports without taking your phone out, how can you receive emergency messages from WhatsApp- mi band 4 whatsapp notification? Let us know how!
Part 1: How Do I Get WhatsApp Notification on Mi Band 5/4/3?
MI band 3 has received awards in plenty of events and now MI band 4 is rocking. Both are known in the market for the specifications, and special elements added. These things were not present in the MI Band 2 so the demands of MI Band 3/4/5 are higher. Besides, the later models have the feature of receiving WhatsApp notifications. This section will give you a broad idea on how to get MI band 4 WhatsApp notifications or MI band 3 WhatsApp notifications. Go through the steps below:
Step 1: You have to download WhatsApp on your smartphone and log in to it.
Step 2: Run Mi Fit application if it is installed on your phone. In case, that's not installed in your phone then download it from the Play Store. The app work is compatible with the MI Bands and specially designed for it. Sign in and open "Settings".
Step 3: The app has a feature called "App Alert" helps in getting messages or notifications on the band. Just enable the toggle button to receive WhatsApp messages.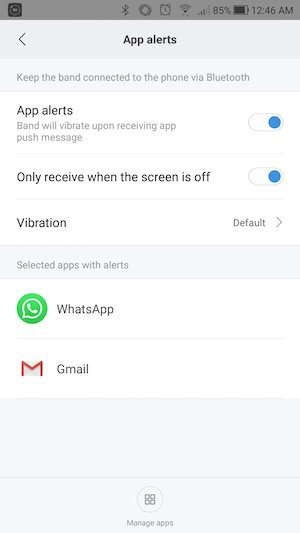 Step 4: After enabling, you will get messages even when the phone is switched off. This is an optional function, but if it feels of use, then you can activate it.
Step 5: Open the "Manage" app menu that is located on the same screen at the bottom lower side. Open it, and a list of applications will be displayed.
Step 6: Tap on the "Activate" button to receive messages or notifications when you see it after finding "WhatsApp".
Part 2: How to Stop Whatsapp Notification on Mi Band 5/4/3?
Suppose you get too many notifications on Whatsapp and don't want to receive them anymore. In that case, it is possible to turn them off. Use the following methods and get Mi band 4 notification whatsapp.
Way 1. Using Exclusive Content Filter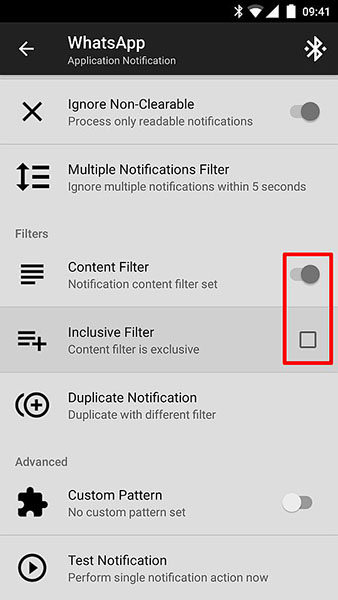 Turn off all notifications in the Mi Fit application.
Launch WhatsApp notification.
Open "Filters" section and tap on "Content Filter".
Enter the name of that group that you do not want to get notifications for. If there are multiple groups, enter the name of all and split them with a new line character.
Click on "OK" and uncheck the "Inclusive Filter".
Way 2. Using Inclusive Content Filter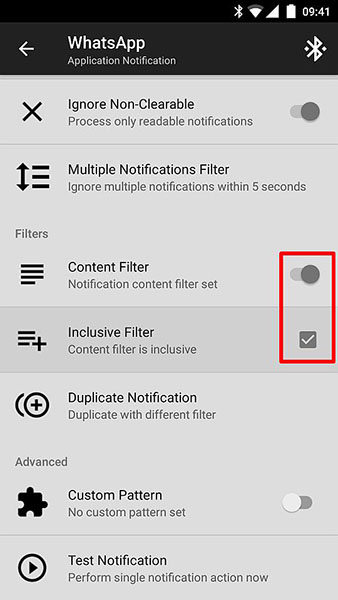 Stop getting all notifications in Mi Fit application by disabling them.
Open WhatsApp notification.
In the "Filters" section, tap on "Duplicate Notification".
Enter the group name and click on "Ok".
Check the "Inclusive Filter" option and go back to the list of notifications, which contains the "+ Group Name" below that.
Disable that notification by turning it off.
Part 3: Mi Band 3/4 Whatsapp Notification Not Working How to do?
Way 1. Tenorshare ReiBoot
Having a problem with the WhatsApp notifications on MI band 3/4? Is it not working properly? In such condition of Mi band 3 whatsapp notification not working, use Tenorshare Reiboot. It is regarded as one of the best Android system repair tools. The software can fix more than 50 issues that irritate users. It can help in resolving Xiaomi Mi band 4 WhatsApp notification issue.
Download, install and launch Reiboot for Android on your PC. Connect your Android device to PC and click on "Repair Android System".

Click on "Repair Now" to proceed for further after you see the screen as shown.

If you are inadequate to get the device info from your smartphone is setting, the better thing is to navigate to "?" located just after the scroll bar.

When you have chosen the device information, the app will start downloading the required firmware package.

After the download finishes, click on "Repair Now" to begin system repair. Read the pop-up and then click on "Continue" to let things happen smoothly.
Way 2. Install the latest version of Mi Band tools available on Google Play
When Mi band is misfunctioning, you can open the Play Store and update the software to its latest version.
Way 3. Restart your phone afterwards
Try restarting your phone if nothing else is working. Apart from all these solutions, you can use the following:
If the notifications are not working yet, use the "Test Vibration" option in the left navigation menu in the Mi Band tools. If it is working, then the problem can be fixed by disabling DND mode, checking and correcting notification times and conditions, and turn on the priority mode.
Please, try re-enabling notification access.
Check if you are utilising a third-party application, task killer, power saver or not. If yes, disable all of them.
Uninstall the tool and unpair it with the bracelet. Restart the phone and install the tool again.
Extra Tips: How to Backup and Restore WhatsApp Messages
We all know that it is improbable to get back the messages that were deleted on WhatsApp. Many users who delete the WhatsApp messages by mistake, they regret after that. However, they have a choice of restoring them from taking a backup. All they have to do is to install iCareFone Transfer(iCareFone for WhatsApp Transfer) that back-up and restore the messages from one device to another. It has been specially designed for WhatsApp users. The steps to backup and restore WhatsApp messages are as follows:
Download the iCareFone tool. Install it on your PC and launch it.

Connect the device with the PC and click on "Transfer" located at the bottom to begin. Click on "agree" when the message pop ups that data will be overwritten.

Click on "Continue" if you have gone through the given instructions for transferring the data from the source to the destination device. The data will be transferred successfully.
Conclusion
Xiaomi has always valued products that are cheaper at a cost but provides value to the customers. On Xiaomi, Mi band 4 whatsapp notification feature has made things simpler for the users. One can get Mi band 4 whatsapp call notification whenever and wherever they want.
People Also Asked about Mi Band 4 WhatsApp Notification
Q1: How to customize whatsapp notifications on a new mi band 4
You can customize WhatsApp notification in Mi Band 4 in many ways. One can change the ringtone, turn off WhatsApp last seen, alter WhatsApp background, and so on.
Q2: Can MI band 4 Read WhatsApp messages?
Of course, MI Band 4 is featured with the capability of reading WhatsApp messages. You can quickly get notifications for the messages on the Band.
Updated on 2021-11-26 / Update for WhatsApp Tips
Join the discussion and share your voice here