Best Free & Paid Ways to Bypass Samsung Account Lock
by Jenefey Aaron Updated on 2020-09-23 / Update for Samsung
Does your Samsung account are locked when you forgot the password, bought second hand phone, abnormal factory reset?
If the Samsung phone has been enabled with reactivation lock before, then users cannot get past Samsung account login request screen without Samsung ID and password. Today you will learn how to bypass Samsung account lock without any difficulty.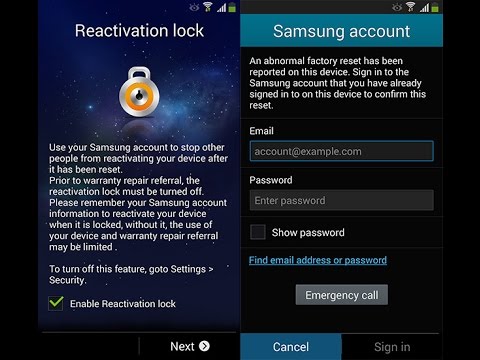 Read First: Can You Bypass Samsung Account?
Usually, Samsung account remove cannot be done without password. We often find that many users ask "how can I recover my Samsung account without password? At this time, third-party tools will help you out only if you throw money at something.
Here we will give you a detailed guide on Samsung account bypass, please move on.
Solution 1: Bypass Samsung Account Lock When it is the Same as Google Account
If you accidentally own the same Samsung account with Google account? You can try to use 4uKey for Android, especially designed to remove with hassle-free way. Apart from Samsung account bypass, what is the second headache you might have? FRP(Factory reset protection) unlock is probably a hard case.
Note: When you use this method, do not perform interrupted disconnection or drop halfway or you will fail to unlock.
First you need to download and install 4uKey on your computer. Now open the tool, connect your phone using an USB cable and select "Remove Google Lock(FRP)" option.

Pic 1. Initiate 4uKey for Android and choose "Remove FRP"

On the next screen, click on "Start" button to select device info and click "Next" to enter recovery mode(Steps on the interface).

Pic 2. Select device info and enter recovery mode

Once done, you will need to select PDA info and enter download mode.

Pic 3. Choose pda info and eneter download mode

After entering download mode 4uKey will auto download firmware to unlock your Android, the whole process will take a few minutes.

Pic 4. 4uKey for Android removes Google account lock successfully

Just check out your Samsung and see if the FRP lock has been totally removed. If not, you can try again to unlock.
Solution 2:(3 Minutes to Read) Bypass Samsung Account Lock with Emergency Call
Note:This tip is compliacted and you might need to take some minitues to look through and we couldn't make sure 100% that you can make it.
This method is to bypass Samsung account lock using privacy tab. You need to connect your phone with Wi-Fi network during the bypass process and take out SIM card before you use this method. Now let's check it how to do:
Turn on the phone then click the preferred language and tap on the start button.

Tap EMERGENCY CALL at the end of screen, then dial 000.

Tap call button and choose three dot, then Contracts.
Now you need go to the next screen and tap emergency call to end it.
You'll be prompted a home button option, then slide to tap OK.
Navigate to Keypad > mic option > Google App > OK.
"turn on Wi-Fi" to Google assistance using voice and type settings on the Google search panel and enter.
Choose settings menu, and scroll down to select backup and reset > Factory data reset >Reset phone > Delete all. You'll need to enter required info and confirm second times.
Go back to security option in the settings menu. Tap "Reactivation lock" option > OK, then enter the information to click confirm.
Turn back to the first page of Samsung account locked screen and enter Samsung account information.
If the method above doesn't work, you can go back to Settings Wi-Fi page and choose Next button.
If ask for your phone to activate, you can tap USE Wi-Fi. Then follow the instructions to bypass Samsung account.
Solution 3: Is There Any Samsung Reactivation Lock Removal Tool?
Note: After you enjoy free ways to bypass, now, if you're still unable to unlock, then some paid ways claim to be vailable to you.
There are many software as well as some companies that helps users to figure out how to delete Samsung account easily. They will provide you the service to unlock the phone and in return they will ask you some amount as per their terms and conditions.
Some of the unlocking services are as follow:
FreeUnlocks
WorldUnlock Codes Calculator
The 2 tools are only applies to some special circumstances such as the " cell phone providers electronically lock your cell phone (at the purchase of a plan) to restrict you to their service and from going to another provider with the same phone" according to Freeunlock official claims.
Final Thoughts
In the above article we've talked about how to get past Samsung account lock. You can choose the easy as well as convenient solution that can make you work more quick without any problem. You can also use 4uKey for Android to remove Samsung Google lock This tool is really secure to use which supports 99% of the Android phones and it is able to remove the lock of the phone just in few minutes due to which 4uKey for Android is highly recommended to use.
FAQs about Android Lock Screen Passcode
Q1. Does a factory reset remove Google account?
Actually, it doesn't work. Let's say Samsung. Factory Reset Protection or FRP and Samsung Reactivation lock are both made to prevent your phone being erased by someone others. So even if you factory reset, nothing gonna works.
Q2. How do I bypass the lock screen on my Samsung without losing data?
There're some tools that claim to bypass lock screen without erasing data. But, actually, there is no one in the market can really do that. If you accidentally run into that stated value by some companies, they're scams.