3 Best Free Ways to Bypass Samsung Account Lock
Are you a Samsung user? Well, if you own one of the Samsung phone then this article will definitely help you at some point. There are many users whose Samsung account are locked because some possible reasons like users forgot the password, bought second hand phone, abnormal factory reset and many more. If the Samsung phone has been enabled with reactivation lock before and somehow the device is factory reset or restored, then users cannot get past Samsung account login request screen without Samsung ID and password. Today you will learn how to bypass Samsung account lock without any difficulty.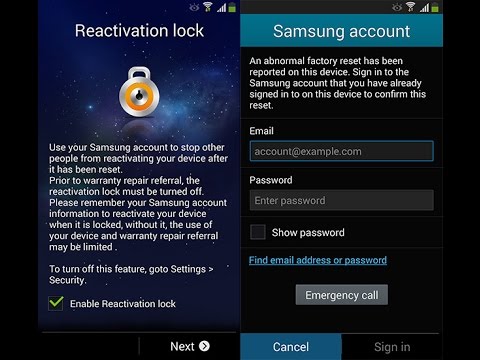 Way 1: Bypass Samsung Account Lock with Privacy Tab
The first method to bypass Samsung account lock is using privacy tab. You need to connect your phone with Wi-Fi network during the bypass process that means you need to have a Wi-Fi connection to make this method work. The steps might be confusing so you better concentrate in each and every steps while performing this solution. Process to bypass Samsung account lock with privacy tab is given below.
First open the phone. Choose the preferred language and tap on start button.

Keep tapping next button until you see the page asking for your Google account. Tap on NO option. Again it will ask you to create a new account. Simply tap on "Not now" option.

Click next and set the name to proceed further, you will be prompt to Samsung account page.

Type anything in password section and tap on settings icon of the keypad. You will be taken to next page, tap on predictive text >> scroll down and tap on privacy policy. Choose any browser to complete the action.
Again go back to the Samsung account lock page and this time type something on your email address section. Tap on "forgotten your ID or password?" option.
You will be taken to Wi-Fi page. Connect your phone with Wi-Fi network and click on next option.
Go back to Samsung account lock page and repeat step 4. Once you are in the browser, tap on bookmark option and click OK. You should be prompt to different Samsung account page.

Tap on Sign-in option or create option if you want to make a new account. Complete the onscreen process and go back to Samsung account lock page.

You should be able to see your Samsung account (email address section) auto filled. Tap on password section and enter the password that you used to sign in or while creating new account of Step 8. Tap Sign-in.
Now click on Finish button once you complete some onscreen instruction.
You have successfully bypass Samsung account with privacy tab.
Way 2: Bypass Samsung Account with Emergency Call
This might be a unique method to bypass Samsung account as it uses emergency call to make this method work. You should have a Wi-Fi connection where you are trying this method and make sure to charge your phone more than 60 percent so that it doesn't turn-off during the process. Go through all the steps carefully so that you don't need to face any difficulty.
Note: Make sure to take out your SIM card before performing this method.
First turn on the phone then choose the preferred language and tap on start button.

Follow the onscreen process until you see the Samsung account locked screen.

Click on EMERGENCY CALL and dial 000 (three times zero). Tap on call button >> tap on three dot (which you can see on the top-right side of display) >> tap on Contacts.
You will be prompt to next screen, tap on emergency call small box (top-left corner of the screen) then end the call. You will get a home button option, just slide it and click Ok.
Go to keypad option >> tap on mic option on the keypad >> tap on Google App option to complete the process. Click on OK.
Say "turn on Wi-Fi" to Google assistance to turn on the Wi-Fi service. Once it is ON, type Settings on the Google search bar.

You will enter to settings menu >> scroll down and tap on backup and reset option.

Tap on "Factory data reset" >> tap on RESET PHONE >> tap on DELETE ALL.

You will see Samsung account page. Enter the required info asked on the page and tap on Sign-in.
Click again on DELETE ALL option and enter the required info. Click on confirm button and then go back to security option in the Settings menu.

Uncheck the "Reactivation lock" option >> click Ok >> enter the information >> click CONFIRM.

Now go back to the first page of Samsung account locked screen and try with your Samsung account info but if it doesn't work then go one step back (Settings Wi-Fi page) and click on Next button.
It will ask for phone activation >> click on USE Wi-Fi >> click on next and follow the onscreen process.
Finally you have bypass any Samsung account lock using emergency call.
Way 3: Bypass Any Samsung Account Lock with Unlocking Service
If you are willing to pay some amount to unlock your Samsung account then you don't need to worry about all the hacks. There are many software as well as some companies that helps to bypass any Samsung account lock easily. They will provide you the service to unlock the phone and in return they will ask you some amount as per their terms and conditions. You might unlock the phone at the very moment with their prescribed instruction or they will sent you some info or code in your mail which will help you to unlock the Samsung account.
Some of the unlocking services are as follow:
Recommended Tip: Bypass Samsung Account Lock When it is the Same as Google Account
You don't need to get headache trying all the stuff, simply you can use 4uKey for Android to unlock Samsung account lock. This tool is really easy to use as you can remove the Samsung lock in a few steps. It can also crack any Android lock such as password, pattern, PIN & fingerprint. This tool just takes few minutes to complete its process of removing the lock of the phone. Process on how to bypass Samsung account lock is shown below:
First you need to download and install 4uKey on your computer.

Now open the tool, select "Remove Google Lock(FRP)" option and connect your phone using an USB cable.

On the next screen, click on "Start" button and then select your device name. Once done, click "Next".

Then, please enter your device into recovery mode, you can follow the instructions on the software screen.

After that, select your Samsung PDA info and enter it into download mode. Then the software will start to download firmware package.

When the firmware package is downloaded complete, enter your device into recovery mode again and click "Start". 4uKey will help to bypass Samsung account in few minutes.
In the above article three methods are mentioned on how to get past Samsung account lock. You can choose the easy as well as convenient solution that can make you work more quick without any problem. You can also use 4uKey for Android to remove Samsung account lock when it is the same as Google account in easy steps. This tool is really secure to use which supports 99% of the Android phones and it is able to remove the lock of the phone just in few minutes due to which 4uKey for Android is highly recommended to use.
If you have any query then you can comment below.