How to Soft/Factory Reset Your Samsung Galaxy S4
by Jenefey Aaron Updated on 2020-03-11 / Update for Fix Android
"My Samsung Galaxy S4 keeps shutting down and restarting, I think it is gone corrupt, I want to hard reset, How to do it?"
Factory reset of your phone becomes necessary when it has errors that are not fixable by other means. It is also useful when you want to erase all the data on your phone to pass it on to others. Whatever may be your intention, below are different methods that explain how to reset Galaxy S4, S4 Mini, S4 Active or S4 Zoom.
Part 1: How to Soft Reset A Hung/Frozen Samsung Galaxy S4
If your Galaxy S4 apps crashing or freezing, keypad/touchscreen problems, can't hear, device making noises, can't make or receive calls, you can soft reset your Samsung Galaxy S4 without losing data.
1. Soft reset of Galaxy S4
If your phone has hung, then performing soft reset is an easy way to fix it without losing data.
Here are steps that give you information about how to soft reset samsung galaxy s4.
Remove the back cover and take out the battery.
After a few seconds put the battery and cover back.
Press the Power button and wait for the phone to boot.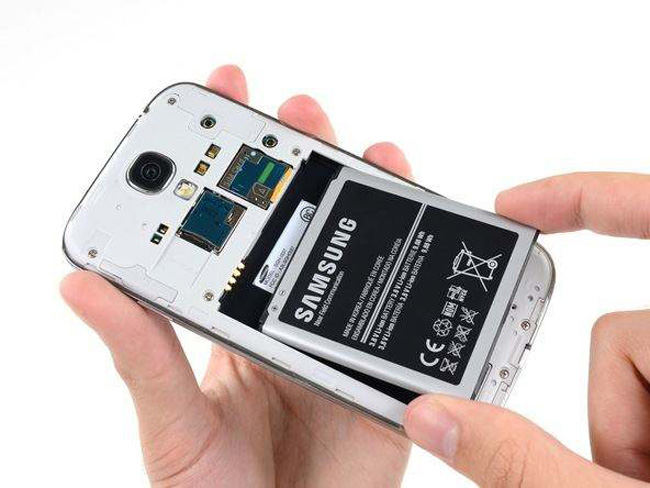 2. Turn phone on and off
Another way to soft reset Galaxy S4, S4 mini or S4 Zoom is by switching the phone on and off.
Press the power button located on the right side until device options appear
Choose 'Power off' and then 'POWER OFF'
Wait for a few seconds and press the power button until the Samsung logo appears
Release the button and wait for the device to boot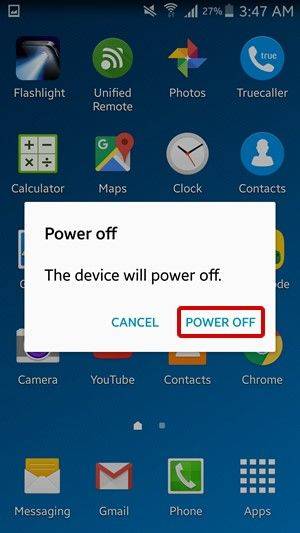 Part 2: How to Hard/Factory Reset Samsung Galaxy S4
To fix slow app launch issue, remove forgotten password/ lock screen code, delete all the cluttered apps at once or completely wipe your S4 to restore to its factory state for selling, or giving it to your family member/friend you can hard reset your Galaxy phone.
1. Reset Samsung Galaxy S4 to Factory Settings without Password
This method will hard erase samsung galaxy s4 and it is useful when your phone is not booting or you have forgotten the password.
To do this, switch the phone off, and press Volume Up, Power and Home buttons together. This will start the phone with Galaxy logo appearing on the screen.
When it does release just the power key and keep holding others.
In a while when Android System Recovery screen appears, release all and use Volume Down key to navigate to 'Wipe data/factory reset' option.
Choose it by pressing the Power button, then select 'delete all user data' and 'reboot system now'.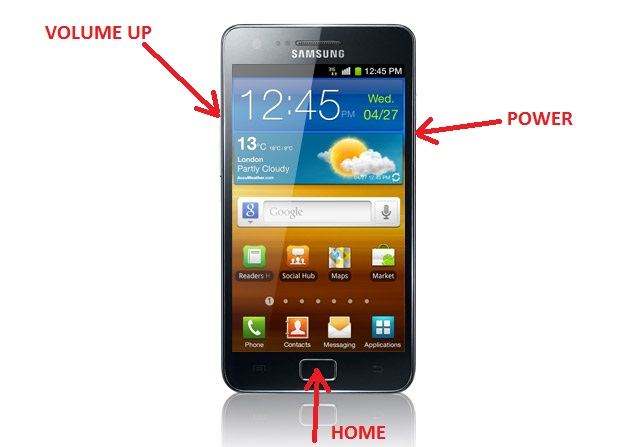 2. Resetting Galaxy S4 from Settings Menu
If your phone is working all right or at least, you can navigate through the home screen and settings menu then this reset samsung galaxy s4 method works.
Choose Apps icons from the lower right corner of the home screen
Find and touch settings icon
From the screen's upper corner, press the accounts tab
Scroll to the screen's bottom and select 'Backup and reset' option
Choose 'Factory data reset'
The phone shows warnings, confirm by choosing 'Reset Device' then 'Erase everything'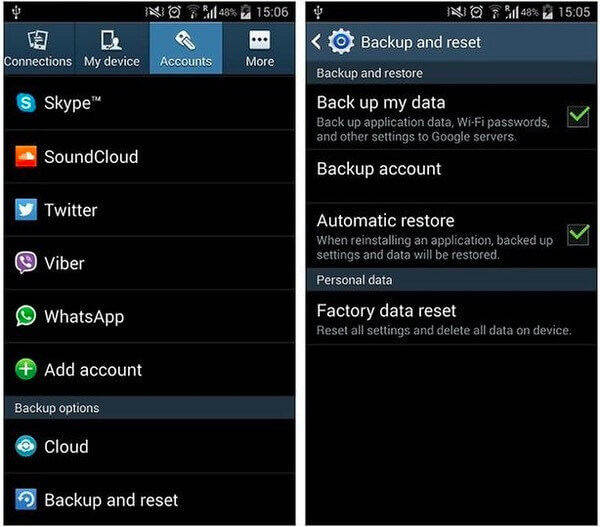 3.Factory Resetting Samsung Galaxy S4 using Factory Format Code
On the dial pad, type *2767*3855# and dial to erase everything and reset.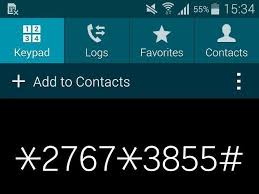 Resetting Samsung Galaxy S4, S4 Mini, S4 Zoom or S4 Active is very easy. Any of the methods we have shared here should help you to reset your device. If you accidentally deleted files on your phone or because of factory reset you performed, with Android Data Recovery you can have them restored.